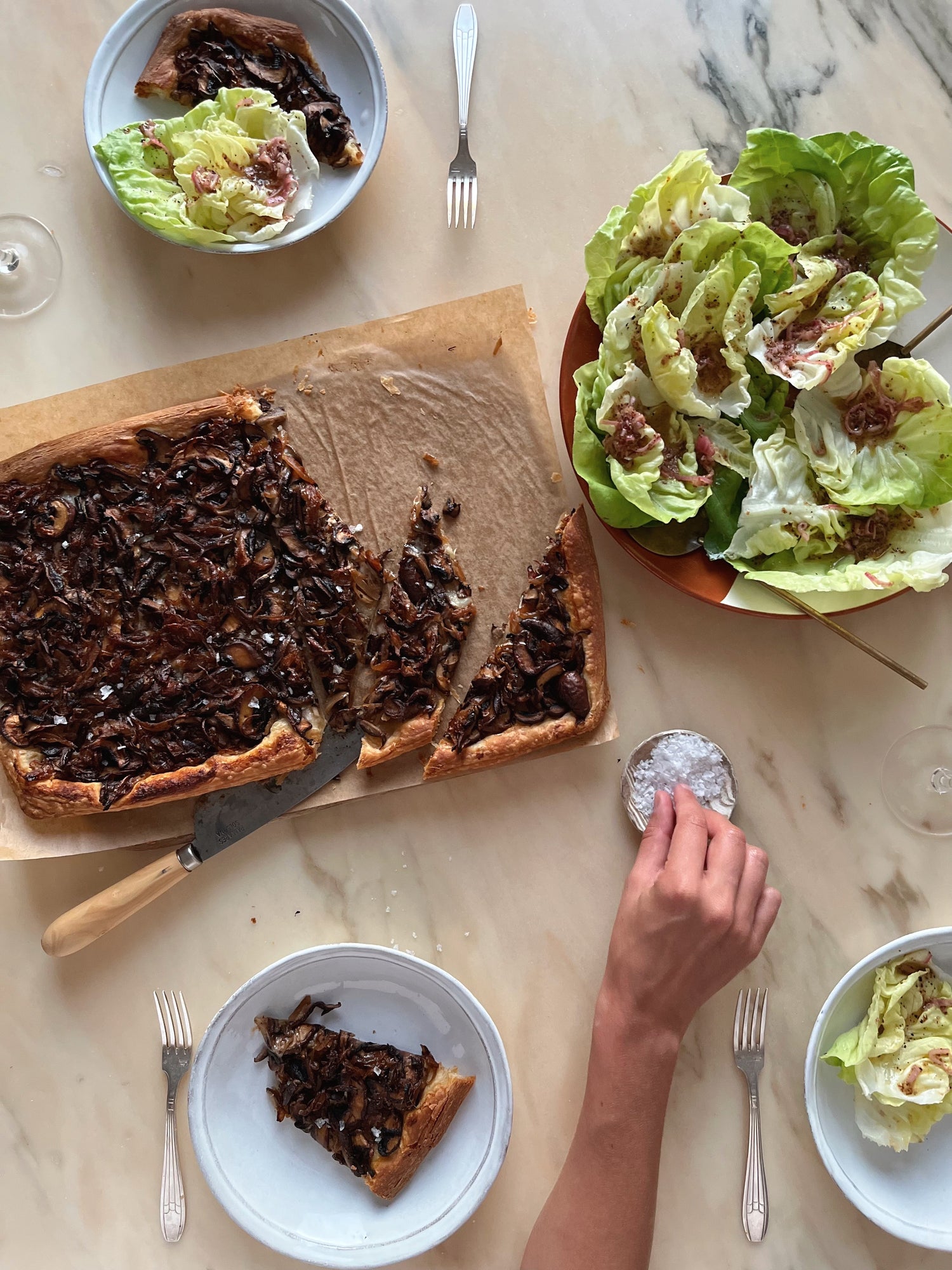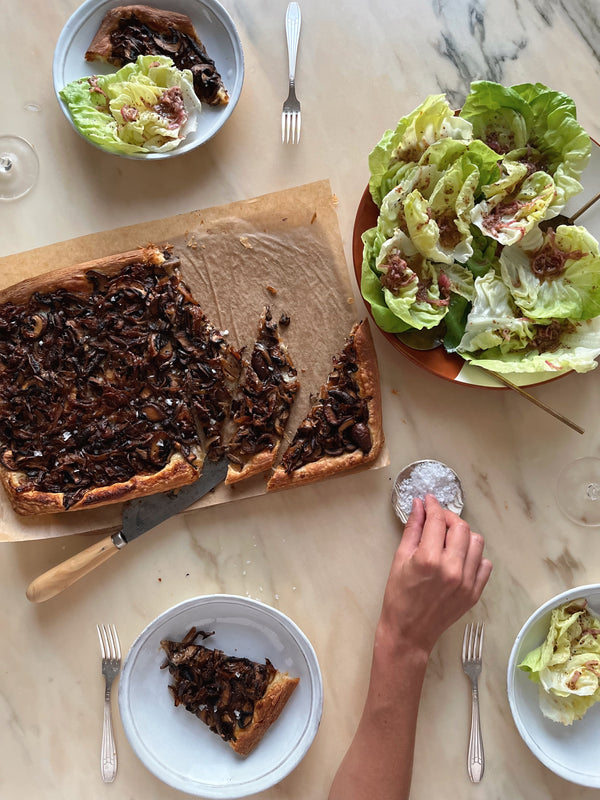 On Autumn and Mushrooms with Rebekah Peppler
Posted by:
Jacobsen Salt Co.
Words, Recipes and Food Styling by: Rebekah Peppler
Photos by: Laila Said

Rebekah Peppler is a Paris-based food writer and stylist, as well as the author of À Table and the James Beard Award-nominated Apéritif: Cocktail Hour the French Way. 
To me, the first sign of autumn isn't changing leaves or a quickened darkening of days or the growing presence of pumpkins. It's the arrival of mushrooms to the market. In Paris, the harbinging fungi inch into markets in late August. By late September they spill out of baskets, a glut of choice: umbrella-capped shiitakes, clustered maitakes (also called hen-of-the-wood) rich with flavor, fat-stemmed creminis, delicate oysters, hearty porcini, golden girolles (chanterelles), and so many more.
While I have friends I trust who harvest mushrooms themselves, I am firmly and happily in the purchasing camp. Unless you're a professional and/or very, very experienced there's no reason to chance it picking mushrooms yourself. When purchasing, look for firm, plump mushrooms that are even in color and without wrinkles or soft spots.
Once home, follow the number one rule of preparing mushrooms: don't soak them in water. Mushrooms act as sponges, soaking up excess liquid and quickly turning into slimy, mushy, flavor-light versions of themselves. With mushrooms, instead of washing, think cleaning. First, give them a once over—most purchased mushrooms are already clean enough as purchased or benefit from a quick wipe with a dry cloth, pastry brush, or—if you also cannot resist the call of one-purpose kitchen tools—a tiny, adorable mushroom brush. Should you find yourself with a rare batch of extra-gritty mushrooms, give them a very fast once over in lukewarm water, draining quickly and blotting dry and using immediately.
The second rule with mushroom preparation is to hold off on salting mushrooms while cooking until the mushrooms begin to brown. Normally, I'm an advocate for salting the entire way through a recipe, but mushrooms are one of the few things to wait on. Basically, mushrooms are already 80 to 90% water so, should you salt at the start you draw out their moisture and give yourself a much harder time keeping their texture, getting a beautiful, golden brown color and a concentrated, rich in umami flavor.
Also important to the cooking success of mushrooms: use a hot pan, plenty of fat (olive oil, butter, what have you), and cook in batches as necessary so the mushrooms can cook and brown in a single layer. This will give them the best flavor, texture, and color. 
I love mushrooms browned and crisped in butter, served with a yellow-yolked egg, piled on rice, tucked into pasta and above all, I love this Mushroom Tart. 
To make the MUSHROOM TART start by thinly slicing 1 pound of yellow onions (about 3 to 4 medium onions). In a large skillet set over medium heat, add 2 tablespoons of olive oil. Once the oil is hot, add the onions, season with sea salt and cook, stirring occasionally, until the onions are soft and lightly brown, about 30 minutes. Add a small splash of red wine vinegar and use a wooden spoon to gently scrape up any caramelized bits. Transfer the onions to a bowl. Clean and slice 1 pound of any mushrooms you love, wild or cultivated. Return the skillet to medium-high heat. Add another 3 tablespoons of the olive oil then add about half the mushrooms (the mushrooms should spread in a single layer in the pan so if needed, cook your mushrooms in more than two batches). Cook until the mushrooms begin to brown. Season with sea salt (or use a savory infused salt like rosemary salt or black pepper salt) and continue to cook until the mushrooms are nicely browned, about 10 minutes total. Transfer the cooked mushrooms to the bowl with the onions and repeat with more oil and the remaining mushrooms. Add 2 finely chopped garlic cloves, a teaspoon or two of finely chopped thyme or rosemary, and a big or small pinch of red pepper flakes. Cook another minute then remove the pan from the heat. Combine the second batch of mushrooms with the reserved onion-mushroom mixture and season with sea salt and pepper. Set aside to cool completely. (You can make this a few hours in advance).
Preheat the oven to 400°F / 200°C and line a baking sheet with parchment paper. Transfer one 14-ounce package all-butter puff pastry (defrosted, if necessary) to a lightly floured surface and roll into a 15-by-10-inch rectangle. Transfer to the parchment-lined baking sheet. Use a fork to prick the pastry all over, leaving about ½-inch border around the edges—this border will puff up while baking and give you your outer crust.
Use a small rubber spatula to spread 4 to 5 tablespoons of crème fraîche over the puff pastry, leaving the ½-inch border around the edges clean. Scatter the mushroom-onion mixture evenly over the crème fraîche. Bake until the puff pastry is deeply golden and the mushroom-onion mixture is lightly browned, about 30 minutes. Allow to cool slightly then cut into pieces, sprinkle with flaky sea salt, and serve warm or at room temperature.
To make the tart a meal, I like to also serve a simple, green salad with an extra-shallot-y vinaigrette.
To make the SALAD VERTE start by making the vinaigrette: peel and thinly slice 2 to 3 shallots. Add to a jar along with ¼ cup red wine vinegar (you could also use apple cider, sherry, white wine, citrus, or any other vinegar you love here, I personally like the deep red color red wine vinegar imparts on the final shallots in the dressing). Season with flaky sea salt and let sit for at least 20 minutes. Then add 2 tablespoons of grainy mustard, 2 teaspoons of honey, a few dashes of hot sauce and black pepper. Pour in ½ cup extra-virgin olive oil, cover the jar and shake until emulsified. Season to taste with flaky sea salt and pepper. For the salad greens, diner's choice. I like to clean and separate whatever large head of leafy greens looks good at my market but this dressing also works well with arugula or mesclun. Layer the dressing on the greens—making sure they all get a good portion of shallots—season with flaky sea salt and black pepper and serve.