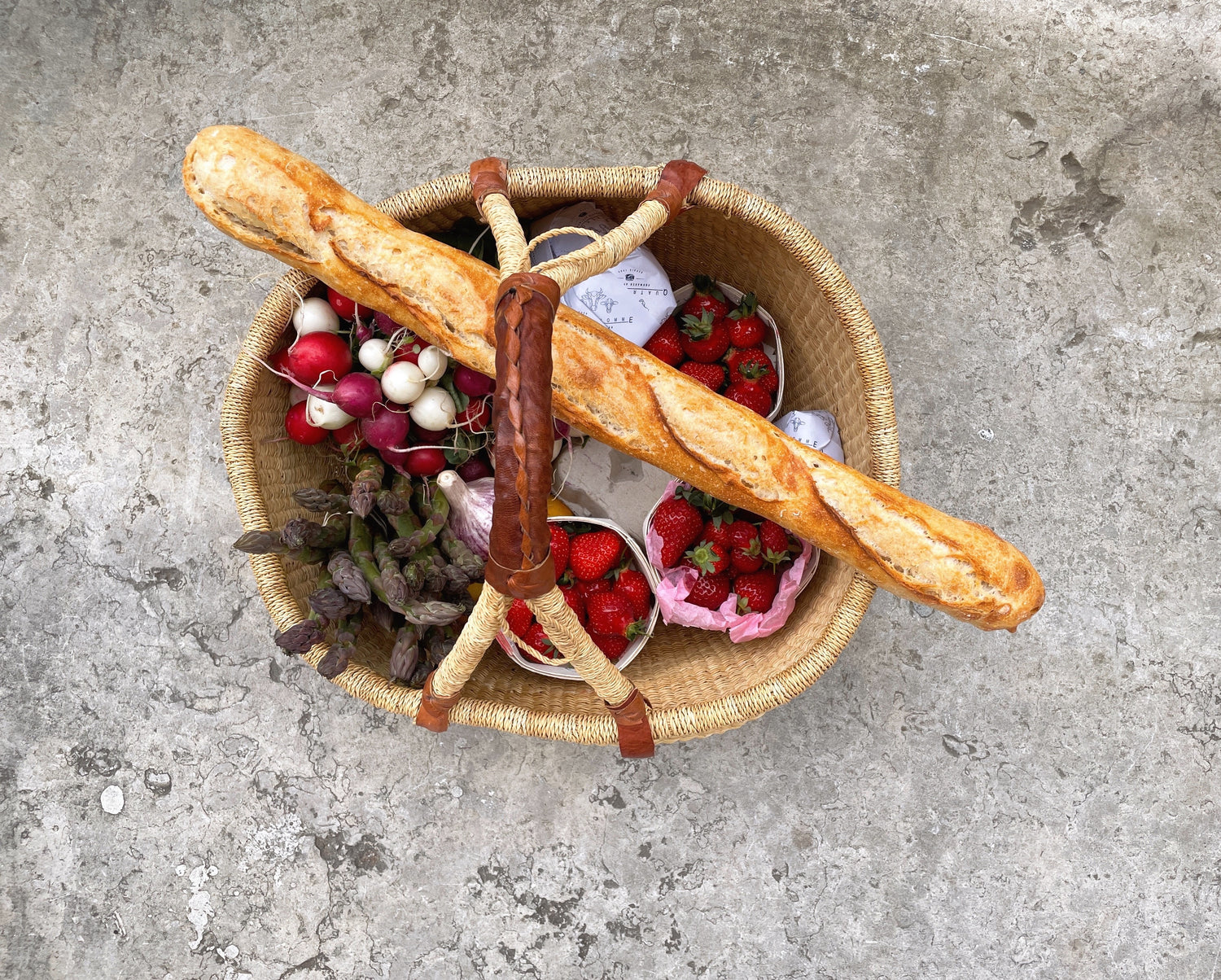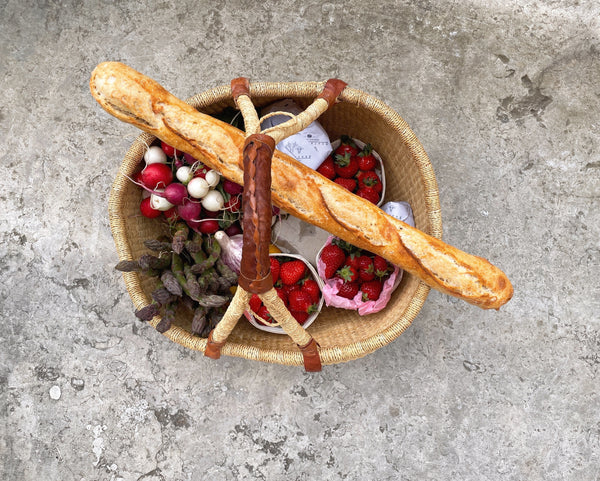 On Spring and Shopping Hungry with Rebekah Peppler
Posted by:
Jacobsen Salt Co.
Rebekah Peppler is a Paris-based food writer and stylist, as well as the author of À Table and the James Beard Award-nominated Apéritif: Cocktail Hour the French Way. This year, we're excited to have Rebekah take us through the seasons, teaching us some simple yet sumptuous ways we can make our food taste better and–no surprises here–how salt can help. Her first installment is all about spring and navigating your local market; from picking this season's prized produce to preparing them in oh-so-delicious ways.
Words, Recipes and Food Styling by: Rebekah Peppler
Photos by: Laila Said
Hunger-led grocery shopping sharpens the senses, honing in on the leafiest, the most vibrant, the juiciest. Done properly, one leaves snacking on the best snacks—be it chips or equally crunchy snap peas—a stopgap measure to bridge the way home to the kitchen to the table. When I shop on occasions where I am not hungry—but will, of course, be later—I channel those temporarily dormant instincts knowing that, often, by the time I leave the store or get home to cook, hunger returns. 
In spring, this means filling my basket with whatever in-season vegetables and fruits are at my local market in Paris: prickly artichokes with tightly wound leaves, bright and tiny spring peas, dirt-coated new potatoes, green-topped spring onions, heavy and firm stalks of rhubarb. That said, there's a special spot in my heart—and thus my shopping basket—for the season's radishes, asparagus, and strawberries.
Shopping hungry means cooking hungry means having a snack at the ready while you prepare the meal and I can think of no better time of year for said snack to practically have made itself than spring's radishes. 
How to pick: Pick your radishes—regardless of variety (round cherry bell, hot pink in the center watermelon, ombré french breakfast radishes)—by looking at the radish greens first. They should be perky and bright green. Then, peek at the vegetable's roots. Radishes should be vibrant in color (be that color red, pink, white, green, purple, or black), firm, and free of cracks. 
How to eat: At home, trim the radish greens and save them for another use (I especially like to make bitter-leaning radish pesto) then thoroughly rinse the dirt from the radishes, slicing any especially large radishes in half and serve them as a snack alongside a generous portion of salted butter. 
Buy salted butter and add a pinch more of flaky sea salt on top for texture or buy the butter unsalted and salt it yourself. I use flaky sea salt or flavored salt depending on the day's preference and where the rest of the meal is going. Salt to taste and, again, add a pinch more of flaky sea salt on top for texture. Snack on butter and radishes and salt while you cook the rest of your meal.
How to pick: Asparagus should be chosen for its vibrant color, plump and firm stalks, and compact, tightly-closed tips. Regarding size: choose what you like. Thickness isn't an indicator of quality here but rather thick spears are generally harvested at the beginning of the season and the stalks grow thinner further into the season.
How to eat: When you get it home, store your bundle of stalks in a glass of water in the refrigerator until ready to cook. When ready, wash and trim the ends (some prefer to snap each stalk but the edge of a sharp knife is both sufficient and faster).
You can roast or grill but I like asparagus best cooked simply and quickly in well-salted water. Blanching in water that is salty enough to mimic seawater seasons whatever you're cooking—be it asparagus or spring peas or pasta—all the way through. To blanch is simple: bring a big pot of water to a boil, then salt it. I use a palmful of kosher salt or a few discs of Disco di Sale and stir to dissolve. When the salt is dissolved, taste the water. If it isn't salty enough, add more. If it is, add asparagus and cook until the stalks are bright green and ~just~ easily pierced with a paring knife or fork; this happens quickly for fresh, in-season asparagus that is slim to medium-bodied and it should take between 2 and 3 minutes. 
Continue to cook and check until the asparagus is done to your liking. Use a pair of tongs or fine mesh strainer to transfer the stalks from water to a platter and immediately toss the stalks with good olive oil and flaky sea salt. (If you have more vegetables to cook, don't toss the cooking water, simply add the next vegetable once your asparagus is done.) 
When I'm serving my asparagus as a main dish, I like to toss it in a mustardy, shallot-y vinaigrette rather than simply olive oil and salt.
To do this, in a large bowl, make a vinaigrette by thinly slicing 1 shallot and stirring it together with 2 teaspoons Dijon mustard, 1 teaspoon honey, 2 tablespoons sherry or red wine vinegar or lemon juice; season with salt and pepper. Let sit for at least 10 minutes (up to overnight) then gradually whisk in ½ cup extra-virgin olive oil. Add the warm asparagus to the vinaigrette and toss to coat before piling the dressed vegetables onto a platter and sprinkling with flaky sea salt. 
If I'm serving this as a main, I like to add a big round of goat cheese and a pile of freshly-toasted pieces of sourdough bread to the platter and call it a meal.
How to pick: Strawberries may signal spring in many parts of the world but in France—from slightly tart Gariguettes to deeply floral Mara des Bois to the sweet, bright red Cléry—each variety is a celebration. Variety-aside, choose strawberries by their vibrancy and fragrance and, if the seller is willing, their taste. In prime season, buy one more pint than you need, eat immediately, and consider each bite a reward for making it through winter. Roast the rest. 
How to roast: Heat the oven to 375°F / 190°C. Gently wash 6 to 8 cups of fresh strawberries and trim their stems with a sharp paring knife, halving the larger berries and keeping the smaller fruits whole.
Toss in a baking dish with 2 to 3 tablespoons granulated sugar (depending both on the sweetness of the berry and your preference for sweetness), a few tablespoons water, and, optionally but very lovely, 1 teaspoon of vanilla extract or a vanilla bean split and scraped. You could add a few strips of lemon zest or grinds of black pepper or sprigs of thyme to the dish but I like my strawberries just as is in order to showcase their most strawberry flavor.
Bake until the berries are tender and the juices are syrupy, 30 to 40 minutes. Remove from the oven, cool to warm or to room temperature and sprinkle with a pinch of flaky sea salt. Salt, as it does most other things in the kitchen, aids the roasted berries in tasting even more intensely of themselves. Serve alongside crème fraîche or crème cru or thick yogurt or ice cream and serve with more of everything, including salt, on the table to replenish as needed. Store any leftovers in the fridge for a few days.