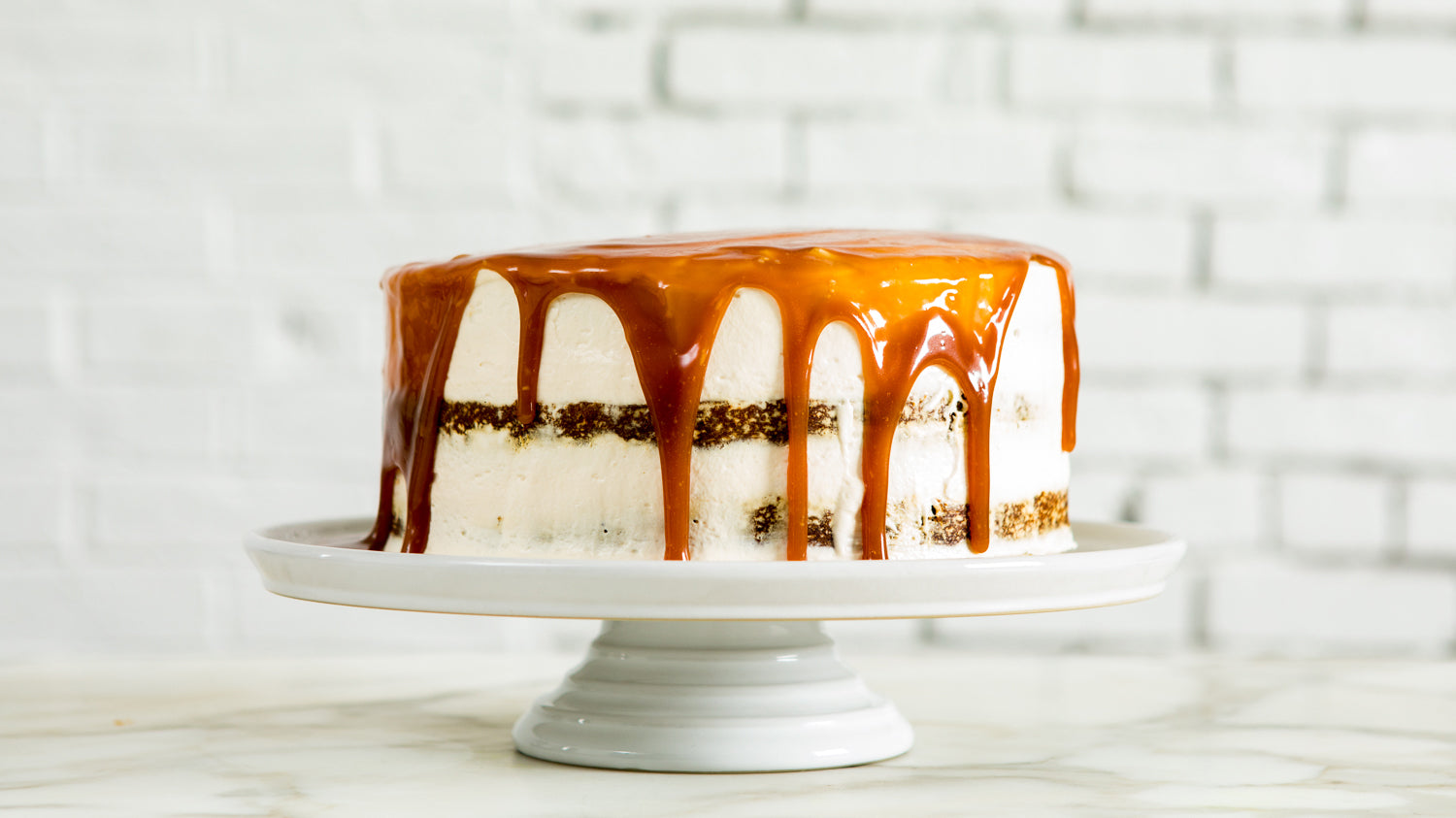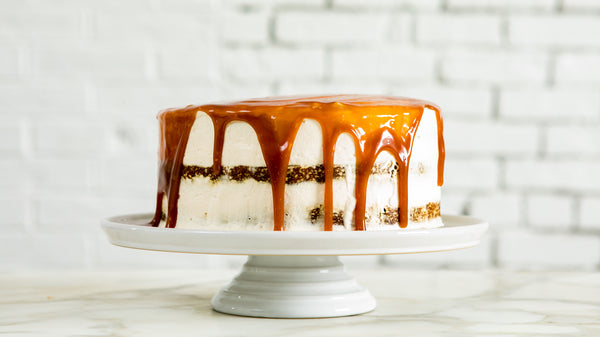 Jacobsen Co. Raw Buckwheat Honey Gingerbread Cake
Posted by:
Jacobsen Salt Co.
Shop The Recipe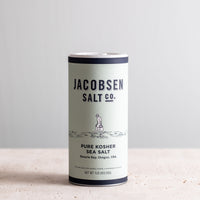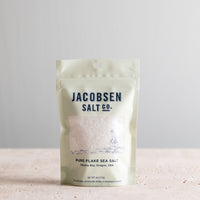 Jacobsen Co. Raw Buckwheat Honey is the star of the show in this beautifully spiced and tender gingerbread cake. Raw Buckwheat Honey's deep color and malty flavor perfectly complements the molasses and ginger spices while creating a unique spin on this classic holiday cake. We doubled down on this fantastic honey by adding it to our cream cheese frosting. You don't need to make the salted caramel sauce for this cake to be a considered a success, but you won't be sorry if you do.
Makes one 9" double layer cake or one 9" x 13" cake
INGREDIENTS
For the cake:
¾ cup water
8oz. jar Jacobsen Co. Raw Buckwheat Honey (equals ½ cup honey)
½ cup molasses
½ cup (1 stick) unsalted butter, melted
½ cup brown sugar
2 eggs, lightly beaten
3 cups flour
½ teaspoon baking soda
2 teaspoons baking powder
½ teaspoon Jacobsen Salt Co. Pure Kosher Sea Salt
2-3 teaspoons ginger (depending on how spicy you like your gingerbread)
2 teaspoons cinnamon
½ teaspoon cloves
½ teaspoon nutmeg
For the frosting:
For the salted caramel:
PROCESS
Preheat oven to 325 F. Butter and flour two 9" cake pans or one 9" x 13" pan.
Bring water to just boiling in a small saucepan or kettle. Add molasses, Raw Honey and butter and set aside to cool for about 10 minutes.
Mix flour, baking soda, baking powder, Pure Kosher Sea Salt, and spices in a large bowl and set aside.
In a medium bowl, whisk together brown sugar and eggs. Add the honey liquid mixture and whisk to combine. Add the wet ingredients to the dry ingredients and mix until just combined.
Divide batter into prepared cake pans and bake for 25-35 minutes until a cake tester or toothpick comes out clean.
Remove cakes from the oven and run a knife around the edge of the pans to loosen the cake from the sides. Allow cake to cool for about 10 minutes before removing from pans and transferring to a cooling rack. Let cool completely before frosting. Cake can be made ahead and stored tightly wrapped in the refrigerator for 2 days or kept in the freezer for a month.
To make the frosting, use a hand mixer to beat the cream cheese, creme fraiche, salt and honey together until smooth and fluffy. In a separate bowl, beat the heavy cream until it begins to thicken. Add the vanilla extract and powdered sugar (if using for a sweeter whipped cream) and continue to whip until peaks form and maintain their shape. Gently fold the whipped cream into the cream cheese mixture in two batches. Let set in the refrigerator until you are ready to decorate the cake. You will have enough frosting for 1 double layer cake. If making a 9x13 cake you will have some frosting leftover to save or serve on the side.
For the caramel sauce, cook the sugar and water together over low heat until just dissolved. Add the butter and bring to a slow boil. Continue cooking at a low boil until the mixture turns a deep, golden brown color, almost copper. This process can take awhile but keep a close eye on it as it can go from perfect to burned rather quickly.
Once the mixture has turned a copper color, remove it from the heat and immediately add the heavy cream. This will cause the mixture will bubble rapidly and steam, so whisk carefully. Whisk the final mixture together well over low heat and sprinkle in the Pure Flake Sea Salt. Set the caramel aside to cool to room temperature. Caramel may be prepared up to a week in advance. Just store in the refrigerator and heat gently until the sauce is spreadable again.
To assemble layer cake, level the cakes and apply ½ cup of frosting to the top of the first layer. Spread evenly. Place the second layer on top and add ½ cup to the top. Frost the sides with the remaining frosting, cover and let sit in the refrigerator until the caramel is ready. Drizzle caramel sauce over cake in desired pattern and serve. Decorate with remaining frosting as desired.