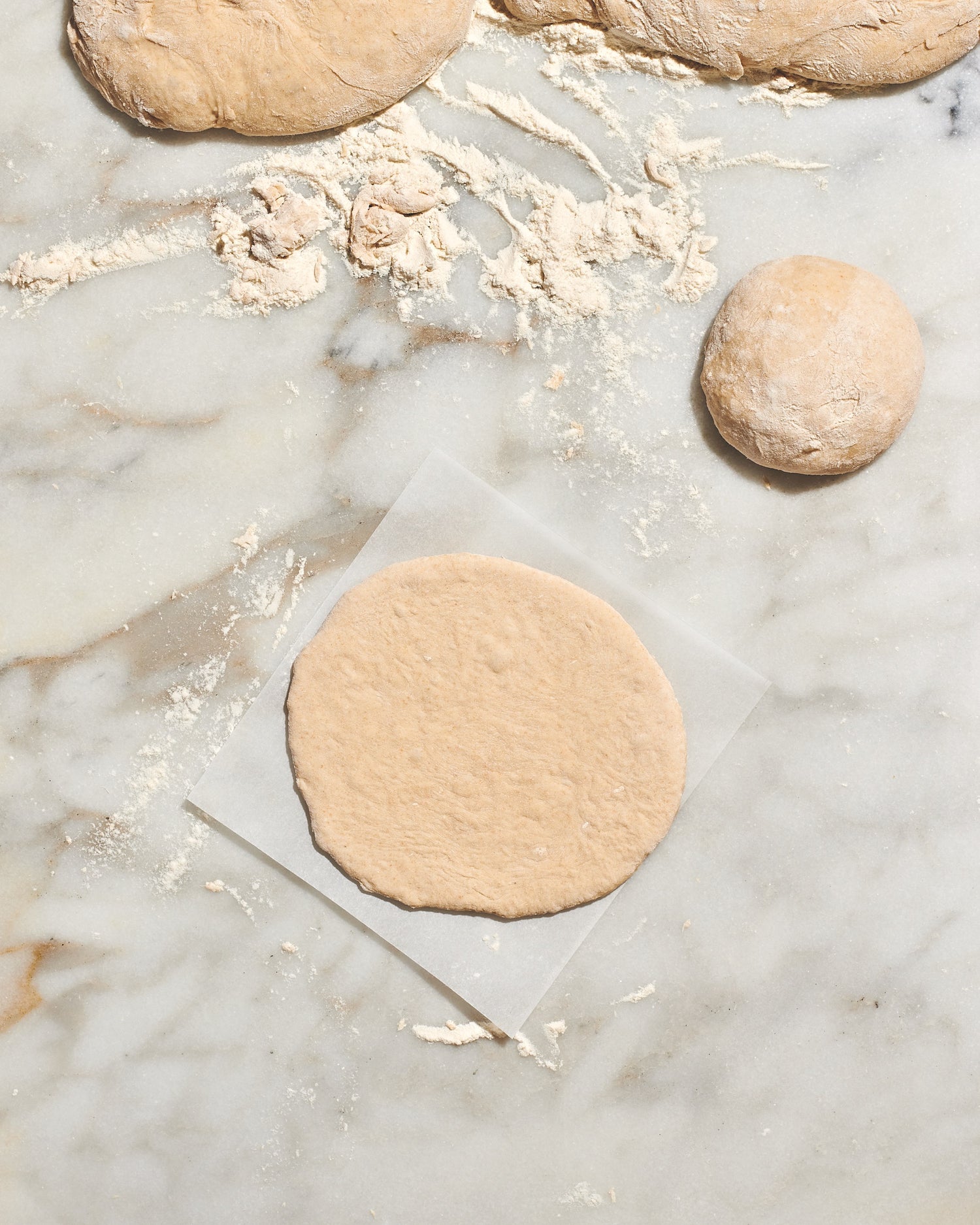 Fluffy Everything Pita Clouds by Natasha Feldman
Posted by:
Jacobsen Salt Co.
Shop The Recipe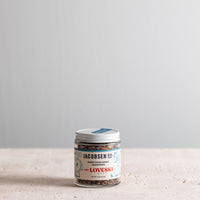 Loveski Everything Bagel Seasoning
$10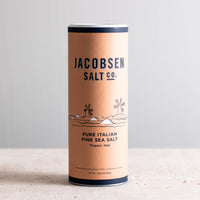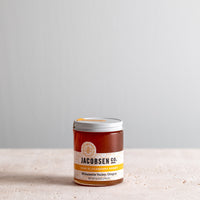 Natasha Feldman is a private chef, producer, director and TV host who believes anyone can become a great cook with the right recipes. The Oregon native has appeared in more than 50 episodes of the Yahoo digital series Cinema & Spice and currently hosts the YouTube cooking show Nosh with Tosh. This recipe is excerpted from her new cookbook, The Dinner Party Project. 
Pita is my favorite bread object to make at home. It's not complicated and it's just 100,000,000 times better than anything you'll buy at any store.
This combination of mainly bread flour with the addition of a second, less-glutinous flour is my favorite, but feel free to use all bread flour if that's what you've got! The recipe does also work with regular all-purpose flour, but the texture will be less like dancing on a pillowy cloud.
This pita recipe gets a little flair with the addition of some EBS (Everything Bagel Seasoning) sprinkled on at the end, but if you want to go classic that's A-OK! If you'd like to serve it with a comforting coconut butter, this recipe's got you covered. Chef's choice!
Recipe by: Natasha Feldman Photos by: Alana Kysar 
Makes 10 pitas
Process
For the Pitas:
Cut ten 6 1/2-inch squares of parchment and set them aside. In a large bowl, combine the yeast, 1 tablespoon each sugar and honey, and 1 cup warm water. Let sit until the yeast starts bubbling, 5 minutes. Stir with a wooden spoon. If the yeast doesn't bubble, it's dead—you'll need new yeast.
Add 3 1/2 cups bread flour and 1/2 cup whole wheat flour to the bowl with the yeast. Mix with a wooden spoon just to combine. Whisk together the final cup water with 2 tablespoons olive oil and add to the bowl. Stir just to incorporate. Sprinkle in 1 tablespoon salt and mix and fold vigorously for a full minute with the spoon until the mixture forms a wet, shaggy dough. (It will seem really dry at first, but keep mixing and it'll look thick and wet like porridge.) Scrape down the edges of the bowl. Wrap the bowl tightly in plastic wrap, and let the dough rest in a warm spot (think: where would a cat want to take a nap?), until it has doubled in size, about 2 hours.
Coat your work surface with 1/4 cup flour. Carefully remove the dough from the bowl (this is easiest with damp hands) onto the floured surface. Cover the dough with another 1/4 cup flour. Divide in half and then dust the cut sides with flour. Shape the first half of the dough into a log and cut into 5 pieces, dusting all cut sides with flour. Repeat with the second half. You should have 10 pieces. Grab each blob individually and pull the sides of the dough up and then pinch them all together tightly, like you're tying up lunch in a cloth. Turn each ball seam side down on a less floured part of the counter, and use both hands, with pinkies touching the counter behind the ball of dough, to drag it toward you. The ball should still have the same side facing the top; it should just be much more taut at the bottom. Turn counterclockwise and repeat three more times until the dough is taut all around. If it's too sticky, add more flour. Flour each ball after it's fully formed.
Use a rolling pin to flatten each pita into a circle that's between 1/8 and 1/4 inch thick. The easiest way to roll the balls out is to start in the middle and roll to the edges, flipping the dough over, and turning it a few turns to make sure it doesn't stick to the counter and rolls out evenly. It's important to make sure the pitas are rolled consistently thick or they won't puff up as well.
After each pita is rolled, set it on a piece of parchment. Cover with a clean dish towel and let rest for another 20 minutes. 
Preheat the oven to 500°F. Put a baking sheet on both the top and middle racks in the oven. Preheating the pans is important, as the hot surface makes the pitas start to puff right away.
Optional: Just before baking the pitas, brush, or spray, each one with a bit of water and sprinkle with a generous amount of the Everything Bagel Seasoning.
Pick up each pita by the parchment paper and place on either preheated baking sheet with enough space so none of them touch (about 3 per baking sheet). Cook on the top and middle racks of your oven for 3 to 5 minutes. The pitas should be fully puffed but still relatively pale. (If some of them only partially inflate, that's totally normal! Give them another minute, and if they're still flatties, just pull them out. Sometimes the pita pocket might not be entirely open, and that's okay—they'll still taste great.) Repeat until all the pitas are cooked.
Let the pitas rest on a cooling rack until serving. Remove the parchment, and serve warm wrapped in a dry dish towel.
For the Coconut Butter:
Toast 2 cups coconut flakes in a pan over medium heat for 2 to 4 minutes, until golden and fragrant. Transfer to a food processor and add 2 tablespoons of coconut oil and 1/8 teaspoon salt. Blend until smooth and creamy, 4 to 10 minutes. If you need a little more oil to loosen the butter, add it 1 tablespoon at a time. Add 2 teaspoons honey, if desired.
Chill until ready to serve.
From The Dinner Party Project by Natasha Feldman. Copyright © 2023 by Natasha Feldman. Reprinted by permission of Harvest, an imprint of HarperCollins Publishers