Gluten-Free Mushroom Rice Stuffing with Ramen Seasoning
Posted by:
Jacobsen Salt Co.
Shop The Recipe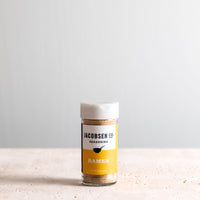 A gluten-free, vegetarian crowd-pleaser. Bring something unexpected to the table with this creamy, umami-rich risotto-like stuffing. The combination of our Ramen Seasoning and shiitake mushrooms creates a unique savory dish your guests are sure to enjoy.
Makes 4-6 servings
INGREDIENTS
2 tablespoons neutral cooking oil or butter

2 cups fresh shiitake mushrooms, chopped

1 large yellow onion, diced

2 cloves garlic, chopped

1 ½ teaspoons Jacobsen Co. Ramen Seasoning, plus more to taste

2 cups vegetable broth, plus more if necessary

5 cups cooked sushi rice

Chopped cilantro, toasted sesame seeds for garnish
PROCESS
Heat oil or butter in a large skillet or dutch oven. Sauté onion and mushrooms until they begin to soften, about 5 minutes. Add garlic and Ramen Seasoning and stir, cook 1 minute more. Add the broth and rice and stir until combined. Add more broth if mixture looks to dry. Cook until rice is warmed through and liquid is reduced to desired consistency. Garnish with cilantro and toasted sesame seeds and serve immediately.