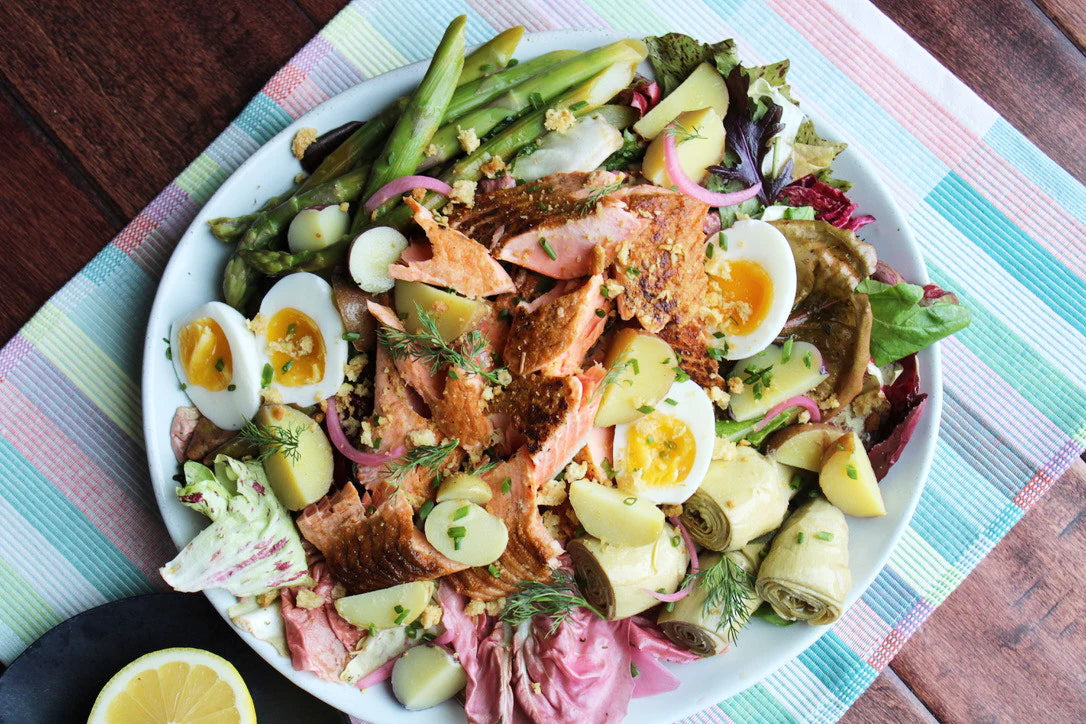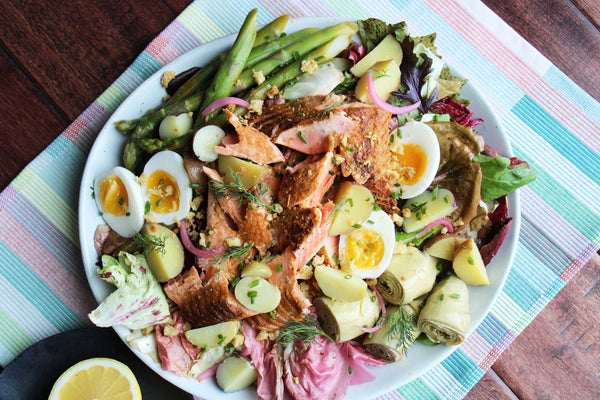 PNW-oise Salad with Infused Lemon Zest Salt
Posted by:
Jacobsen Salt Co.
Shop The Recipe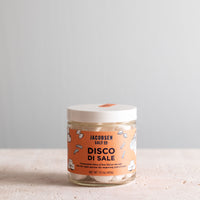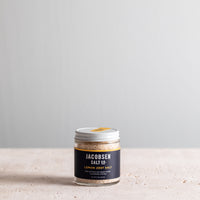 Infused Lemon Zest Salt
$15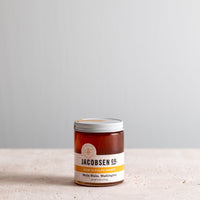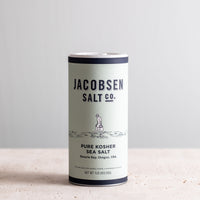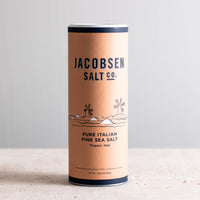 This hyper-local salad bends the rules of a traditional French 
Salad Niçoise into a salmon-centered Pacific Northwest-specific dish. Swapping out the savory burst of black olives for artichokes and the green beans for asparagus spears, our PNW-oise boasts the very best from the terroir we're grateful to call home. All of your salad's elements can be prepared a day before assembling and eating. 
Serves 4


Process


For the dressing
Mix all of your dry ingredients (herbs, mustard seeds, celery salt, and Kosher Salt) into a small bowl with lemon juice and pickling liquid/sherry vinegar, and slowly begin to drizzle and whisk in olive oil until the vinaigrette thickens and emulsifies. Again, drizzling slowly, whisk in Alfalfa Honey and set aside.
For the salad
In a large pot of water, bring 1 Disco di Sale to a rolling boil and drop in baby potatoes for seven minutes, or until a fork can pierce through their flesh but before their skins begin to fall off. Drain potatoes, run under cold water and set aside. Repeat step with asparagus but drain at the four minute mark, once the stalks are flexible but still bright green. In separate bowls, toss potatoes and asparagus in a teaspoon of both olive oil and lemon juice to preserve their freshness.  
In a large cast iron skillet, heat sunflower oil over medium-high heat until the pan shimmers and place your fish, skin side down, into the pan for four minutes, before flipping the salmon over and cooking for a final two minutes with its flesh side down. Remove from the pan and rest on a paper towel.
For the breadcrumbs, toast focaccia in an oven set to 350℉ for twenty minutes or until the bread is brittle. Break bread into large chunks and pulse in a food processor with lemon zest until entirely broken up into pebble-like pieces.  
At this point, refrigerate all of your cooked ingredients until you're ready to plate and serve. Everything will keep perfectly well for up to a day, in fact, I prefer to prep everything a day prior to when I know I want to eat this salad so on the day of, I can concentrate on what plates I want to use, what wine I want to drink and who would be the perfect person to share this show-stopping salad with. 
When you're ready to assemble your salad, always remember that you can add dressing to your salad once it's served, but it's impossible to take any away, so get out a large bowl (twice as large as the amount of greens you have) and slowly drizzle dressing onto the sides of the bowl and rotate it while tossing the greens with your free hand. Do this until all of the leaves are kissed with dressing but aren't weighed down by it. On a platter, set a bed of dressed salad on the surface of the plate before delicately placing the salad's elements over the greens. Once you've found a spot for your artichokes, asparagus and egg halves, break up salmon and place in the center of the salad before garnishing with breadcrumbs, pickled red onions, and Lemon Zest Salt.