Ramen 2 Ways with Ramen Seasoning
Posted by:
Jacobsen Salt Co.
Shop The Recipe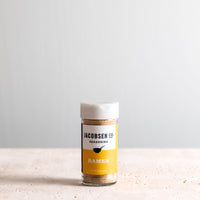 While our flavor-packed Jacobsen Co. Ramen Seasoning can be used on pretty much anything, it also makes delicious ramen broth in the time it takes to boil water. We've provided two ways to make a simple, elevated meal in no time.
Serves 1


Process


Ramen Broth
For a simple bowl of ramen, dissolve Ramen Seasoning in 2 cups of water or broth. Bring to a boil and then add your favorite ramen noodles. Cook according to noodle package instructions and serve immediately with desired add-ins.
Mushroom Ramen
For a mushroom broth, bring 2 cups of water to a boil in a small saucepan. Add the dried mushrooms, cover and remove from heat. Let sit for about 15 minutes until the mushrooms are rehydrated and soft. Remove the mushrooms from the pan, giving them a little squeeze to drain any excess water. Slice the mushrooms, place in a soup bowl and set aside.
Stir Ramen Seasoning into the mushroom broth and bring back to a boil. Add your favorite ramen noodles and cook according to package instructions. Pour noodles and broth into the bowl with the mushrooms. Garnish as desired.