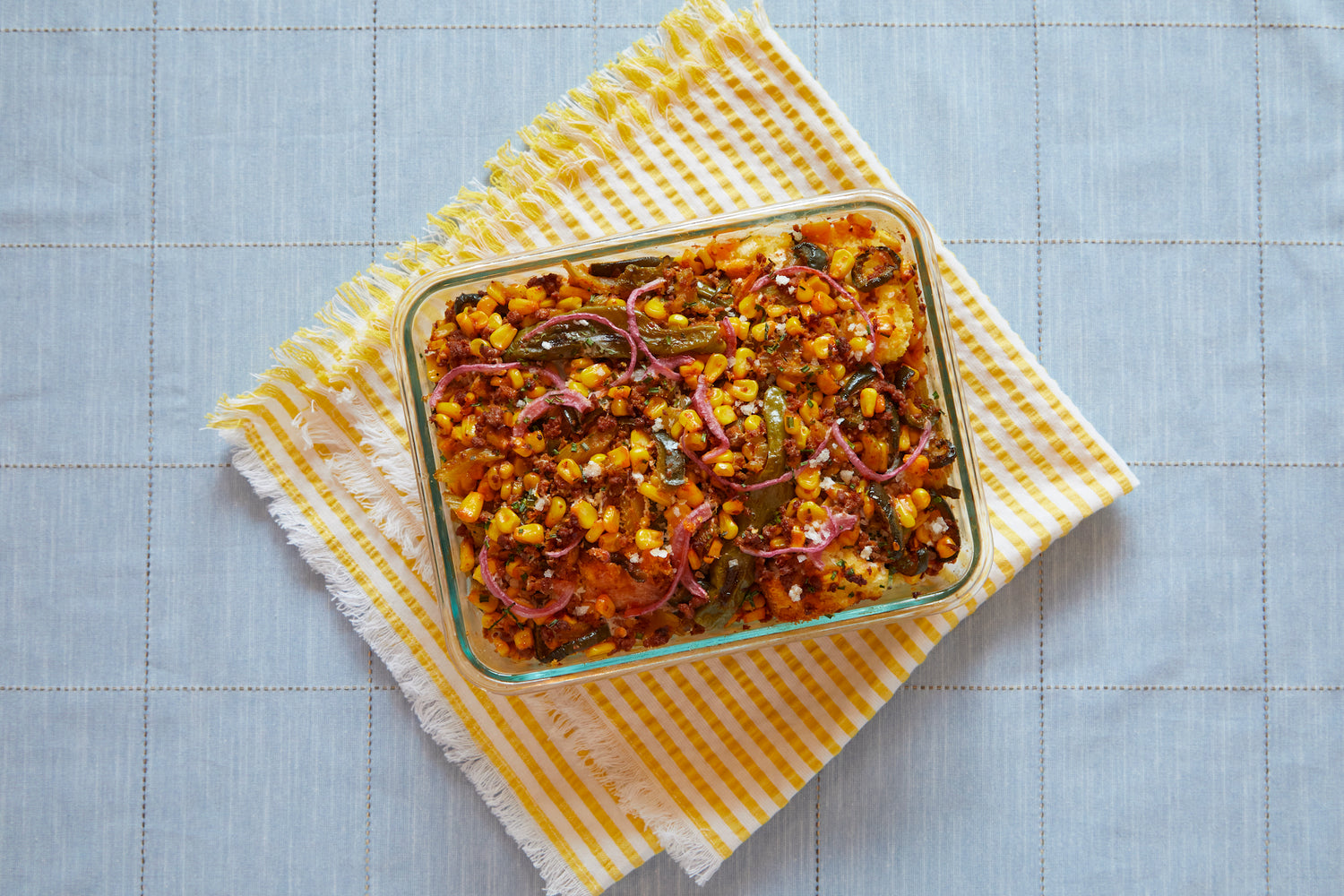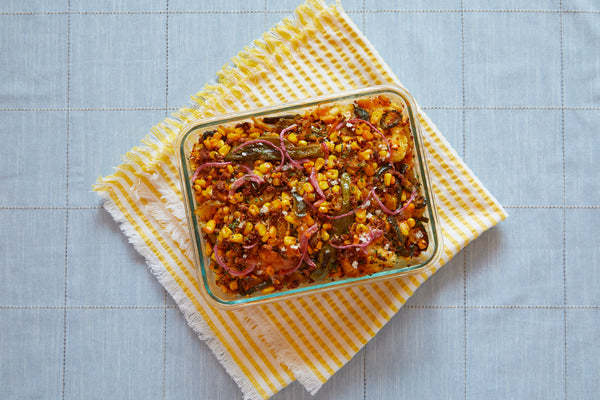 Roasted Corn and Padron Cornbread Stuffing
Posted by:
Jacobsen Salt Co.
Shop The Recipe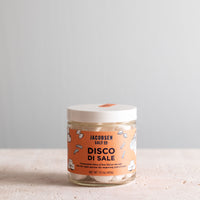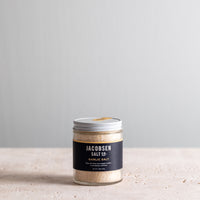 It's cliche to point out that the turkey is oftentimes the least vital component in a classic Thanksgiving spread but the stuffing, for this single lady in the city, remains the reigning queen of the holiday at large. And of course, I love a classical white-bread stuffing, but getting older is all about stretching beyond tradition and trying out new tricks in the kitchen.
So I cooked up this cornbread stuffing riffing on another beloved snack of mine, elotes. While the dish keeps the nearly bread-pudding-like quality of the originator, it also carries enough heat that'll remind me to reach for my wine (a riesling perhaps?), plus perfectly salted corn kernels for a little crunch.  
Process


Grease a casserole or other oven safe baking dish and preheat your oven to 350°F.  
In a large pot bring a quart of water to a boil and toss in your Disco di Sale disc and carefully place corn on the cob into the boiling water. Cook for five minutes before removing from heat and shocking the corn under the faucet with cold water. Once cool enough to handle, scrape all the kernels off with a chef knife and set aside.
In a medium-sized cast iron skillet, cook your chorizo over medium heat all while breaking it apart with a wooden spoon. After the fat has rendered and the meat has cooked through (about four minutes) add celery and both varieties of peppers. Cook until their skins are wilted but the celery still carries a crunch. Finally, remove from heat and toss with your cooked corn kernels in a large mixing bowl.
In your prepared baking dish, arrange your crumbled cornbread evenly inside the dish. Spoon your chorizo and vegetable mixture in between and over the cornbread chunks and drizzle both buttermilk and chicken stock over the stuffing before dotting with pickled red onions, sprinkling with Infused Garlic Salt and baking for 20-25 minutes.
After that time, remove from the oven and allow to cool for five minutes. Lastly, drizzle Raw Wildflower Honey Sauce over the top of the stuffing and serve.