Rosemary Shortbread Cookies
Posted by:
Jacobsen Salt Co.
Shop The Recipe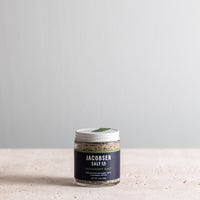 Infused Rosemary Salt
$14
These cookies are a nod to the folks out there who love a sweet and salty combo. Chewy and subtly sweet with a lovely herbal note from our Infused Rosemary Salt. They make the perfect accompaniment to a warm cup of tea or an afternoon snack. As an added bonus, they are made with 100% almond flour which makes them gluten free! One bowl, five ingredients, make them ASAP. 
Recipe from the JSC Kitchen, by Rosemary Saycich


Process


In a large bowl, cream together the butter and sugar until light and fluffy, around 2-3 minutes. Add in the almond flour and salt and beat on low speed for another 1-2 minutes, until just combined. It will look crumbly for a minute or so, but then start to come together and pull away from the sides of the bowl forming a ball. Turn the dough over onto a clean surface and shape into a log, about 8 inches long. Combine your demerara sugar and reserved ¼ teaspoon of rosemary salt in a small bowl. Pouring this mixture on a rimmed plate or piece of parchment, aim for a large even layer of sugar salt. Take your cookie log and carefully roll in the sugar salt mixture making sure the surface area is completely covered. Set the log aside, shake the sugar salt, and re-roll as needed. Wrap the log in plastic wrap or parchment paper and let chill in the fridge for 1 hour.
Preheat the oven to 350ºF and line two baking sheets with parchment paper.
Once the oven is preheated, take your cookie log out of the fridge and cut into ½ inch thick circles. Bake for 8-10 minutes. Remove the cookies from the oven just as the edges start to turn golden. Allow to cool fully on the baking sheet.
Store in an airtight container for up to 5 days.