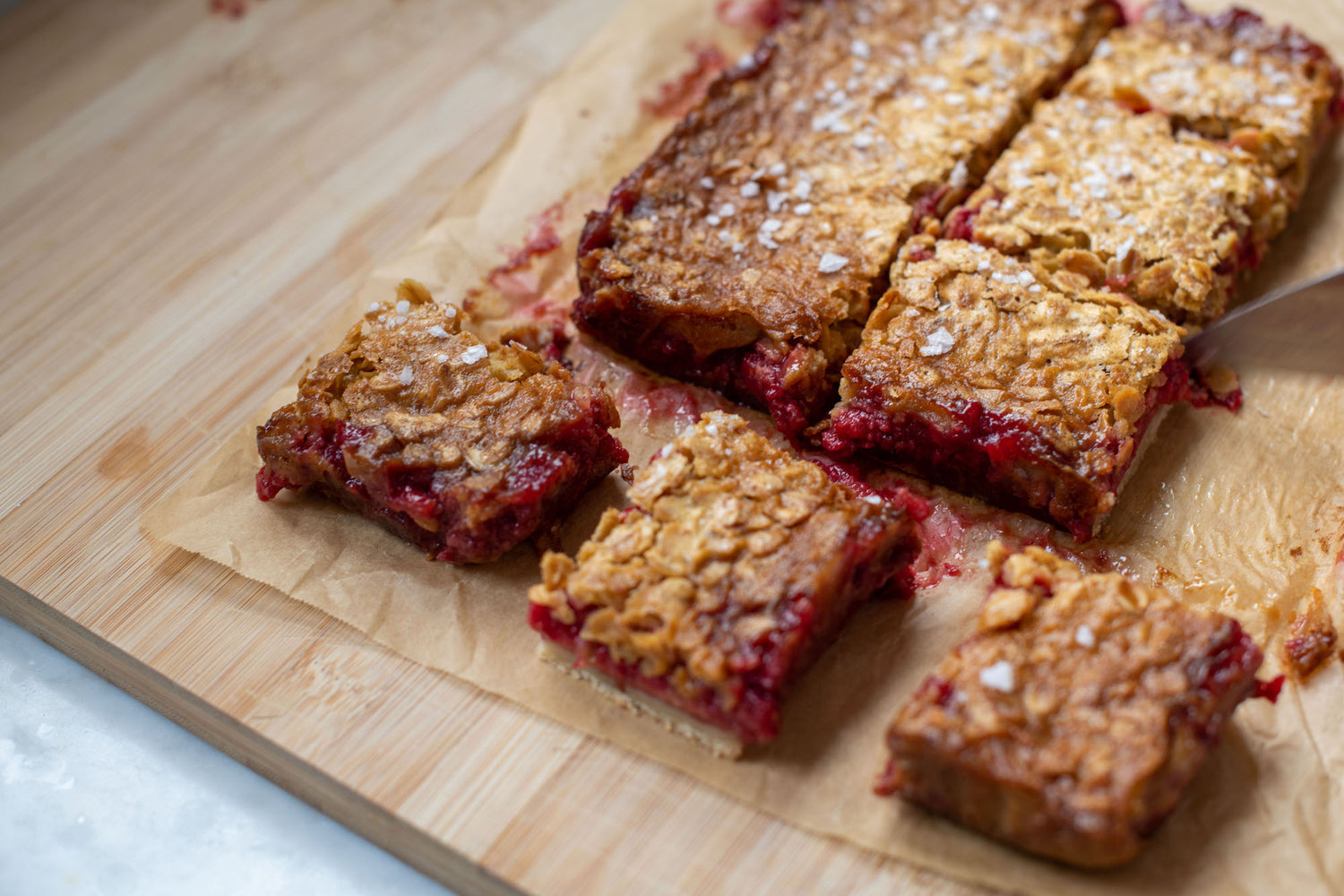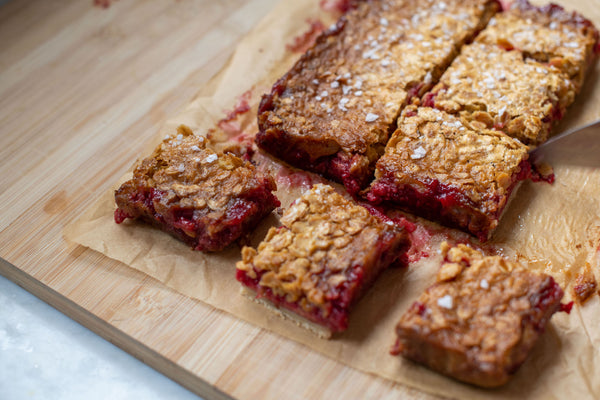 Posted by:
Jacobsen Salt Co.
Shop The Recipe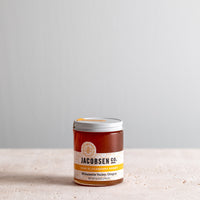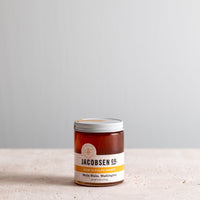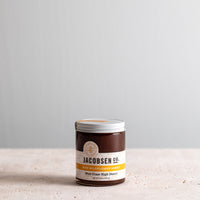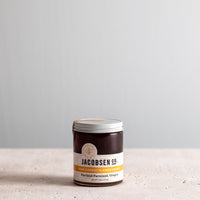 Raw Carrot Flower Honey
$11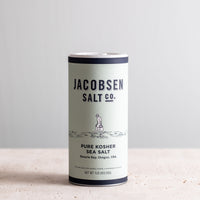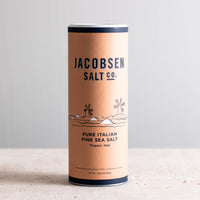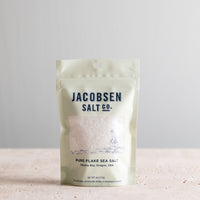 Sometimes we want the flavor of salty honey pie without the effort of making a pie, and these bars are the answer. Honey and tart fruit sing together in this dessert that is sometimes breakfast. A buttery shortbread provides the base while a layer of fruit compote helps break up the sweetness of the honey filling. Oats provide texture, but feel free to use chopped pecans or walnuts instead. We recommend a lighter honey such as Alfalfa, Wildflower or Blackberry for the filling as darker honeys will be too strong here. The compote can be made up to 2 days ahead and stored in the refrigerator. Don't skip the flake salt for a burst of flavor and crunch!
Recipe from the JSC Kitchen
Process


Preheat oven to 350º F and line an 8x8 pan with lightly greased parchment paper. 
Make the base:
Add sugar, salt and butter to a food processor and blend until smooth. Add flour and pulse until dough clumps together. Alternatively, mix sugar, salt and flour in a bowl. Cut butter into the flour using two butter knives or your hands until a playdough-like dough forms.
Press dough into the bottom of the pan and bake for 15 min. Let cool while you make the compote.
For the compote:
Add berries, zest, lemon juice, pinch of salt and sugar to a medium saucepan over medium high heat. Cook until berries start to release their juices and the sugar dissolves, about 5 minutes. Reduce heat to low and cook 5 minutes more until the berries start to break down when stirred gently with a spoon. Combine the arrowroot or cornstarch with water and mix until dissolved. Add to the berries and continue to stir until the mixture begins to thicken (it will thicken up even more as it cools). Remove from heat and set aside to cool as you make the honey filling. 
For the filling:
In a medium bowl, add the honey to the melted butter and whisk until combined. Add the sugar, salt and vanilla and mix. Add the eggs one at a time and whisking between each addition. Stir in the cream and oats. 
To assemble and bake:
Spread compote over the shortbread in an even layer. Gently pour the honey filling over the compote and bake for 40-45 minutes until the edges are set but the middle has a slight jiggle. Sprinkle with flaky salt and allow to cool to room temperature before cutting into bars and serving. Fresh whipped cream is optional here but highly recommended.