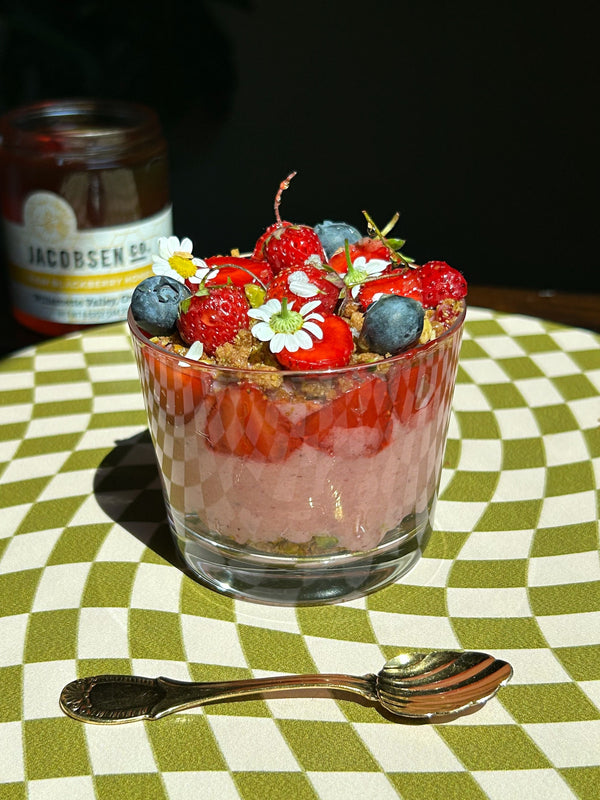 Strawberry Custard with Salty Graham Crunchies
Posted by:
Jacobsen Salt Co.
Shop The Recipe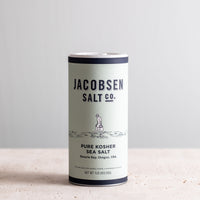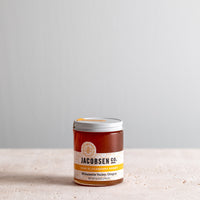 Smooth and fluffy custard can be intimidating to attempt but surprisingly simple to execute. It then becomes a canvas for all sorts of additions, in this case: fresh and tangy strawberry puree. If you don't have fresh strawberries, frozen ones will work just fine. While custard can be eaten on its own (standing over your kitchen sink in your pajamas), it's best paired with a variety of other textures. Think: buttery, salty graham cracker crunchies, joined with roasty, chopped pistachios, all topped with fresh berries and Jacobsen Co. Raw Honey. Summer in a cup! 
Recipe & Photos by: Ariel Pastore-Sebring
Serves 4-6


Process


Make the Custard
In a small saucepan, heat milk over medium heat until frothy around edges and steam rises. Careful not to boil.
Meanwhile, in a heat proof mixing bowl, whisk together eggs, cornstarch, sugar and kosher sea salt for about one minute. At first, it will appear crumbly, but very quickly it will come together and become a smooth, yellow paste.
Remove your steamy milk from the stove and slowly stream it into the egg mixture, whisking continuously. This is called tempering, otherwise your eggs will scramble. Pour the mixture back into the saucepan and heat over medium, whisking constantly until the custard begins to thicken, about 3-5 minutes.
Once thickened, pause for a few bubbles (they should look thick like lava), remove from heat and whisk in butter. After combined, strain the custard through a fine-mesh sieve.
Optional step: to allow your custard to cool, mix on medium in a standing mixer for five minutes, or whenever the steam subsides.
Place plastic wrap directly on the surface of the custard so that a skin does not form. Chill for 2 hours.
After chilling, whisk your pastry cream until smooth and slowly fold in your strawberry puree, ¼ cup at a time until it reaches a beautiful deep pink color (you may not use all of your puree here, so I'd recommend making yourself a little strawberry lemonade!).
Make the Salty Graham Crunchies
Preheat oven to 325° and line a baking pan with parchment or a silpat mat.
In a medium bowl, crush graham cracker sheets into crumbs, about the size of a peppercorn. Mix in the melted butter and a heavy pinch of kosher sea salt. Spread the mixture on the pan and bake for 8-10 minutes, until golden. At first, the mixture will be soft, but it will crisp up as it cools.
Once cooled, break up the graham crunchies with your hands and mix in the chopped, roasted pistachios. 
To Build
In a small clear glass container, generously layer the bottom with salty graham crunchies. Carefully scoop the custard into the glass until it's half full. Use small strawberries, if possible, and thinly slice longways. Press each strawberry slice to the side of the glass all the way around. Spoon in one more layer of custard, until it almost reaches the rim. Sprinkle salty graham crunchies on top and finish with strawberry slices, small berries, and a few petals of edible flowers. Lastly, drizzle with raw honey and enjoy!