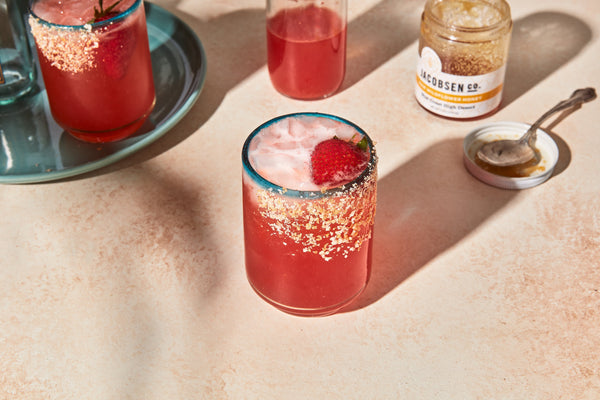 Shrubs 101 with Raw Wildflower Honey
Posted by:
Jacobsen Salt Co.
Shop The Recipe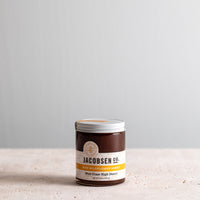 Dallas-based food photographer, stylist, and recipe developer Brittany Conerly shares her technique for making fruit shrubs this summer, with raw honey as your sugar component. She uses strawberries and lemon in this rendition, but you can use this method with any fruit of your liking. Photos + Recipe by Brittany Conerly
This time of year is probably my favorite time of the year. The days are longer and the farmer's markets are plentiful with all of the fresh produce. Around this time is also when I love to make a refreshing fruit shrub with a splash of soda water. I am not talking about a bush, but a drinking vinegar that dates back to the 17th century. 
Shrubs are a tangy fruit-forward syrup that creates a refreshing beverage when mixed with water, club soda or even some alcohol. Even though there are many ways to make a shrub, hot method vs cold method, they both create a refreshing syrup. All you need is fruit, sugar, vinegar and a little time.
The hot method is quicker, but if you do decide to do the cold method, all you will need is one day at a minimum. 
For the cold method, take your fruit of choice and macerate it in sugar for a day, until the sugar dissolves and the fruit is soft. You will next add in your vinegar of choice, but make sure it is labeled as having at least 5 percent acidity. My favorite types of vinegar to use are apple cider vinegar, coconut vinegar and white wine vinegar. I like to measure my syrup after straining the solids, then add half of that volume in vinegar. But always add a little bit and taste to your preference. 
If you are using the hot-processing method, in a medium size pot, heat your sugar with a splash of water until sugar is dissolved. Then, add your fruit and remove from heat and cover. 
Aromatics can be added as well, which brings your fruit shrub to the next level. For this recipe, I added lemon zest and lemon juice, but have fun and add some grated ginger, sliced jalapeños, or some fresh basil. In the past I have even added cracked black peppercorns, have fun with the flavor profiles!
STRAWBERRY-LEMON SHRUB
Process
Add the honey, water, strawberries, zest, and lemon juice into a medium bowl. Gently mash the strawberries and give the mixture a good stir. Cover and leave out at room temperature for about 1 day. Stir the mixture occasionally, until the berries are soft. 
Strain the fruit mixture through a fine mesh sieve and press the berries gently into the strainer to extract more syrup. Measure the syrup and add half of the vinegar, 2:1 ratio. Add more or less vinegar to your liking. 
Add 2-3 tablespoons of the strawberry lemon syrup to 4 ounces of soda water. Garnish with sliced strawberries. Add tequila (don't forget the spicy-salted rim) or gin.