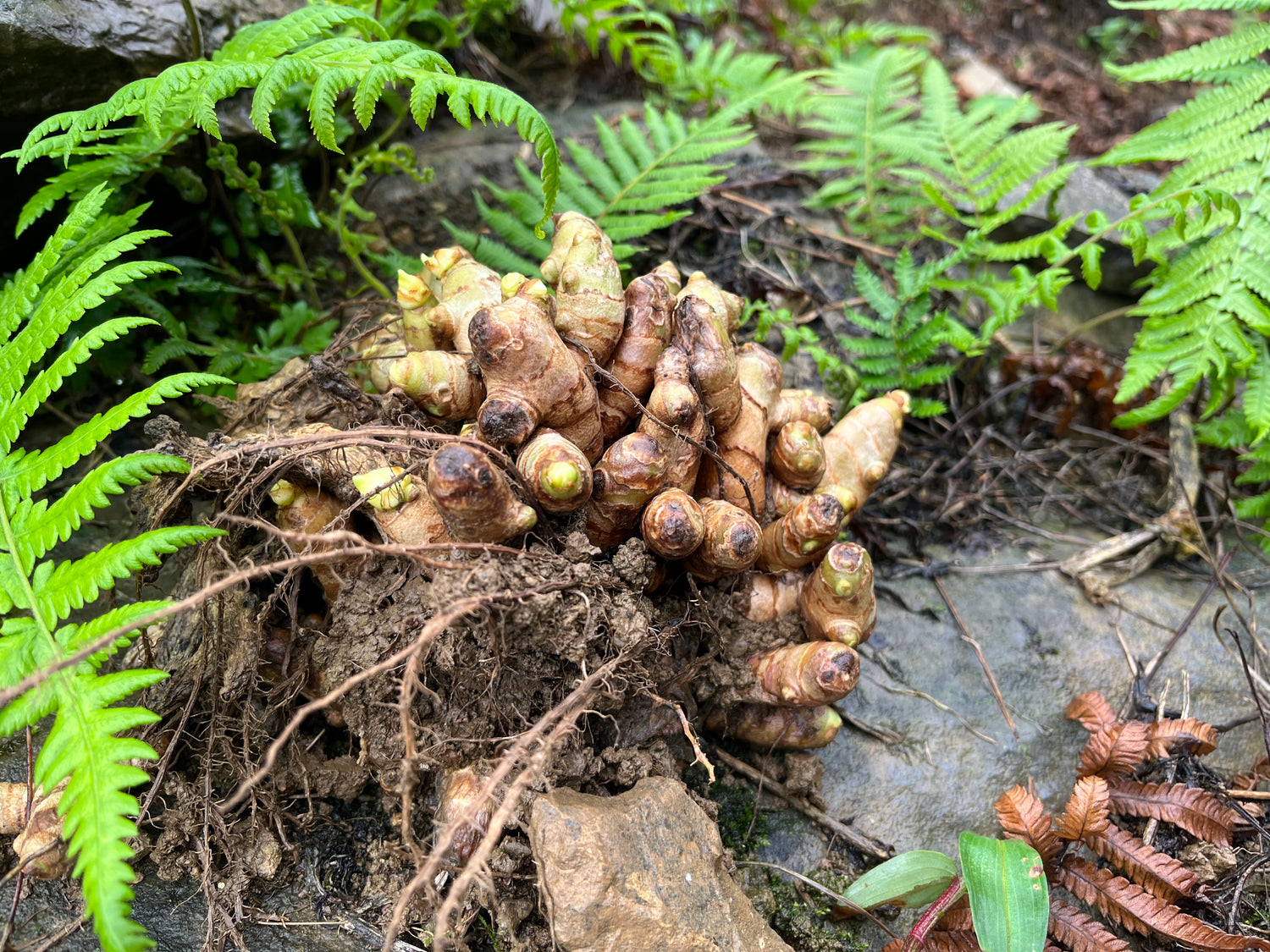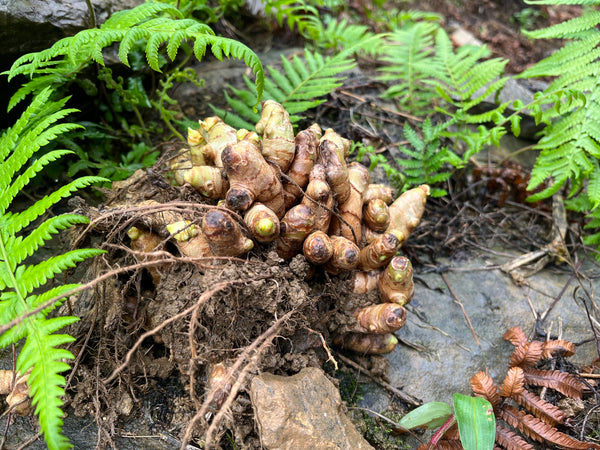 9-Course Spiel: Ori Zohar of Burlap & Barrel
Posted by:
Jacobsen Salt Co.
We're huge fans of Burlap & Barrel at JSC. You'll find their Purple Stripe Garlic in our Garlic Salt, and most recently, their Buffalo Ginger in our newest infusion, Black Garlic Ginger Salt. In our Q&A below, we chat Buffalo Ginger and beyond with Burlap & Barrel's Co-Founder and Co-CEO Ori Zohar, covering single-origin spices, his most recent sourcing trip to Northern Vietnam (where both of these spices are grown), and his favorite way to incorporate JSC's latest salt into his home cooking.
1. How did Burlap & Barrel come to be? Can you name the moment when you realized you needed to start this company?
My co-founder Ethan and I had been longtime friends, even starting an activist ice cream company called Guerrilla Ice Cream back in 2010. From there, we went our separate ways - my background is in business and entrepreneurship, and I went on to start a venture-backed finance company to help make the process of getting a mortgage much more straightforward and much less expensive. After four years, slippery investors ended up forcing us to sell and I ended up learning a lot of lessons about what it really takes to run a company.
Ethan's path lead him to be an aid worker in Afghanistan, where he first tasted the Wild Mountain Cumin seeds that would become the inspiration for Burlap & Barrel. He spent the first few months visiting spice farmers, including a cardamom farmer in Guatemala and an organic spice cooperative in Zanzibar, to see if we could create a network of partner farmers that we could work with to directly source from.
With all those spices in hand, he landed in San Francisco in 2016. We went to a favorite restaurant to meet with the chefs and see what they thought of the spices. The chefs all circled around the end of one table, and I watched as they lost their minds smelling and tasting each spice. That's when I knew that if professional chefs were fans, then home cooks would love the spices, too. We were in business.
2. How does Burlap & Barrel define single-origin spices? Would you say this definition has evolved as you've continued growing and learning? 
We're a public benefit corporation, so our mission has been to connect smallholder farmers to high value markets. We wrote up our sourcing philosophy right when we started the business, and haven't changed it since then.
We know that people care about where their coffee, chocolate and tea comes from. And people are making efforts to shop more at farmers markets or to buy meat from a butcher they trust. We're just at the beginning of single origin when it comes to spices - and we want Burlap & Barrel to be the destination.
3. With spices and seasoning, why does "single origin" matter?
Spices typically go through a journey that involves many, many intermediaries where everyone loses. The farmers get paid low commodity prices, which creates pressure to cut costs in any way possible. Meanwhile, the spices change hands many times, good and bad crops get mixed together, and what arrives in the US has already had its best days behind it. Even specialty spice companies are often buying the best spices that they can from big importers.
Single origin matters for spices as it does for any other food. More money goes to the farmers, and you get fresher, more delicious spices. It's like the first time you took a bite of an apple that you got at a farmers market that was just picked that morning. Once you've tried the single-origin version, it's hard to go back!
4. Tell us more about your recent sourcing trip to Northern Vietnam! What makes this part of Vietnam ideal for growing ginger and what did you further learn about this place and this plant, after spending time with your partner farmers?
Vietnam is one of my favorite places in the world, and luckily we have good reason to visit. Northern Vietnam in particular is a great place for growing spices due to the healthy soil, the temperate climate, and the abundance of mountains and rivers around which spices like ginger like to grow.
Our Buffalo Ginger is a result of our partnership with a social enterprise in Vietnam called DACE. DACE works with farmers belonging to the Hmong ethnic minority in the highlands of Northern Vietnam to transition to growing high-value, heirloom spices using regenerative practices.
Farming in the remote highlands of this area is no simple task. The region's mountainous landscape, hot summers, and cold winters create a climate that isn't suitable for producing large food crops such as rice or corn. Growing spice varieties, many of which are native to the Cao Bang region, allows farmers to farm using traditional organic practices on small fields, which are irrigated by collected rain water.
Buffalo Ginger was the first crop that farmers began to grow in collaboration with DACE, and they found that the regional conditions and soil quality resulted in a very intense and flavorful ginger that was perfect for dehydrating and grinding. Soon after, they began planting high-curcumin red turmeric with similar success. Now, they farm ginger, turmeric, lemongrass, coriander and garlic across 300 hectares of land.
The shift in the local economy's focus on sustainable agriculture has positively impacted the surrounding forests. Families can now depend on guaranteed fair prices for their crops and rely less on the forest ecosystem, which had previously been burned or cut down to provide income.
5. How does this Buffalo Ginger compare to other ginger varietals you've encountered, and how long does it take to harvest?
Our ground Buffalo Ginger is an heirloom ginger variety. It has a fruity, floral aroma and powerful heat, making for a complex and flavorful ginger powder. What makes this ginger stand out is that it has a warm and spicy kick that you usually only get with fresh ginger. 
6. What are the most common ways Buffalo Ginger is used in Northern Vietnamese cuisine? 
In Vietnam, this ginger is traditionally used with the dishes you might already associate with Vietnam: chicken and noodles or rice, rich, brothy soups, and even as candy. It's also been used for medicinal purposes — to calm upset stomachs, restore appetite, and support the immune system. It's a magical spice.
7. For the Buffalo Ginger or another one of B&B's spices, what is a surprising or seemingly overlooked way you've found yourself using it?
Most of America is cold and rainy right now, so I've been drinking the Buffalo Ginger in a "cold buster" tea that also involves honey, fresh lemon juice, and a little bit of Cobanero Chili. Outside of those ingredients, there's no hard and fast rule for this tea in my house; star anise, cardamom, cloves and cinnamon also sometimes make their way into the cup.
8. On the topic of home cooking, what's the first thing you ever learned to cook and who taught you? 
Many weekend mornings, I'd walk into the kitchen to see my dad putting together a big and beautiful Shakshuka. The classic North African dish made its way to Israel, where my parents and I were born, and quickly became a culinary staple. We always treated this dish with flexibility - it always had a base of red bell peppers, garlic, and tomatoes simmered into a spicy sauce with eggs dropped in, but the rest depended on what was in the kitchen. Sometimes we grated leftover bits of cheese over it. Other times, an olive tapenade or even anchovies (!) were mixed into the sauce. I loved our weekend ritual and made it my own over the years.
9. When I say single origin, what's the first thing that comes to mind?
I still think about coffee and tea, since that change has been happening for a couple of decades now. I think about the wonderful single-origin chocolate bars that barely last a few days in my house. And I think about all the ways that we're working to shift how the spice industry works. Did you see we recently introduced single-origin sugars?
Bonus Question: Name a dish that would pair well with a dash of Black Garlic Ginger Salt?
I've been using it in stir fries! Chopped veggies tossed with the Black Garlic Ginger Salt and a touch of sugar over a high heat. I also think it would be great on desserts and vanilla ice cream.