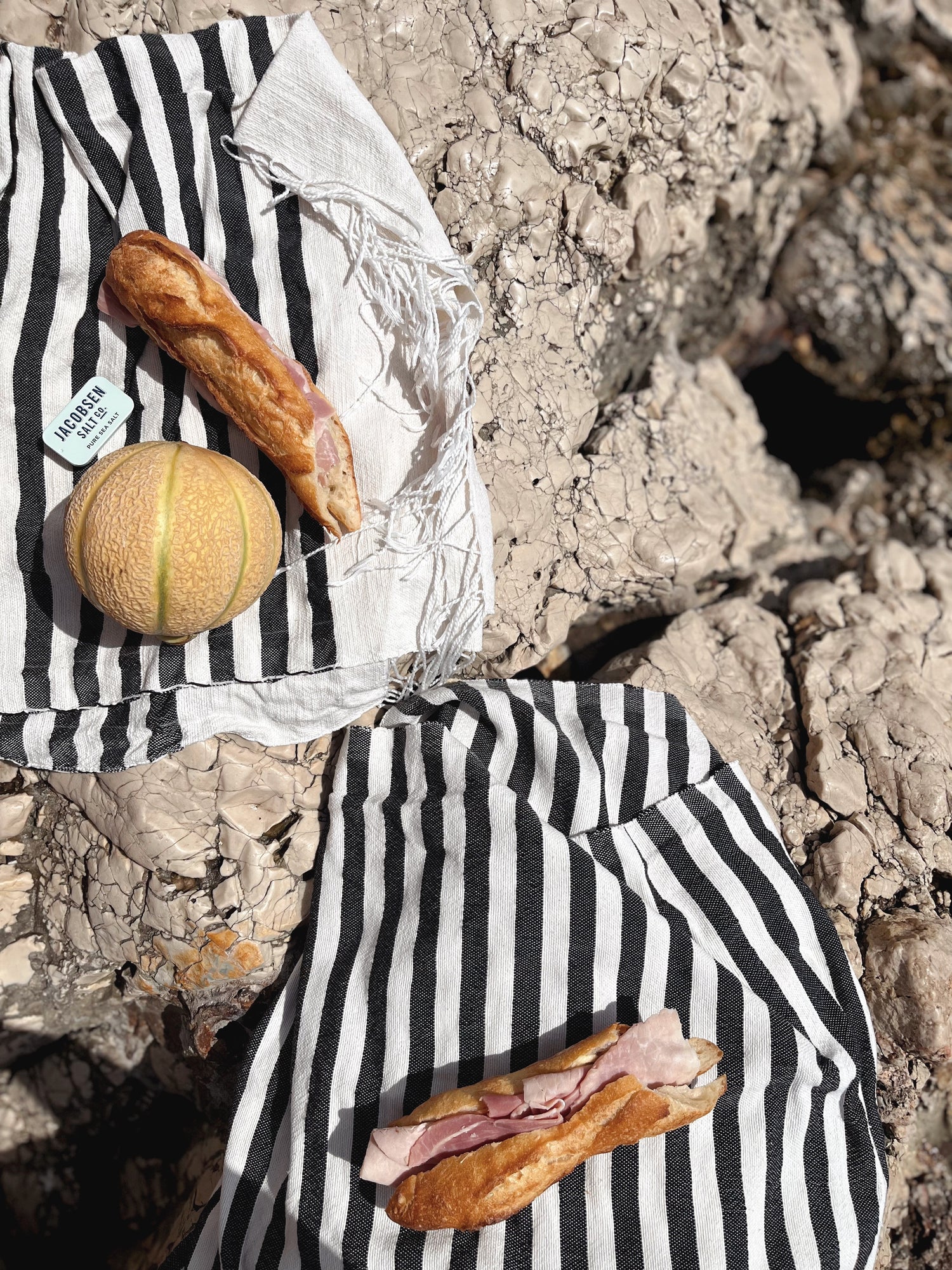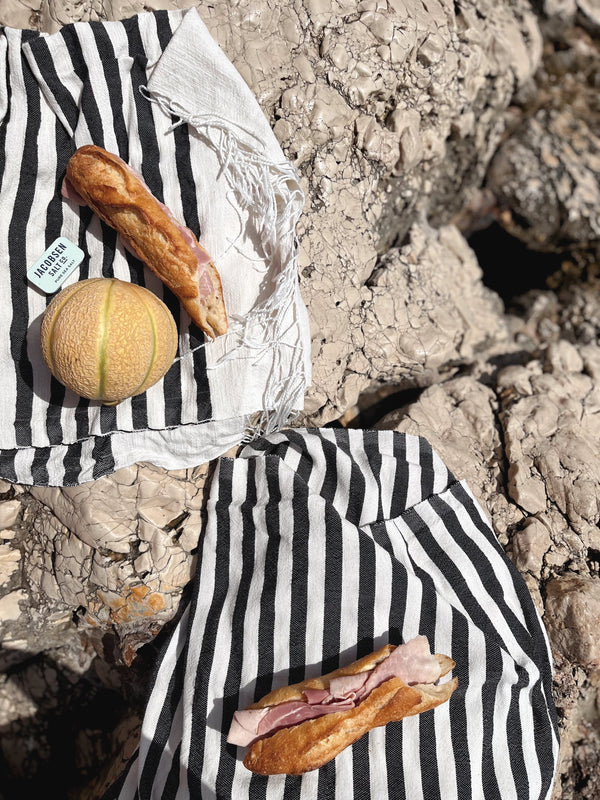 On Summer and Picnics with Rebekah Peppler
Posted by:
Jacobsen Salt Co.
Rebekah Peppler is a Paris-based food writer and stylist, as well as the author of À Table and the James Beard Award-nominated Apéritif: Cocktail Hour the French Way. Rebekah is taking us through the seasons, teaching us some simple yet sumptuous ways we can make our food taste better and–no surprises here–how salt can help. Read her first installment with us, On Spring and Shopping Hungry where she navigates the local market; from picking produce to preparing them. Her second installment below is all about the perfect summer picnic and what to pack for that solo lunch, a party, or a date that lingers past sunset.
Words, Recipes and Food Styling by: Rebekah Peppler, Photos by: Laila Said
A picnic is a picnic set up on a grassy patch, in a park or field, on a pebbled or sandy beach, or— a personal summer favorite—perched on the edge of any body of water with the option to swim between bites. It is a picnic when dappled in shade or set directly in sun, testing the limits of spf. It can be a solo lunch, a party, a date that lingers past sunset. It can be well-thought out or impromptu, a sweatshirt laid on the ground and a corner store filling in for blanket and basket. Out of necessity or ease, a picnic can also be an indoor affair, tucked between the couch and pushed-aside coffee table with easy access to refills. Wherever the picnic ends up, the path from standing to picnicking is short and direct: blanket, basket, sit.
Should you want a good picnic, there are three rules I follow:
First: there is proper drinking ware for the beverage/s of choice: water, wine, cocktail, kombucha, lemonade, beer, shandies, what have you. I'm partial to short, sturdy, inexpensive glass glasses that work for any beverage and take determination/dedication to break. Also great and lightweight: enamelware or stainless steel cups.
Second: just as there should always be a dish of salt on the dining table, there should be flaky sea salt on the picnic blanket. I keep a travel-ready tin next to the wine key in my bag so I never forget it, even in the most last minute of picnics.
Lastly: There's good food. Personal definitions of good vary and many a picnic-ready recipe has been written and picnic listicle made but the truth of the matter is that most anything portable and to your taste goes (to wit, a room temperature lasagna served out of the baking dish while picnicking at the park near a friend's home in Paris still ranks as one of my top picnics in life). At minimum, all picnics should include a bag of chips, preferably ruffled and heavily salted and ripped open while also in the act of sitting down. 
And if you're looking for the platonic ideal of picnic foods, you're looking for a sandwich. Here's two:
Le JAMBON-BEURRE:
Slice a crusty baguette in half lengthwise. Thickly slice plenty of very good, cultured butter (salted or unsalted) and generously spread on the bottom half of the baguette. If you're using unsalted butter, sprinkle a small pinch of flaky sea salt overtop. Layer on slices of Jambon de Paris if you can find it, another ham that hasn't been dry cured or smoked if you can't. Jambon-beurre purists will say to sandwich your sandwich now and add nothing else, no cornichons, no mustard. I say, the sandwich is already perfect but pack a container of cornichons to snack on alongside. Set the top half of the baguette on top, slice in half crosswise to create two portions. Wrap each sandwich in parchment paper or reusable beeswax wrap and place in a resealable bag; serves 2.
Le TOMATE:
This is a sandwich that, by the time you eat it, will be in its full sandwich form and glory. However, unlike the jambon-beurre, a sandwich that can be readied far ahead of your picnic, don't assemble le tomate hours in advance. Le tomate requires on the blanket assembly and it's worth the extra minute.
First, a few hours or days in advance make your tomatoes. Preheat the oven to 300°F/150°C**. Halve about 1 pound (455 g) small plum tomatoes lengthwise and toss with 2 tablespoons extra-virgin olive oil. Place the tomatoes, cut side up, on a baking sheet; sprinkle each with flaky sea salt or rosemary salt or black pepper salt and a very small pinch of granulated sugar. (I sometimes also halve a head of garlic, drizzle with a little olive oil, flaky sea salt, and black pepper, wrap in foil and place on the baking sheet to slowly roast alongside the tomatoes then squeeze the tender, sweet, roasted garlic cloves on the sandwich as well.) Roast for 3 hours. Set aside to cool then pack in an airtight container to bring to the picnic.
Slice a crusty baguette in half lengthwise, then in half crosswise to create two portions; wrap and pack that too. Once you've arrived at your chosen picnic location and are ready to eat, layer the tomatoes over the bottom half of the baguette (snack on the extras). Optional but if you like, also pack a small ball of fresh mozzarella or log of fresh goat cheese, tear into pieces and intersperse around the tomatoes on the baguette. Season with flaky sea salt then set the top half of the baguette on top, slice in half crosswise to create two portions. Eat immediately. Serves 2 plus extra tomatoes
**It's summer and you may not want to have your oven on but hear me out. It's at a lower temperature, you can absolutely make them a few days in advance, and these tomatoes are sweet and tender and flavorful and worth it. If you're an early riser, I find the morning before temperatures rise to be the best time for any summertime projects involving an oven.
Another ideal picnic food in my book is a melon. Be it cantaloupe, muskmelon, a half or quarter or—depending on the size of the crowd—whole of a watermelon, a melon can act as starter, side, and/or dessert. To choose a melon, pick it up. The melon should feel heavy. Look at its stem, it should be clean and unscarred. Finally, smell it at its stem, it should smell very fragrant. Cut into manageable, snackable pieces or wedges at home or pack it whole alongside a knife and a sea salt slide tin. Once you've set up your picnic take out said melon, cut, sprinkle with flaky sea salt from your traveling picnic tin or if you like spice, infused habanero salt, and eat. The salt will further draw out the flavors of the melon, enhancing and unlocking the fruit's inherent sweetness, complexity, and juiciness. 
If you forget napkins, that's what picnic blankets are for.