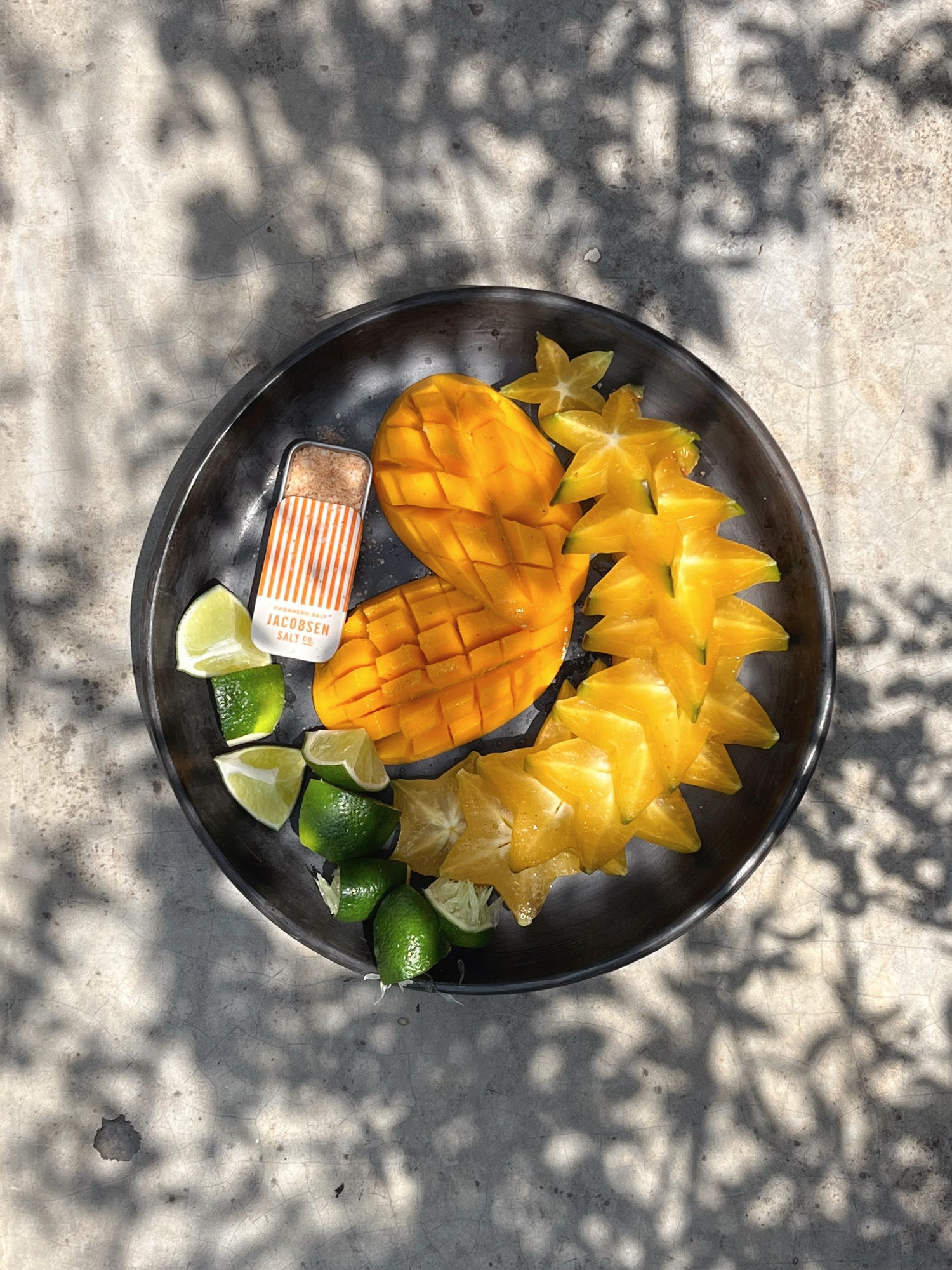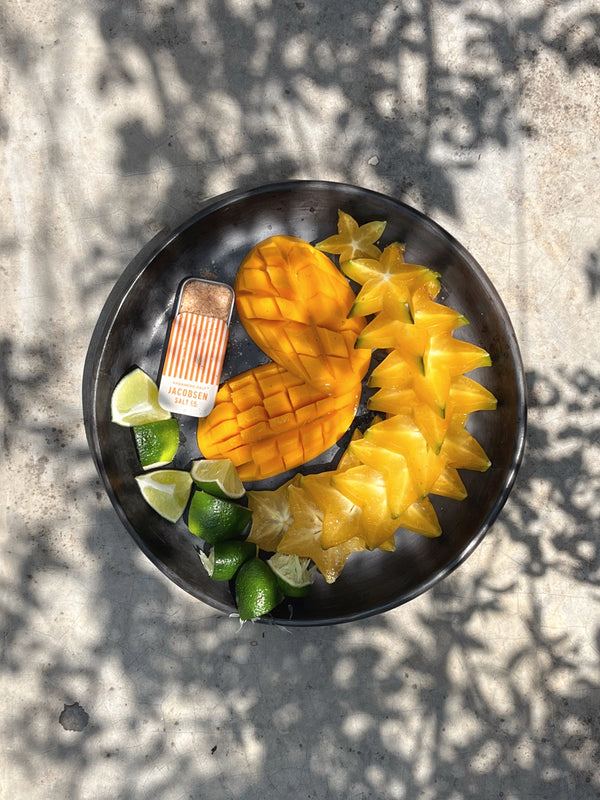 Summer Primer with Rebekah Peppler
Posted by:
Jacobsen Salt Co.

Rebekah Peppler is a Paris-based food writer and stylist, as well as the author of À Table and the James Beard Award-nominated Apéritif: Cocktail Hour the French Way. 
During a recent month spent in Mexico City my partner and I fell into a routine. Tuesdays: café de olla and flautas at Comal Oculto. Thursdays: a stop for her (Laila is from CDMX) favorite jugo de guayaba on the corner of Medellin and Avenida Insurgentes Sur. Saturdays: micheladas with friends. Sunday mornings: a walk to the Mercado el 100 a weekly open-air, all-organic market in Roma where, hence the name, everything sold must be from within a 100-mile radius. After a quick stop for tlacoyos and another for coffee, we lingered at the fruit stand: smooth-skinned, green to yellow ombre papayas, tender-skinned starfruit, fragrant mangos, tiny avocados, bright handfuls of limes.

Inspired by the vendors selling fresh fruit cut to order and seasoned with lime, salt, chile, and/or chamoy, we brought them back to our rented apartment, snagging jars of Infused Habanero Salt and Infused Lemon Zest Salt on the way up to the rooftop. (One thing about me is I will travel with good salt). Once settled, we squeezed lime halves over sliced fruit and finished with salt.

Words, Recipe and Food Styling by: Rebekah Peppler
Photos by: Laila Said



Salt amplifies flavor. With an added pinch, ripe fruit tastes even more deeply of itself and any bitterness lingering in the not-quite-ripe is softened. Classic flaky sea salt is always an excellent choice and salts infused with spice or citrus add additional layers of flavor—while still allowing the ripe fruit to shine through.
You can—and should—salt a wide variety of fruits. Melons like cantaloupe, honeydew, and watermelon. Stone fruits such as peaches or apricots or nectarines. Pineapples, papayas, starfruit. Add a pinch to roasted fruit or on top of a paleta or into a paloma. But if you have to choose just one for your afternoon snack, my go-to is the mango.



To Choose
Mangos are edible at most stages of ripeness, their flavor and sweetness changing as they soften. To choose the right mango for this snack preparation, you want a ripe but still firm mango. Most, though not all, mango varieties will shift in color from green to shades of yellow or orange. Since some mango varieties don't change color as they ripen, I worry less about what color it is and more about how it feels. Pick it up and use your fingers to gently press on the mango—it shouldn't be super hard but rather give slightly when squeezed (kind of like when you choose a peach or avocado). Then smell near its stem. If the mango is indeed ripe, it'll be very, very aromatic. (Another exception to this rule is the Ataulfo which may not be super fragrant when fully ripe but will become wrinkly.) If your mango isn't quite ready, wait a day or two storing your mangoes at room temperature. If you want them to ripen faster, tuck them in a paper bag or cover them with a kitchen towel. Should your find yourself with a glut of ripe mangoes all at the same time and you want to save a few for later, store in the fridge for up to five days.
To Cut
Most mango varieties have a flat, elongated seed in the center. To cut, slice off each thicker side of the fruit lengthwise, on the other side of the pit. Use a small, sharp knife to score each half lengthwise and crosswise into a crosshatch pattern, cutting through the flesh but taking care not to cut through the peel. Invert each half so the cubes press out. If you like, you can then use the knife to shave off the cubes or serve and eat directly from the skin. Cut away any remaining flesh from the seed, remove and discard the peel, and slice into pieces.
To Finish
Halve a lime and squeeze the juice overtop then sprinkle with your chosen salt and enjoy.