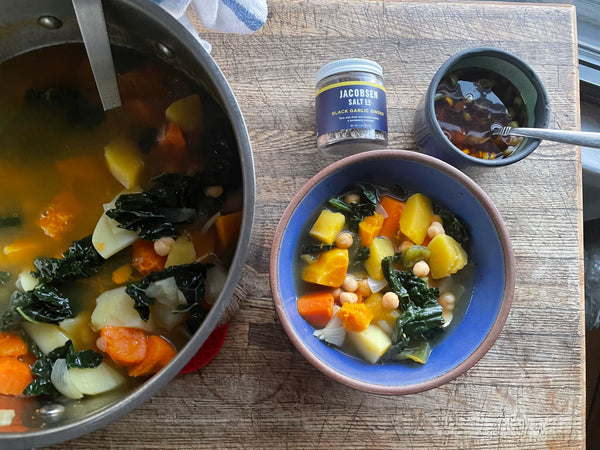 Gaby Melian's Winter Vegetable Stew
Posted by:
Jacobsen Salt Co.
Shop The Recipe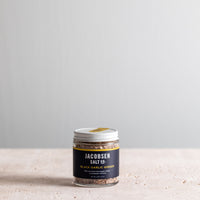 Infused Black Garlic Ginger Salt
$13
SOLD OUT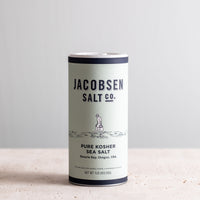 I love a good winter stew. They can be as flexible as your budget allows and you can make them slightly different depending on what you have available. In Argentina, we have many famous stews--like "Locro" and "Carbonada Criolla"--simple dishes that include meat and vegetables thickened with corn, beans, hominy or wheat berries, seasoned with herbs and spices.
Inspired by my Abuela's stews, I am making this delicious vegetarian stew with the help of JSC's new Black Garlic Ginger Salt, using root vegetables, onions, peppers and canned chickpeas to give it a little thickness. The Black Garlic Ginger Salt uses their Pure Kosher Sea Salt, which you already know I love, infused with their house-fermented garlic and Burlap & Barrel's Buffalo Ginger. It gives this stew a warming umami from the ginger and black garlic. I really can't get enough!
Recipe and Photos by: Gaby Melian
Process
For the stew:
In a large pot, heat 2 tablespoons of oil over medium-high heat for about 1 minute (oil should be hot but not smoking). Add the onions and cook, stirring often with a wooden spoon, until they start to become translucent, 2 to 3 minutes.
Add the green bell peppers and garlic, stir a few times. Add 1 tablespoon of Black Garlic Ginger Salt, stir and let cook for another minute. Lower the heat if the onions start to get too brown.
Add all the cubed root vegetables, butternut and acorn squash, sweet potatoes, yukon gold potatoes, carrots and the pieces of ginger. Add the remaining tablespoon of Black Garlic Ginger Salt, stir well to get the salt all over the veggies.
Add the vegetable broth. The recipe calls for 10 cups of liquid, because I prefer my stew on the brothy side. I think it is always good to have extra broth, but if you prefer a thicker stew, start with only 8 cups. Add 1 tablespoon of Pure Kosher Sea Salt.
Bring the mixture to a boil. Reduce the heat to medium-low, cover the pot with a lid and cook, until all the vegetables are tender, approximately 15 to 18 minutes, depending on how thick you cut your vegetables. Check for doneness by inserting the tip of a knife in a potato. When cooked through, add the chopped lacinato kale and a can of chickpeas with the liquid. Cook for another 5 minutes uncovered, stirring gently. Turn off the heat.
Taste for seasoning and add salt if needed. Remove the pieces of ginger before serving. Serve hot. It will keep refrigerated for 3 to 5 days or freeze for up to 3 months.
For the sauce:
In a small bowl, add 1 tablespoon of Black Garlic Ginger Salt, 1 teaspoon of paprika and ½ cup of olive oil and mix well. Add chopped scallion and mix gently. Pour a couple tablespoons over the stew when serving.
Serve alongside some fresh crusty bread.