Grain Salad with Turmeric Labneh
Posted by:
Jacobsen Salt Co.
Shop The Recipe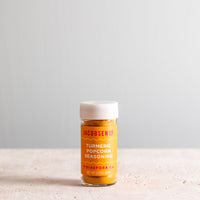 Turmeric Popcorn Seasoning
$10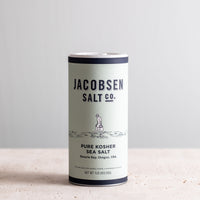 Inspired by the girl groups of the 1990's (Spice Girls, En Vogue, SWV), where each member worked together in equal parts, this salad also strives for harmony without any one ingredient feeling like the star of the dish. It's not a beet salad, or an avocado salad, or a cucumber salad, or even a peach salad - it's a salad where all four gems sit together on a crown of grain and labneh. 
Recipe by: Kourtney Paranteau
Makes two servings
INGREDIENTS
1 cup labneh
3 tbsp fresh lemon juice
1 garlic clove, finely grated
1 cup cooked toothsome grain - couscous, freekeh, bulgar, millet ect. (we are using pearl couscous from Bob's Red Mill because we love the look of its tricolor blend)
1 Persian cucumber, peeled and sliced into thick discs
1 stone fruit, peeled and cut into thin crescents (we are using a white peach)

½

avocado, cut into thick cubes
1 large or 2 small roasted beets of any color (for perfectly roasted beets, cover them in olive oil and sprinkle with Jacobsen Salt Co. Pure Kosher Sea Salt. roast in tin foil for 25 minutes or when you can slide a paring knife easily through the flesh) 
3 tbsp toasted pine nuts
A handful of fresh mint, single leaves separated from stems
1 tsp white sesame seeds
1 tsp Aleppo pepper flakes
PROCESS
Stir together labneh, lemon juice, garlic, and Turmeric Popcorn Seasoning together until smooth and consistent in texture. With a large spoon, scoop a healthy dollop of labneh/turmeric sauce and confidently flick sauce onto a flat, wide plate. With the curved-side of the spoon, smooth the labneh/turmeric sauce until about ⅓ of your plate is covered with a half-moon of sauce. Repeat on the second plate.
Over the labneh/turmeric sauce, sprinkle ½ cup of your cooked grains on each plate. Now, channel your inner-florist and thoughtfully begin placing your cucumber, stone fruit and avocado jewels atop your grain/labneh. Save the beets for last so the color doesn't bleed on the cucumber, avocado and stone fruit as you build your salads.
Using the labneh sauce as an adherent, start fixing leaves of mint throughout the salads. Sprinkle with pine nuts, sesame seeds, Pure Kosher Sea Salt and Aleppo pepper on both plates. Serve and enjoy!