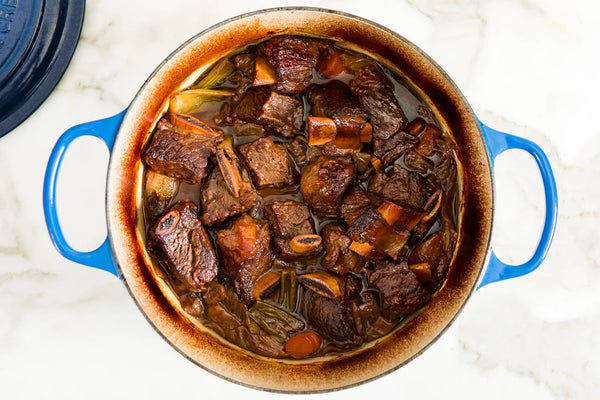 Raw Honey & Infused Pinot Noir Braised Beef Short Ribs
Posted by:
Jacobsen Salt Co.
Shop The Recipe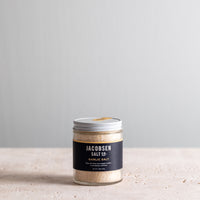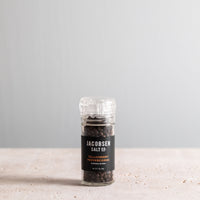 Sourced Tellicherry Peppercorn Grinder
$11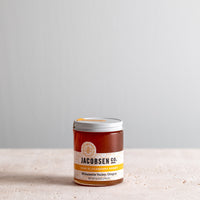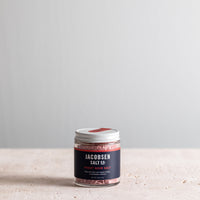 Infused Pinot Noir Salt
$15
Braising is the perfect winter weekend food project. Sweet and tangy, this recipe takes advantage of cozy days indoors to bring you a comforting meal featuring three of Jacobsen Salt Co.'s best – Infused Garlic Salt, Infused Pinot Noir Salt, and Raw Blackberry Honey. Garlic Salt is used to season the meat to create bold flavor while our honey from the Willamette Valley contrasts beautifully with the red wine vinegar. Our Pinot Noir Salt is added to finish the dish and enhance the wine used in the braising process.
The recipe below has varying ingredient amounts depending on the size of your Dutch oven (or other preferred ovenproof pan with a cover). You may need more or less stock than the recipe calls for; that's no problem! As long as you have enough liquid to cover up to 3/4 of your short ribs and vegetables, you are guaranteed deliciousness. Feel free to experiment with aromatics and flavors.


Process


Preheat the oven to 350 degrees.
Season the ribs generously with Infused Garlic Salt and cracked pepper. Heat olive oil in a Dutch oven set over medium-high heat. Working in batches so you don't overcrowd the pan, brown the ribs on all sides, about 1 minute per side. Set ribs aside and decrease the heat under Dutch oven to medium-low.
Add the onions to the pan and sauté until lightly browned, about 5 minutes. Add carrots, celery and garlic and cook about 5 minutes more. Add the red wine, thyme, bay leaf and parsley and simmer on high until the liquid has reduced by half. Stir in the Raw Honey and vinegar. Add enough broth so that the liquid comes ¾ of the way up short ribs. Cover with a lid and transfer to the preheated oven for 2 to 2 1/2 hours or until the meat is very tender.
Transfer the ribs to a large bowl and set aside. Strain the braising liquid into a medium to small saucepan and discard the vegetables and herbs.
Mix melted butter and flour in a small bowl and set aside. Boil cooking liquid until slightly reduced, stirring occasionally, about 10 minutes. Season with Infused Pinot Noir Salt and cracked pepper. Add the butter/flour mixture, whisking constantly to prevent lumps. Boil until thickened, 3-5 minutes. Remove from heat and add the short ribs back into the sauce.
Serve short ribs over a bed of creamy mashed potatoes or over sautéed greens with crusty bread. The short ribs can be made 1 day ahead. Skim off as much fat from the top before gently reheating on the stove or in the oven.