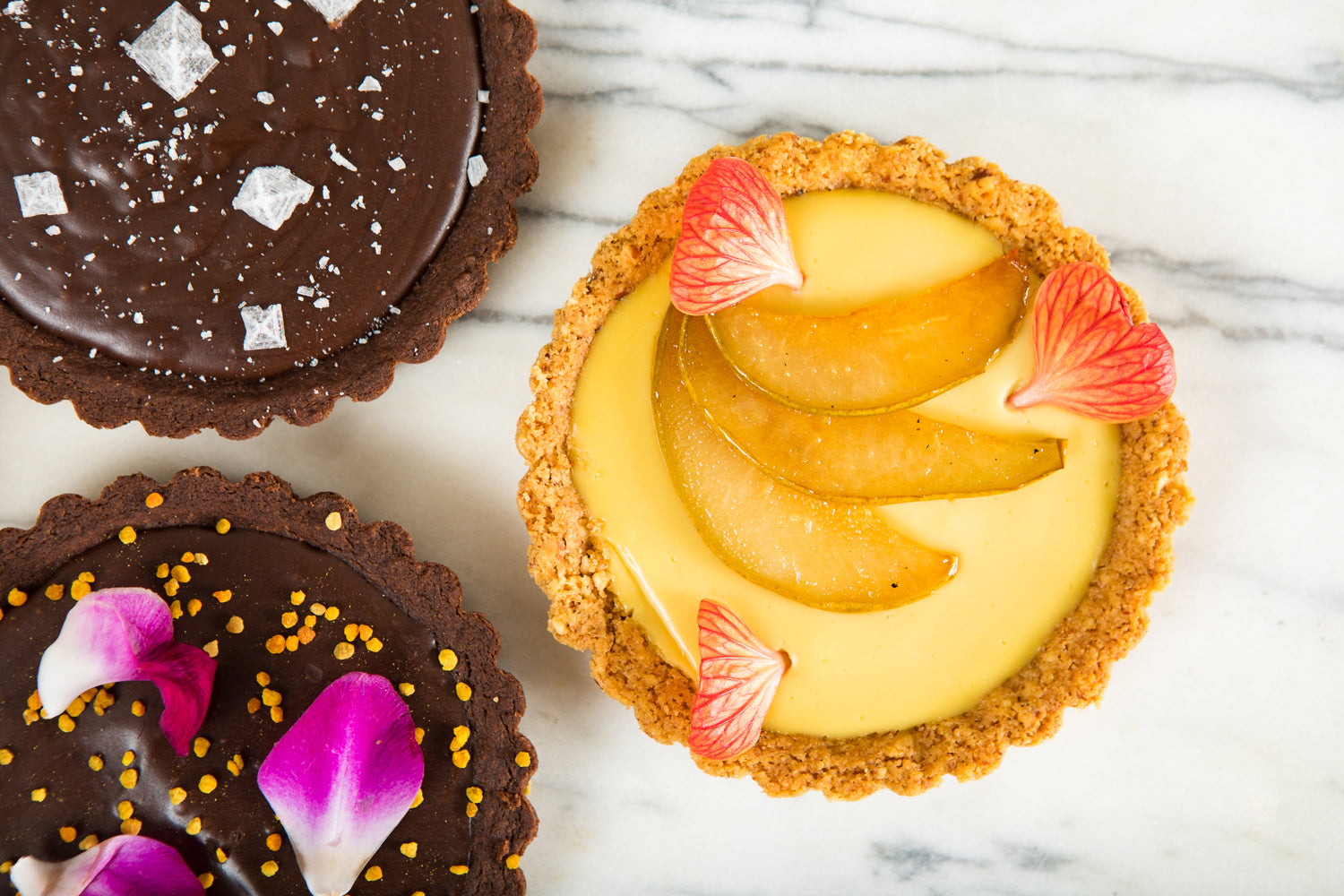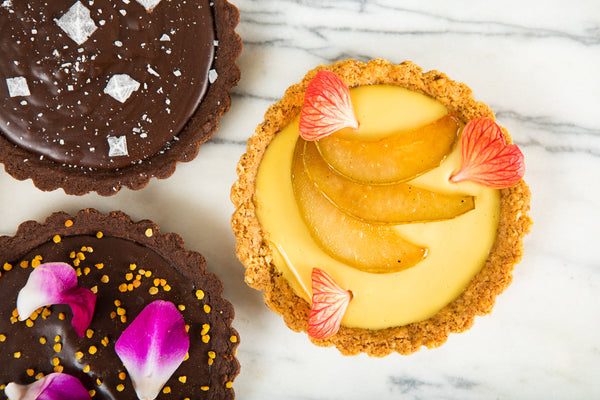 Honey Custard Tart with Flake Sea Salt
Posted by:
Jacobsen Salt Co.
Shop The Recipe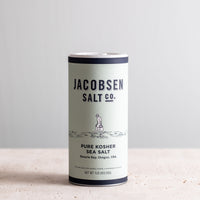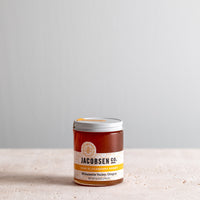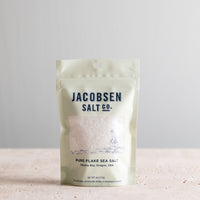 Our Jacobsen Co. Raw Blackberry Honey's mellow flavor and floral notes make it an excellent choice for this custard tart. If you've never made custard before, don't be intimidated! The process is straightforward and the results are worth it. This crust happens to be gluten free and the almonds add a robust nuttiness that stands up to the honey. Top with Pure Flake Sea Salt, chocolate shavings or roasted pears.
See notes below to make a chocolate & banana version!
Makes one 9" tart or four 4" mini tarts
INGREDIENTS
Crust:
1 cup raw unsalted almonds
1/2 cup oat flour or ground old fashioned oats
1/2 almond flour
⅓ cup butter, melted, slightly cooled
2 tablespoons brown sugar
1/2 teaspoon Jacobsen Salt Co. Pure Kosher Sea Salt
½ teaspoon ground cinnamon
Filling: 
PROCESS
Preheat oven to 350˚F.
Pulse almonds, oat flour, almond flour, sugar, butter, Pure Kosher Sea Salt, and cinnamon in a food processor until almonds are coarsely ground. You're looking for small, oat-sized pieces of almond.
Firmly press crust mixture into bottom and up the sides of a 9" tart pan or divide among 4 small tart pans. Bake until crust is golden brown and smells toasty, 20–25 minutes. Transfer to a wire rack; let cool.
Mix egg yolks and cornstarch in a medium bowl and set aside. Combine milk, Raw Honey and vanilla extract in a medium heavy bottom saucepan and heat over medium high heat. Once the milk has come to a simmer, slowly drizzle the liquid over the egg mixture, whisking continuously. You do not want to scramble the eggs.
Pour the mixture through a fine mesh sieve back into the saucepan and cook over medium heat until the custard comes to a gentle boil. Stir frequently to prevent lumps. Once the custard has thickened, pour the filling into the prepared tart crust(s).
Place plastic wrap directly on top of the filling to prevent the tart from forming a film on top. Let cool to room temperature before placing in the refrigerator to set completely, at least 2 hours.
Remove tart(s) from the refrigerator about 30 minutes before topping with desired garnish and serving.
*To make a banana chocolate version of this tart, add banana slices to the bottom of the pre-baked crust before adding the custard filling. Let the custard set, then add a second layer of banana slices (if desired). Spread whipped cream over the bananas and top with chocolate shavings or chocolate chips.