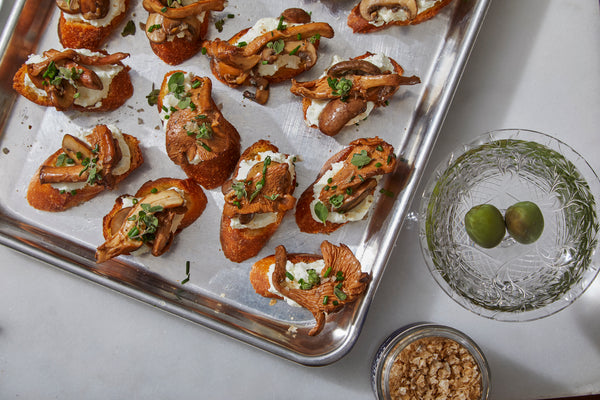 Mushroom Crostini with Goat Cheese & White Truffle Salt
Posted by:
Jacobsen Salt Co.
Shop The Recipe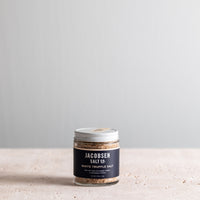 Infused White Truffle Salt
$48
The only thing better than holding hands with someone you love is enjoying handheld foods along with your beloved. And no matter how fancy the remainder of your meal is, these top-notch crostinis class up the appetizer portion of your evening. Boasting three varieties of mushroom flavor, our white truffle salt puts the final brushstroke on these mini-masterpieces fit for a party of any formality.
Recipe by: Kourtney Paranteau


Process


Preheat the oven to 350°F and while you wait for the temperature to rise, brush each slice of baguette with olive oil and arrange oil-side-up evenly throughout the surface of a baking sheet. When your oven reaches temperature, bake the baguette for five minutes or until golden.  
Meanwhile, in a saucepan, melt your butter over medium heat and toss in both varieties of mushrooms and cook while cajoling in your pan. Drizzle sherry over your mushrooms and continue to jostle gently in your pan until fragrant and the alcohol cooks off (about four minutes) before removing from heat. 
when your bread is cool enough to handle spread a thin layer of goat cheese over each slice and top with mushroom mixture garnish, fresh oregano, finish with Infused White Truffle Salt and serve alongside your favorite party drink.