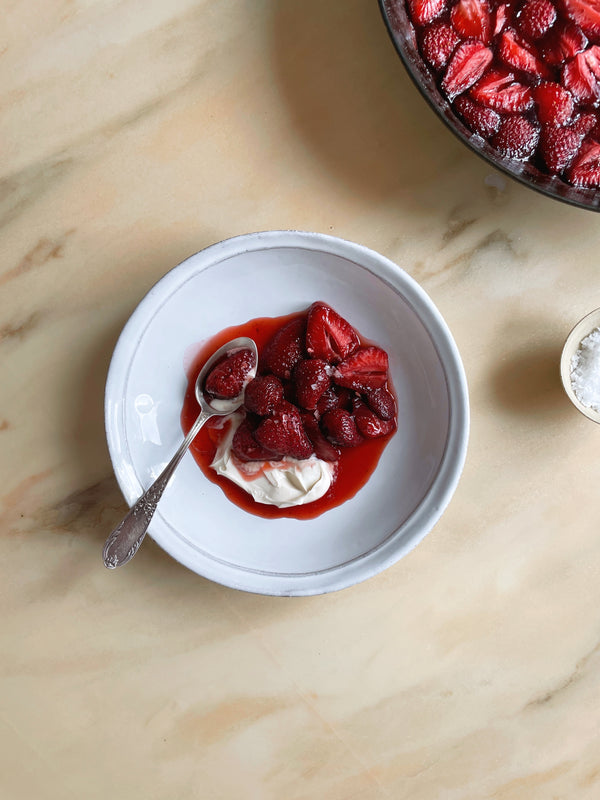 Roasted Strawberries with Crème Fraîche and Flake Sea Salt
Posted by:
Jacobsen Salt Co.
Shop The Recipe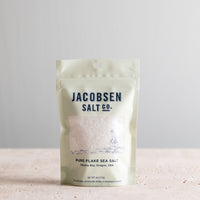 Rebekah Peppler is a Paris-based food writer and stylist. We love her delicious and elemental-yet-bold approach to food, and how a sense of place influences her cooking. This recipe is her take on turning farmers' market strawberries into the most delightful dessert, excerpted from her first installment with us about navigating your local market and picking prized produce.
Strawberries may signal spring in many parts of the world but in France—from slightly tart Gariguettes to deeply floral Mara des Bois to the sweet, bright red Cléry—each variety is a celebration. Variety-aside, choose strawberries by their vibrancy and fragrance and, if the seller is willing, their taste. In prime season, buy one more pint than you need, eat immediately, and consider each bite a reward for making it through winter. Roast the rest. 
Words, Recipes and Food Styling by: Rebekah Peppler, Photos by: Laila Said


Process


Heat the oven to 375°F / 190°C.
Gently wash 6 to 8 cups of fresh strawberries and trim their stems with a sharp paring knife, halving the larger berries and keeping the smaller fruits whole. 
Toss in a baking dish with the sugar granulated sugar (depending both on the sweetness of the berry and your preference for sweetness), a few tablespoons water, and, optionally but very lovely, vanilla extract or vanilla bean. You could add a few strips of lemon zest or grinds of black pepper or sprigs of thyme to the dish but I like my strawberries just as is in order to showcase their most strawberry flavor. 
Place in the oven and bake until the berries are tender and the juices are syrupy, 30 to 40 minutes.
Remove from the oven, cool to warm or to room temperature and sprinkle with a pinch of flaky sea salt. Salt, as it does most other things in the kitchen, aids the roasted berries in tasting even more intensely of themselves.
Serve alongside crème fraîche, crème cru, thick yogurt or ice cream and serve with more of everything, including salt, on the table to replenish as needed. Store any leftovers in the fridge for a few days.