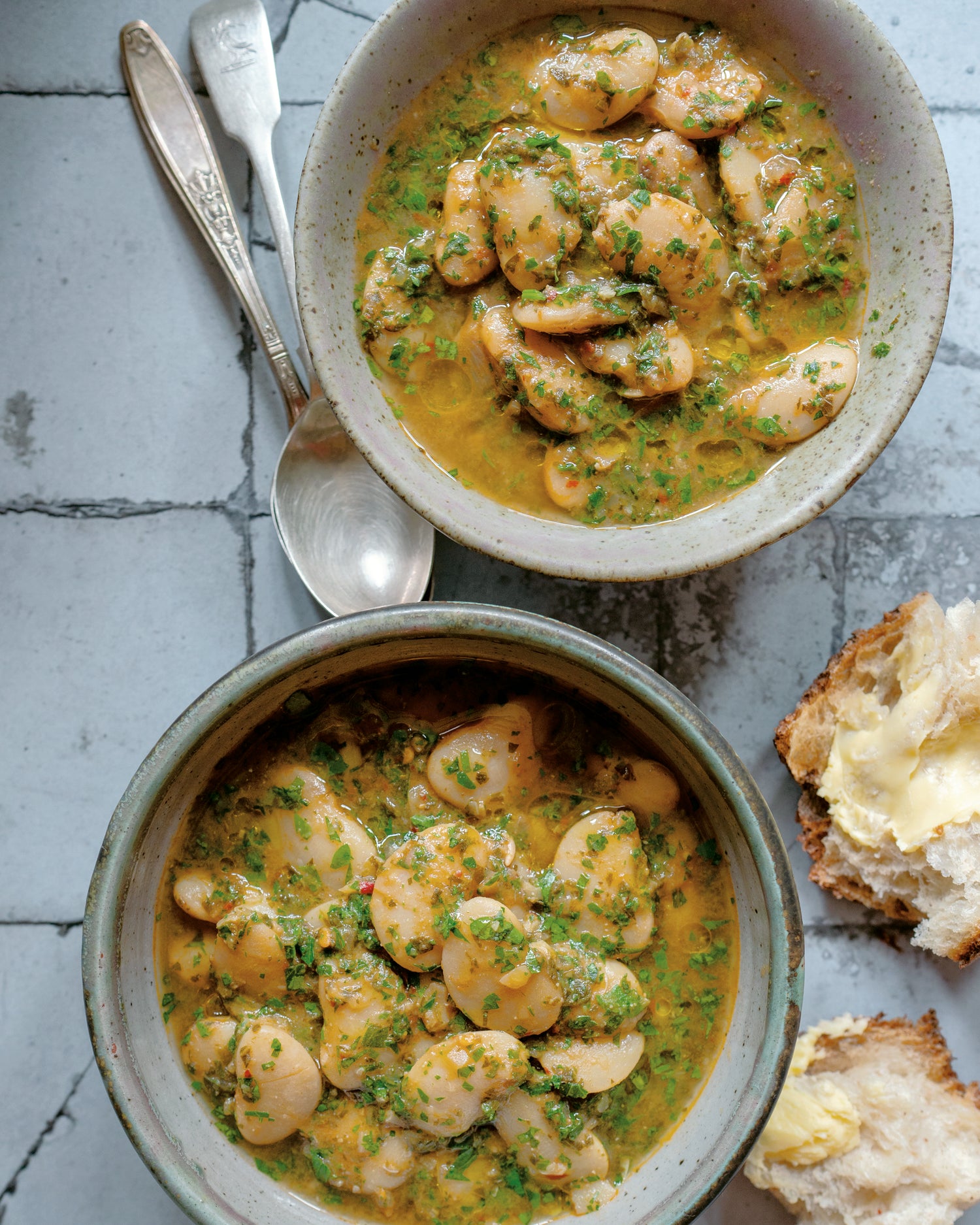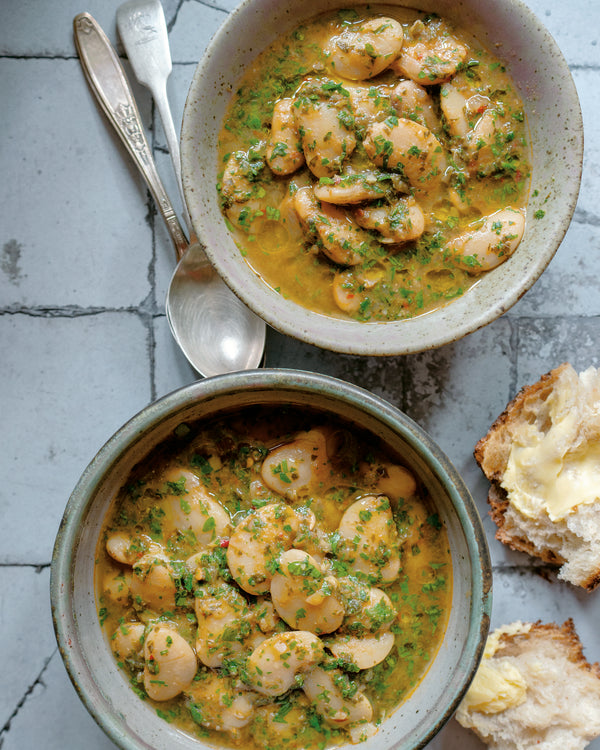 Stocks and Soups with Naomi Duguid
Posted by:
Jacobsen Salt Co.
Shop The Recipe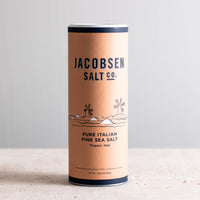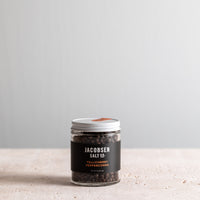 Sourced Tellicherry Peppercorns Refill Jar
$10.50
Naomi Duguid is a writer, photographer, and the author of THE MIRACLE OF SALT: Recipes and Techniques to Preserve, Ferment, and Transform your Food, which invites its readers on a flavor journey that begins with the possibilities of the salt larder.
Words and Recipes by Naomi Duguid
Photographs by Naomi Duguid and Richard Jung
Winter weather is an invitation to make warming soups.
I love having containers of simple chicken stock and vegetable stock in my freezer, available for those times when I'm in a rush, or when I'm short of ideas. I can melt the stock in a pot and use it as the base for a risotto, or for a hearty vegetable soup of some kind, or instead, just quickly make a welcoming bowl of soup noodles by boiling the noodles in the broth (I like using wide flat egg noodles and topping each bowl with finely chopped greens or scallions or fresh radish sprouts or pea shoots).
Of course you can buy both chicken stock and vegetable stock, but if you've had a roast chicken, chicken stock is a great way to recycle the remnants. If I'm making stock to store in the freezer, I like to keep it fairly neutral tasting, so that it can be useful for a wide range of possible dishes.
When making a broth from leftover bones, I usually include an aromatic or two (say chopped garlic, a bay leaf, and sometimes chopped ginger or black peppercorns for winter warmth) in the water as it simmers and extracts flavor from the bones. And I season the broth with only a little fine salt.
Vegetable stocks need a little more thought than the "simmer the bones in water" approach you can use with leftovers from a roast chicken or roast goose. You have to build a flavor base. Dried mushrooms are a big help, and so are fresh soybean sprouts and scallions or leeks. I like to start by cooking the beansprouts and chopped scallions or leeks in a little oil with the soaked mushrooms, before I add the mushroom soaking water and plain water, bring it to a boil, and add a first layer of seasoning, a little fine salt or soy sauce. You can also include a piece of rind from Parmesan cheese to deepen the umami if you wish.
Once you have simmered your stock to extract flavor from your ingredients, let it cool a little, then pour it through a sieve into one or more containers, label them, and refrigerate or freeze.
I love the soups I was able to include in The Miracle of Salt. I'm especially fond of both the Warming Bean Soup (shared below) and the Hearty Sauerkraut Soup called kapushniak. Note that neither of them calls for a stock or broth base, because in each case the salt-preserved ingredients in the recipes bring so much flavor: Salt-preserved lemons and miso in the bean soup, and the sauerkraut in the kapushniak.
WARMING BEAN SOUP WITH SALT-PRESERVED LEMON AND MISO
This is substantial enough to be served as a one-dish meal with bread, or it can be the soup course in a larger feast. You can make it well ahead, for the flavors only get richer as the soup sits. Although salt-preserved lemon is not usually an ingredient in bean dishes, I love the little zing it gives. The red miso paste adds meaty depth.
Serves 6
INGREDIENTS
1 pound/450 grams dried lima beans (pictured), dried navy beans, or cowpeas, soaked overnight in lightly salted water to cover, or 4 cups/700 grams canned beans, rinsed and drained
¼ cup/60 ml extra-virgin olive oil, plus more for drizzling
1 medium onion, minced or grated
6 or 7 medium garlic cloves, minced
1 tbsp ground cumin
2 tsp ground ginger
A 1-inch/2.5 cm cinnamon (cassia) stick
2 tsp chile pepper flakes
2 tbsp tomato paste or 2 medium tomatoes, coarsely chopped
2 bunches flat-leaf parsley or fresh coriander (cilantro), or one of each, trimmed of coarse stems and finely chopped
2 tbsp Red Miso (can use homemade or store-bought)
3 slices Salt-Preserved Lemon, finely chopped (can use homemade or store bought)
PROCESS
If starting with soaked dried beans, drain them, place in a large heavy pot, and add water to cover. Bring to a rolling boil, then drain and set the beans aside in a bowl.
Put the pot back over medium-high heat and add the olive oil. When the oil is hot, toss in the onion and cook for several minutes, until starting to soften. Add the garlic and cumin and cook for a minute or so. Add the reserved soaked beans to the pot. Add the salt and water to cover by 1 inch/2.5 cm and bring to a boil. Lower the heat to maintain a steady low boil and cook, partially covered, stirring occasionally and adding extra water as necessary to keep the beans covered by about 1 inch/2.5 cm, for 45 minutes. If using canned beans, simply add them to the onions, garlic, and cumin, along with the salt, and then add enough water to cover them by 1 inch/2.5 cm.
Add the ginger, cinnamon stick, chile flakes, tomato paste or chopped tomatoes, and half the chopped herbs and bring to a boil. Reduce the heat slightly and cook at a low boil, partially covered, until the beans are very soft, about 15 minutes for canned beans, another 20 to 45 minutes for dried, depending on your beans. Add extra water if needed to loosen the texture of the soup.
Scoop about 1 cup/240 ml of the liquid into a small bowl, add the miso, and stir until completely dissolved, then add back to the soup. Add the preserved lemon, bring to a boil, and cook for another 15 minutes at a medium boil. Remove from the heat, cover, and set aside until ready to serve.
About 10 minutes before serving, bring the soup back to a low boil, stirring. Add extra water if you want it less thick, then add the remaining chopped herbs. Taste and adjust the seasoning if needed. Serve in large soup bowls, drizzling about 11/2 teaspoons olive oil over each serving.
CHICKEN BROTH FROM SCRATCH
Chicken broth is a versatile larder staple and easy to make. You can start with store-bought chicken backs, necks, and wings or with the remnants of a roast chicken feast. The broth freezes well and is handy to have on hand for making risotto or chicken-rice soup, among many other possibilities.
Whenever I roast a chicken, I save all the chicken "debris"—the carcass and bones, skin, and any remaining pan juices—and refrigerate in a covered container in the refrigerator for a day or two, until I'm ready to make this broth.
If I know I'll be making a Thai or Burmese soup of some kind with the broth, I'll add a bunch of coriander and some lemongrass to it, but for a basic broth for the freezer, I keep things very simple. If I'm using roast chicken remnants for the broth, then it will have a little seasoning from the flavored salt that I rub onto my roast chicken before cooking and I don't add more. If I'm starting with chicken parts, I season the broth very lightly.
Makes about 6 cups/1.5 liters
INGREDIENTS
Carcass from a roast chicken, including the neck and leftover skin, along with any pan drippings (see headnote), or 2 or 3 chicken backs and necks plus 4 to 6 chicken wings
About 2 tsp Jacobsen Salt Co. Pure Italian Fine Sea Salt or 2 tbsp fish sauce (optional)
About 2 quarts/2 liters water
1 medium onion, coarsely chopped
3 or 4 slices fresh ginger
About 10 black peppercorns
1 bunch fresh coriander (cilantro), well washed, with roots if possible (optional)
2 or 3 stalks lemongrass, trimmed and smashed with the side of a heavy knife or cleaver (optional) 
PROCESS
Combine the chicken "debris" or pieces and salt or fish sauce, if using, in a large pot. Add enough water to barely cover the chicken, then toss in the onion, ginger, peppercorns, and coriander and lemongrass, if using. Bring to a rolling boil, then lower the heat to maintain a low boil and cook, partially covered, for about 2 hours.
Set a colander over a large bowl and strain the broth into it. Discard the solids. Cool the broth, then store, covered, in the refrigerator for up to 3 days, or freeze for up to 3 months.
Both recipes excerpted from The Miracle of Salt by Naomi Duguid (Artisan Books). Copyright © 2022. Photographs by Naomi Duguid and Richard Jung.