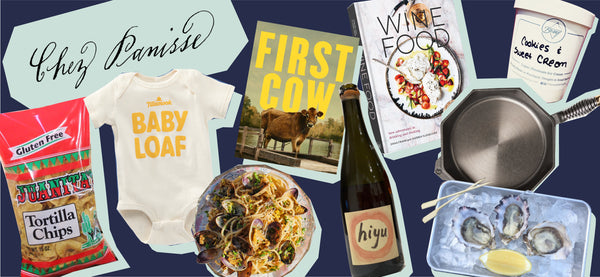 Posted by:
Jacobsen Salt Co.
As antsy as I am to set foot in an airport again and end the year (plus) of pandemic living, I am also aware of how lucky I am to have spent lockdown in the Pacific Northwest. Yes, I am biased (Beaverton born, Portland grown) but I do know for a fact that the PNW is #blessed with the land and sea that has shaped how I eat, drink, cook, and care for people.  
So just as we all begin to tip-toe into the concept of traveling again, I wanted to dedicate this month's playlist to the terroir (and merroir) that has showered my kitchen with local bounties since childhood. 
Hometown hero: Remember when you discovered how Fraiser is actually a spinoff from Cheers and your entire world went all mind-blown-emoji for a second? Well, that's kind of how it felt when one of my favorite Portland chefs, Jacob Harth, trekked out to Netarts Bay and started a regular weekend pop-up at Nevor Shellfish. Harth balances elegant presentations of coastal classics, like Dungeness Crab and butter, and shucked fresh oysters with Gen-Z food-scene bangers like uni-toast and octopus skewers, making the Nevor Shellfish menu the PNW weekend's crown jewel.
LDR: If I-5 was about 550 miles shorter, I'd be hitting up hyper-local OG, Chez Panisse, weekly, not only for their asparagus soup and wood-fired pizzas, but also for their Sunday market and the bragging rights of just sitting in the space Alice Waters transformed the American food-scene with fifty years ago.
Beverage pairing: A new kid on the block of Oregon winemakers, Hiyu Wine Farm, produces not only some of the most exciting wines out of Willamette Valley but also acts as a fully functional farm, which you can experience in their Wine Tavern all spring and summer long.
Pantry Pal: Juanita's is the chip that I've leaned on for every nacho plate, guacamole vessel, and chilaquiles breakfast I've ever made that it's become as much of an essential to my snack pantry as the bowls I eat them out of. 
Sweet: Half of my Portland-winter plight is managing my longing for fresh, local berries. Luckily, Beaux Berry's schema quells my yearning by swirling local berries with vanilla ice cream. You can pick between strawberry, raspberry, blueberry or marionberry, but the mixed berry swirl pacifies another one of my conditions–chronic indecisiveness.
Reading material: The owner of my favorite wine bar (Bar Norman) and the first Oregon wine I ever fell in love with (Bow and Arrow's Rhinestones) did the world a huge favor a few years ago and penned, Wine Food (along with Andrea Slonecker), a book that takes the guesswork out of wine-and-food pairings, but also leaves you with some wiggle room for personal preference and spontaneity. It's basically been my wine-pairing calculator since it made its home on my shelves years ago.
Equipment: Finex is one of those Portland businesses that makes me realize how much of what my hands reach for first in my kitchen comes from my hometown. A cast iron company built with both functionality and aesthetic in mind, I rarely trouble myself with putting my Finex pan "away" because it makes my cooktop look cooler with it on top.
Entertainment: Kelly Reinhardt has spent much of her career making small, moving odes to the PNW and her latest, First Cow, is no different. Centering on a friendship of two outlaws whose get-rich-quick scheme hinges on their unsanctioned "borrowing" of a prize dairy cow, Reinhardt, with every picture, becomes more herself and therefore, one of the PNW best storytellers.


Food Merch: Well yes, I did know that Tillamook Cheese makes my favorite smoked cheddar, cheese curds, unsalted butter, and peanut butter chocolate ice cream, but I only just realized that their fan-ware is the best thing since pre-sliced cheese. Their merchandise revamp includes a Baby Loaf Infant Onesie for the generation of Oregonians conceived during lockdown, cheddar-colored gym shorts for living room workouts (and Netflix binge sessions) and my personal favorite, Cheese-tinted nail polish for when I feel like doing my makeup but remember I'm always in a face mask anyway.
 One of our own:  A PNW love story, this clam scampi features ingredients from our local food heroes and heroines.