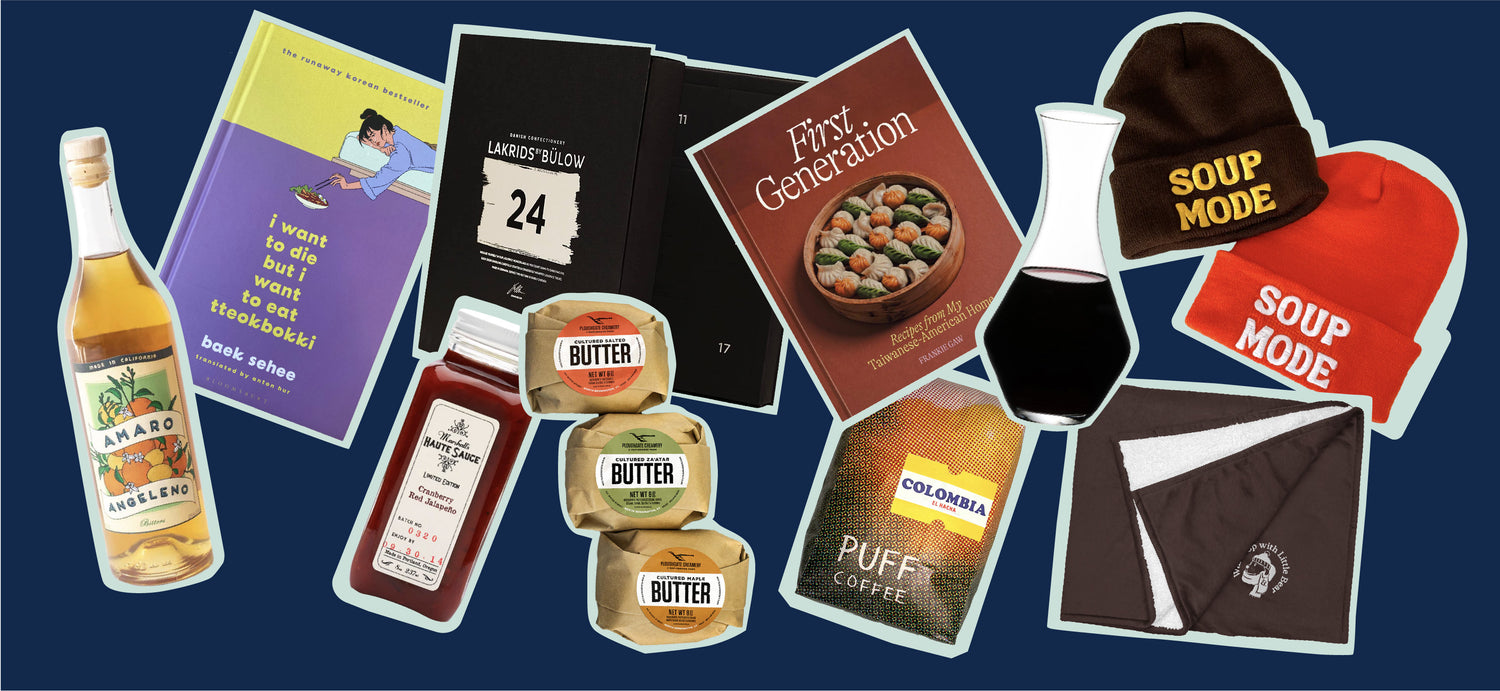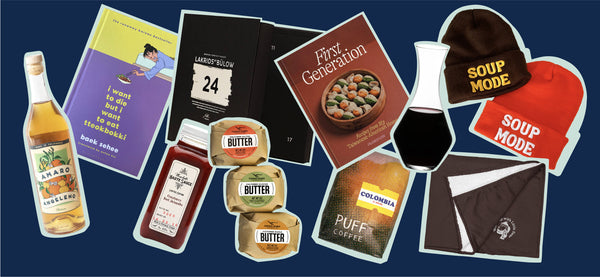 December 2022 Holiday Playlist
Posted by:
Jacobsen Salt Co.
We're not sure if it's us getting older or the surrealness of cautiously inching out of our pandemic lifestyle, but 2022's holiday season dropped down upon us as suddenly as pumpkin spice lattes appear and vanish. And because we know our online carts are sometimes bigger than our bank accounts, we compiled a somewhat reigned-in holiday gift guide that'll make the folks on your gift list feel as cherished as the last piece of pizza during a slumber party. 
Wine Decanter
Sleek, delicate, and slyly serious, everyone needs a wine decanter (or at least a giant mason jar) in their arsenal of kitchen doohickies. Yes, wine decanters come in an intimidating amount of shapes, sizes, and also price ranges, but for all intents and purposes, the vessel exists to allow the contents of a wine bottle to interact with oxygen, and also to assist drinkers in separating any sediment from the wine itself. And since we're young wine lovers, we're suggesting Riedel's Merlot Decanter, perfect for Pinots, Gamays, Merlots and other young (even white) wines that need to smooch the air before they meet your lips.
First Generation Cookbook
Frankie Gaw's debut cookbook captures everything we love about his Little Fat Boy food blog and marries it with the high-resolution gloss we count on from cookbook giant, Ten Speed Press. Both accessible, full of Gaw's personality, and educational, First Generation tracks its author's relationship with his own Asian-identity through the foods of his youth and present-day creations like his rich, indulgent Scallion Mac n' Cheese. Don't let the cover fool you–though First Generation contains a chapter and guide to homemade dumplings the majority of the volume remains extremely cookable to the everyday home cook.
Food-centric Beanies
Walking around Portland in the winter is more or less a foot-tour of our city dwellers' favorite beanies. Give the gift of originality by adorning your loved one with a stocking cap proclaiming their love for a food item with The Silver Spider Print Shop's array of colorful beanies that will surely make your stomach rumble. Whether you pick the breakfast-centric ode to our favorite PNW-based sitcom's Tossed Salads and Scrambled Eggs hat, or the straight to the point Soup Mode cap, you'll be giving a slice of eccentricity that also keeps your loved one's ears warm. 
Lakrids by Bulow Licorice Advent Calendar
Ok, we know, we know–chances are if you're reading this you're a licorice skeptic, but for those of us who bow down to the herbaceous beast of the candy world, we appreciate the anise-flavored singularity black licorice brings to the table. So, to help the licorice lover in your life (there's at least one, we promise), we're suggesting this elegant, Danish advent calendar that'll dole out the confection daily until St. Nick swoops down their chimney to collect his cookies. 
Puff Coffee
Earlier this year, Portland saw the closure of our favorite smoothie shop, Canteen, but just as we were about to go into mourning for the remainder of the winter, we noticed Puff Coffee pop up in the former juice store's space. Duane Sorenson, perhaps best known for founding Stumptown Coffee back in 1999, returns to the roastery world with his signature cheeky branding and perfectly roasted beans. Take a trip to Puff's flagship store or order your beans online for the ultimate stocking stuffer. 
Ploughgate Creamery Butter
For a gift that keeps on giving, sign up the butter-lover in your life for Ploughgate Creamery's Monthly Butter Subscription so their fridge never suffers from sub-par butter. Based out of Vermont, Ploughgate produces European-style butters with a richness and mouthfeel reminiscent of soft cheeses. So shift your subscription service ideology away from your television and gift a stream of high-end butters to the toast lover you know best.   
Little Bear blanket
We've been ogling Atlanta's Little Bear menu when we cruise Instagram for a little inspiration for some time now  and while we'd love to sit down IRL and enjoy a plate of their seasonal salads paired with a natural wine, we don't know the next time we'll make it down South. So, in the meantime we'll be snuggling our favorite couch partner (pets count) in their Little Bear-branded Sherpa blanket, perfect for camp outs, Netflix and chilling, and backyard picnics.
Marshall's Haute Sauce
Why leave the cranberry sauce on the table with your Thanksgiving turkey? Our friends at Marshall's Haute Sauce concocted an ideal excuse to keep eating our favorite bitter berry all winter long with their Cranberry Red Jalapeño. The crimson-colored heat maker elevates the average sandwich or roasted chicken to new heights, delivering yet another winner for one of our favorite hot sauces on the shelves.
Reading Material
With a title that feels like it could've been ripped out of our journal, Baek Sehee memoir I Want to Die But I Want to Eat Tteokbokki will strike a chord with anyone who loves BTS, Melissa Broder, and/or a big bowl of the chewy rice noodles the book's title references. Sehee's dimly lit humor regarding her flailing young adulthood is accented by her regular stops at food halls where she eats her feelings via the bright, red rice cakes. 
Amaro Angelino
Gift a little glimmer of California sun by presenting your loved one with a bottle of Amaro Angelino, the zesty, zippy, slightly bitter amaro made from oranges and botanicals. Based outside Los Angeles, the titian-hued beverage tastes like sipping a sunset and will surely be savored as a stand-alone pre-dinner drink or stirred into a stiff cocktail.