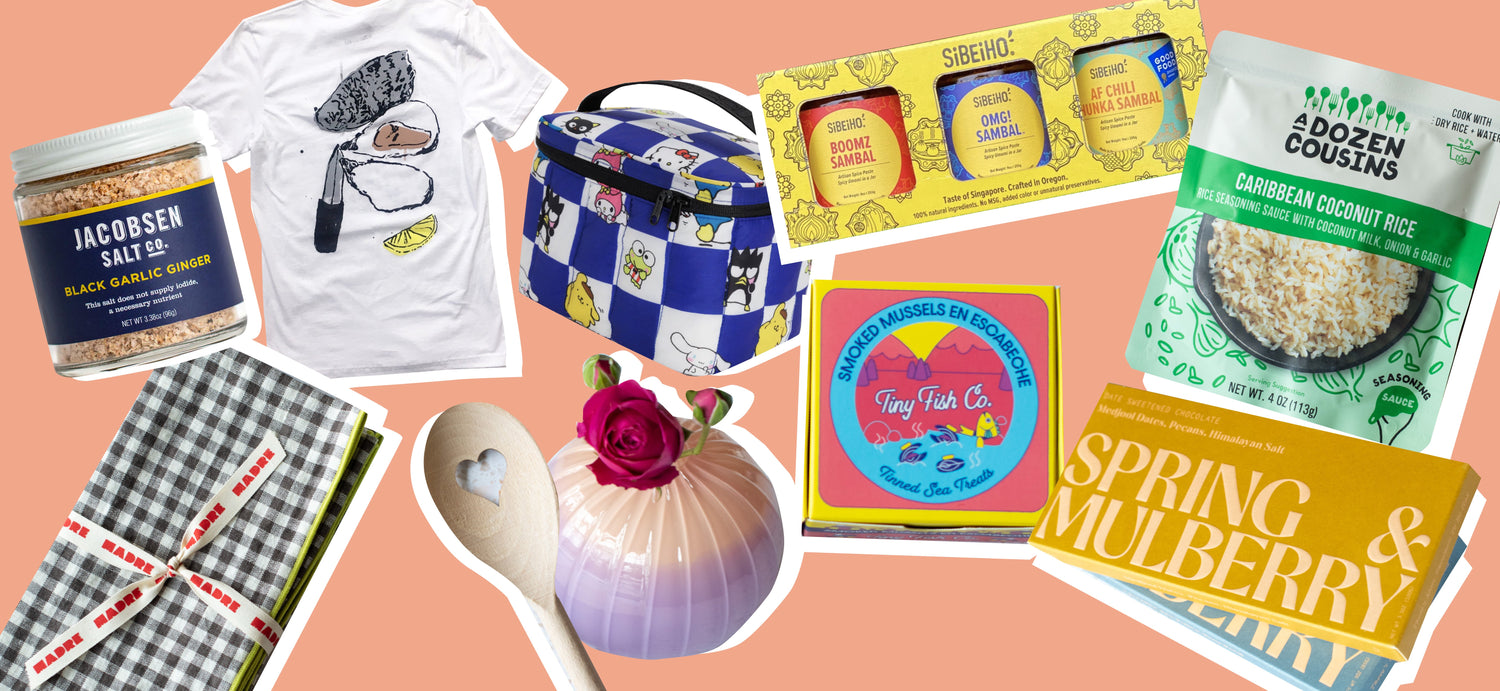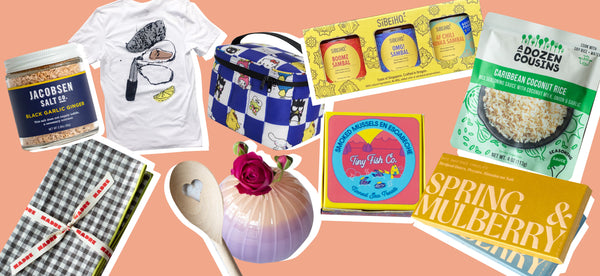 Playlist #11: For The Lovers
Posted by:
Jacobsen Salt Co.
We all know that this month's main holiday is for lovers, and to be honest, we're happy for them. We've gone through our skeptical emo phase and have come out on the other side, second-hand happier for everyone in the throes of mushiness. 
But our new woo-woo era isn't just relegated to the realm of romantic love; we're 100% here for love of all kinds. Familial, friendship, colleague, neighbor, barber–we love it all. To commemorate this moment of ardor, we've compiled a list of everything we're head-over-heels for to gift every type of lover in our lives.
The Soup Lover
For anyone needing an extra dose of cuteness in their kitchen, The Yo! Store carries this wooden heart spoon and contented wooden smiley face spoon to infuse soups, stews, and aromatics with a little extra positivity. Handmade in England, these spoons have already helped us through countless curries and spicy sauces this winter, leaving us wondering why we'd ever own a spoon without a little extra something ever again.
The Oyster Lover
One of last year's most surprising Portland-area openings was Dreem Street taking up residency at the beloved-but-in-crisis Lloyd Center Mall in lower N.E. Portland. The art-wear project founded by Eric Mast and Matthew Chambers specializes in hand printing humorous, sometimes wild, always eye-catching t-shirts and tote bags for the fashion-forward, but non-fussy, crowd. Their Oyster T-Shirt features a Picasso-esque illustration of our favorite bivalve, a shucking knife, and a lemon wedge; perfect for the Pacific Northwesterner who believes in the aphrodisiac powers of the briny treat and for everyone else trying to up their athleisure game.
The Spice Lover
For the person in your life who loves to get a little sweaty under the collar while enjoying their meals, we're passing along the Sibeiho Sambal Gift Set, featuring a trio of chili-packed flavors. Sibeiho was started by Holly Ong and Pat Lau, who decided to jar up their creative partnership after hosting a series of supper clubs. As versatile as our favorite jean jacket, we lean on these sambals to spice up everything from our morning eggs to kicking up the volume on a plate of stir-fried greens and steak.
The Lunch Lover
Our very first love letters were no doubt penned by our mom on a napkin and placed inside our school lunches, which she packed with devotion. And now that Baggu and Sanrio have teamed up to make a collaboration line made from the dream dust of our childhood nostalgia, we're able to relive our glory years at the lunch table with their Puffy Lunch Bags featuring Choco Kitty, Batsumaru, Keroppi (our favorite) and more. If only our mom would still assemble the PB&Js like she used to.
The Convenience Lover
We all have that one person in our lives who still hasn't discovered the pleasures of cooking a meal from scratch or why some of us love going out as much as we do. Open any of their freezers and you're sure to find spooky TV dinners and sad-looking pre-assembled burritos we'd only eat during an actual apocalypse. Gift these convenience lovers meals that appeal to their inclination for ease but also pack flavor and quality into ready-to-warm dishes, with A Dozen Cousins' line of Creole and Caribbean-inspired sides and sauces, like Caribbean Coconut Rice, Trini Chickpea Curry, Creole Red Beans and more. 
The Chocolate Lover
For candy bars that are impossible to eat without Instagramming their beauty, we're gifting a Spring & Mulberry slab of chocolate. Matching high-quality, organic chocolate with other wonders of the natural world, Spring & Mulberry pairs nuts, spices, and dried fruits with the sweet and earthy goodness of cacao. 
The Tinned Fish Lover
Has there ever been a glow-up as epic as the tinned fish rebranding of the 2020s? Not even Miley's post-Hannah Montana makeover has anything on the now-ubiquitous tin of preserved seafood gracing our night-in snack boards. One can that often sits in the center of our cutting board is Portland's Tiny Fish Co. Smoked Mussels in Escabeche. Salty and warmly spiced, pluck the mussels and eat them solo or enjoy them atop crackers, in a bowl of puttanesca, or as the jewels of a chip dip. 
The Flower Lover
Big bouquets are great, but we've been leaning into a more minimalist way to feature flowers with the line of bud vases from Little Tomato Glass that are intended for just a single stem. Like all their other glass baubles, the bud vases are all hand blown and feature vibrant, summery colors to keep us company through the winter gloom. 
The Linen Lover
We've been longtime fans of Portland linen brand, MADRE, and their latest Cookie Collection of patterns evokes the je ne sais quoi of our favorite cookies. We'll surely be sweeping up Oreo crumbles from our counter with these electric lime-lined napkins as we wait for picnic season to begin. 
Garlic Lover
Who isn't in the middle of a lifelong love affair with the slightly sweet, buttery taste of our favorite allium? But for that special someone whose been known to roast and consume entire heads of garlic solo, think about sprinkling this breathtaking selection of garlic-infused salts into their cooking with our very own Garlic Trio, featuring the newest edition Black Garlic Ginger, Black Garlic Salt and Garlic Salt, all in one pungent bundle.