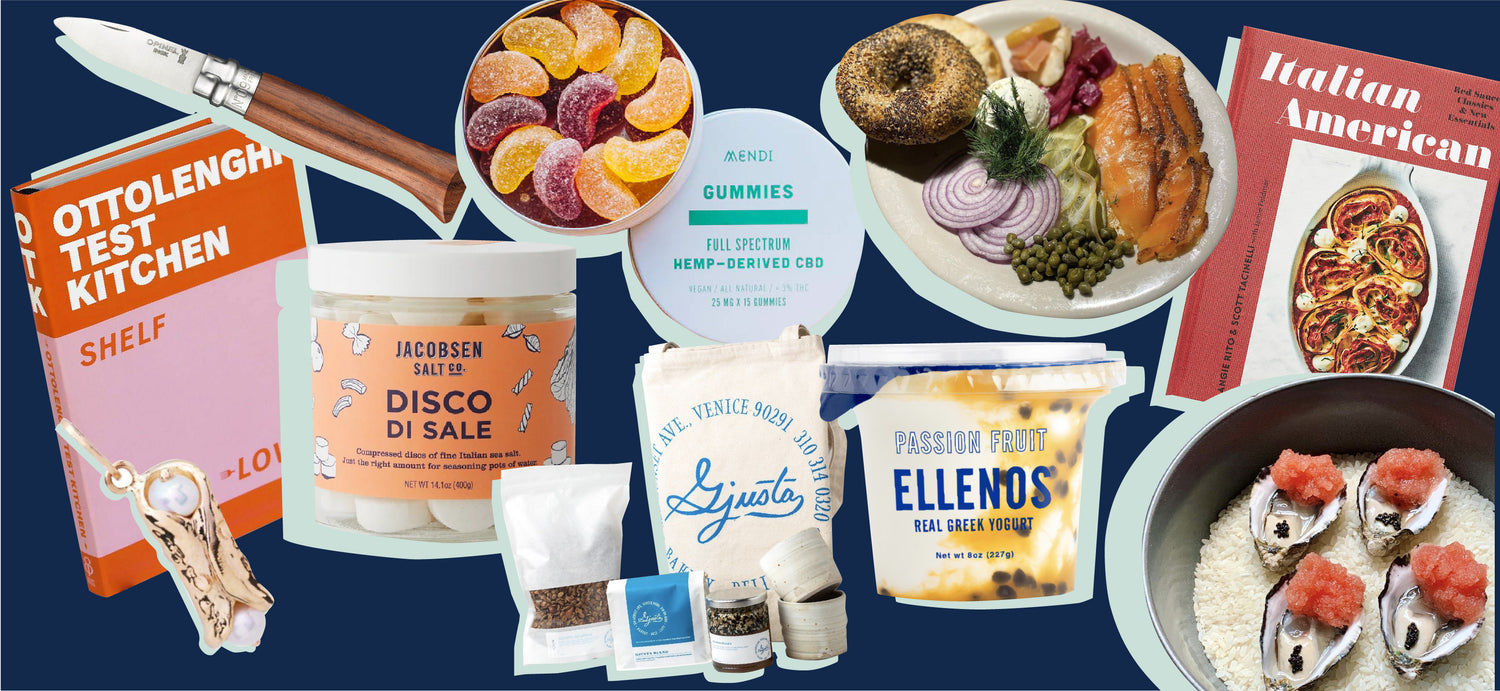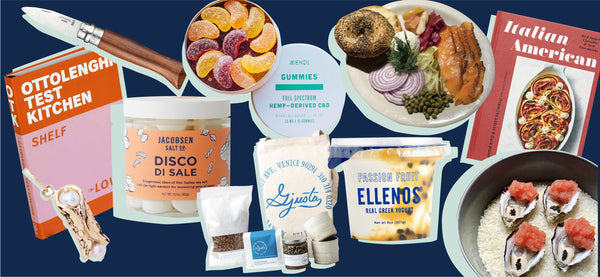 Posted by:
Jacobsen Salt Co.

Hinge has not brought me love (but 2022 is still young after-all), but it has taught me that if there's one ruling rhetoric above the zodiac calendar puppeteering the hearts of my peers, it's which "love language" they speak. I'm still a novice in matters of the heart, but I'm an expert in cute, kitchen-related gifts and tidings to help show your loved one–no matter who they are–how much you care at any time of year. So no matter your love language, I've cooked up a little sweet expression of sentiments for your sweetheart.

1. Receiving Gifts
Basically anything from Gjusta Goods: Whether it's Gjusta's jams, infused olive oils, ceramics or other home goods you can cozy up with, everything from this L.A. staple will be sure to make hearts beat faster.
Holy Cannoli charm from Catbird NYC: Even the most stoic of style mavens can't help but fall for this sweet little bauble that will keep your loved ones' sweet tooth close to their heart all day long. 
2. Acts of Service 
Making Stock: No matter your technique, scurry away your onion skins, carrot tops and other vegetable waste in the freezer for the next time you have a chicken carcass, and make a homemade stock that will woo your boo all over again. To take the guesswork out of your seasoning, don't forget to toss in a couple Disco di Sale discs to make a perfectly salted base for your next soothing soup. 
Sharing The Lazy Susan Brunch Box: Elongating the time I have in bed a couple days a week makes me feel like an old-timey movie star on vacation. If someone sweetened the deal with Lazy Susan's pandemic-proof brunch box, I'd be so elated that I'd (almost) spring out of bed to embrace them. A bouquet of goodies such as homemade donuts, cured salmon, handheld hash browns (be still my heart), and whitefish spread, all make Montavilla's latest addition to the neighborhood worth the trek out of the house.  
3. Quality Time
CBD goods from Mendi:  You and your loved one will be able to sink into your hangouts more deeply with Mendi's line of CBD products designed to make the corners of your daily life a little better. Everything from yummy gummies to bath salts (using our sea salt!), sleeping tinctures to massage oil, chill-out time together will benefit from these THC-free boosts to your routine.  
Opinel Oyster Knife: Okay, this foldable oyster shucker doubles as a gift to you for when your loved one finally learns how to shuck bivalves, giving this year's Netflix-and-chill-night a major upgrade. 
4. Words of Affirmation 
Shelf Love by Noor Murad and Yotam Ottolenghi: A beautiful volume that encourages home cooks to take a second glance at the contents of their cabinets that their eyes usually glance over. Inspired by Arabic-cuisine and spices, Murad's influence on Ottolenghi's always-stunning work makes their combined talents more approachable for everyday use. The pair, in Shelf Love, seem enamored with the idea of coaching their readers to the next level of their cooking journey by asking them to "MIYO"- make it your own, giving up the rigidity many cookbooks imply.  
Italian American by Angie Rito, Scott Tacinelli and Jamie Feldmar: For those of us who are willing to admit that love can get a little sloppy, the team behind New York's celebrated Don Angie put together a saucy collection. Cheesy, gooey, clever riffs on comforting Italian American dishes with classics like antipasti, chicken parm and baked pastas, it's a must read.   
5. Physical Touch*
*alright, I'm interpreting this form of love language as what foods have given me the best "mouth feel" lately, so I can spare you all how much I enjoy the tactility of kitchen tasks like deveining shrimp or massaging chicken skin.  
Ellenos Yogurt's Passionfruit flavor: Who knew that what a yogurt parfait has always been missing is the hard jolt of passionfruit seeds spread throughout. It doesn't make sense, it seems like it shouldn't work but hey, the heart wants what it wants and mine needs these seeds.  
Scotch Lodge's commitment to gorgeous granita topped oysters: I sincerely would hang a calendar of Tim Artle's masterful platings of granita over oysters. His playful but still austere bivalve sets have ranged from "tequila sunrise" to "pink lemonade" and "umeshu," and the icy crunch of the granita marries the pleasurable mush of the oysters perfectly.