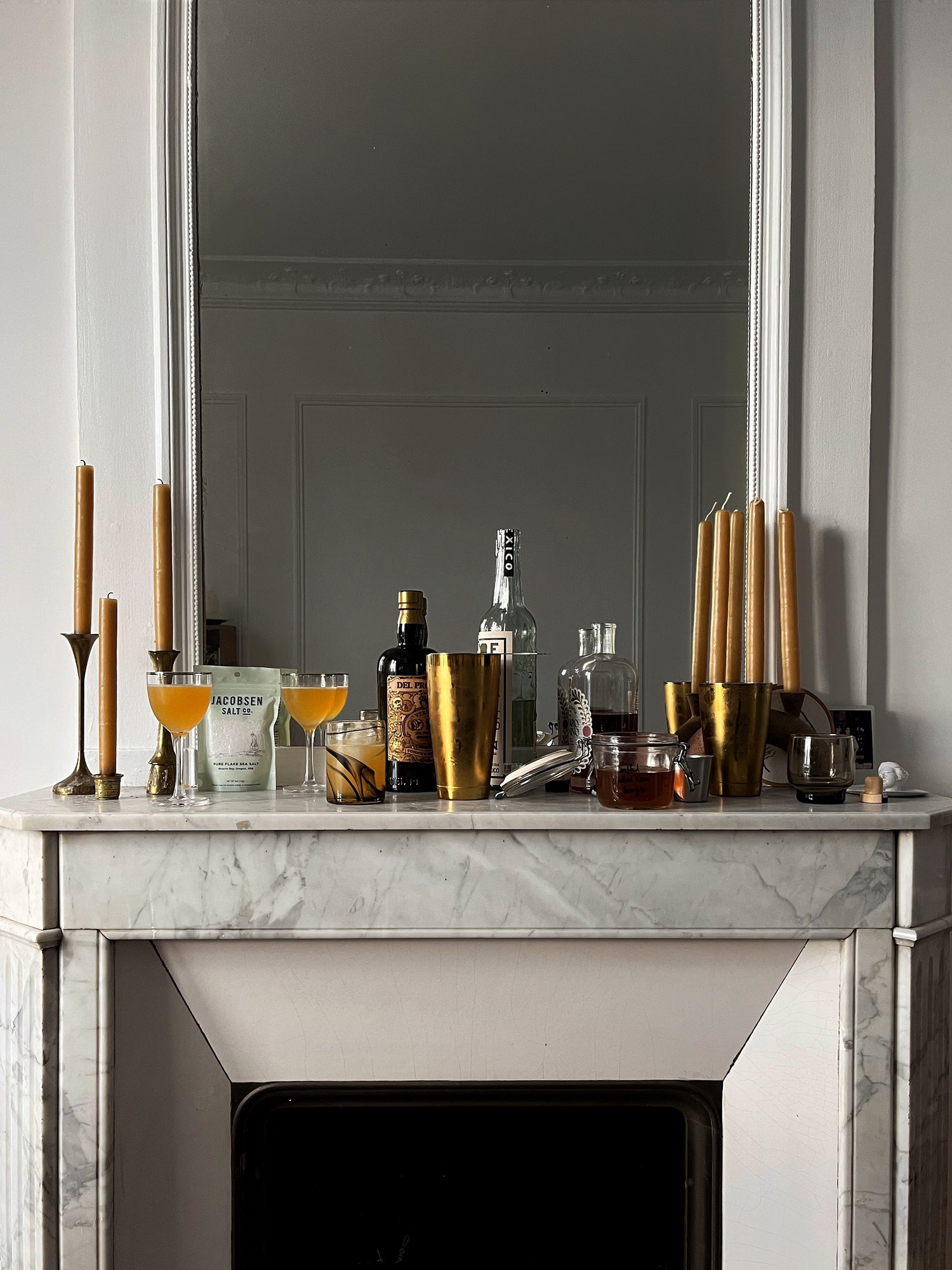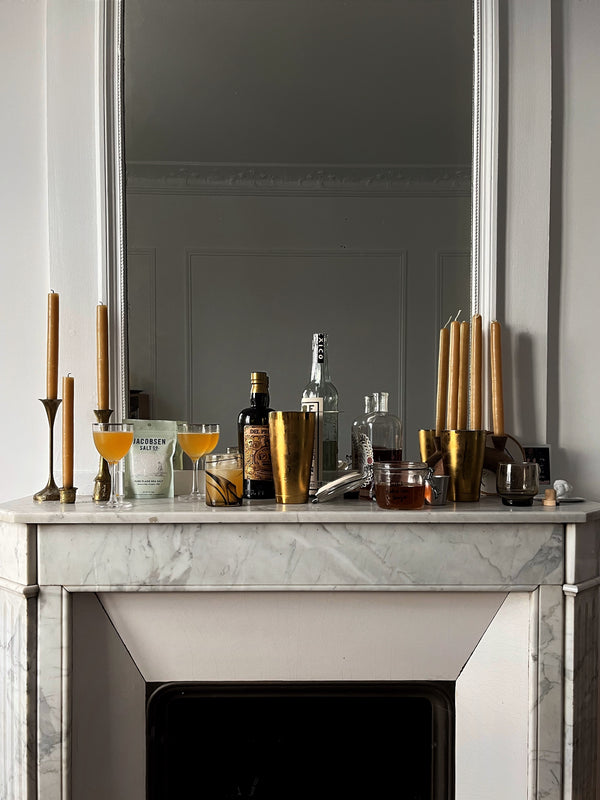 On Winter and A Cocktail with Rebekah Peppler
Posted by:
Jacobsen Salt Co.
Words, Recipe and Food Styling by: Rebekah Peppler
Photos by: Laila Said

Rebekah Peppler is a Paris-based food writer and stylist, as well as the author of À Table and the James Beard Award-nominated Apéritif: Cocktail Hour the French Way. Read on for our fourth and final installment with Rebekah this year, where she shows us how to make a festive holiday cocktail that can be sipped in any season.
Adding a pinch of salt to cocktails is standard practice in my house. Never enough to actually render the drink salty, a tiny pinch of flaky sea salt does exactly what it does to any dish: bolsters flavors, balances sweetness, tempers bitterness, and brings it all together for a richer, brighter, more nuanced drink. Sometimes I'll add a pinch directly to the shaker or mixing glass. Other times, I think ahead, salting a syrup or shrub, giving it something to dissolve into before ending up in my glass.
In the colder months, I add a pinch of salt to a combination of muddled lime peels, fresh ginger, cinnamon, cloves, star anise, sugar, and water simmering until the house is impossibly fragrant and the sweet syrup is thoroughly imbued with the warmth of the spices and brightness of the lime. This Salted Mulled Lime Syrup lasts two weeks in the fridge and infuses any drink its added to with its complexity-boosting hit of salinity.
To make Salted Mulled Lime Syrup: in a medium saucepan combine the peels of 2 limes (leaving the white pith behind) with ¾ cup granulated sugar. Use a muddler or the end of a rolling pin to muddle the sugar and peels together until the peels are slightly translucent. Coarsely chop one 3-inch piece of fresh ginger and add it to the muddled lime-sugar mixture along with 2 cinnamon sticks, 3 whole cloves, 1 whole star anise and ¾ teaspoon flaky sea salt. Pour in 1¼ cup of water and stir to combine. Place over medium-high heat, bring to just a boil then lower the heat and simmer for 20 minutes, stirring occasionally. Set the syrup aside to cool for about 30 minutes then strain through a fine mesh sieve, discarding the solids. (This will make about 1 cup.)
Speaking from experience, the Salted Mulled Lime Syrup can — and should — be used to craft a stellar non-alcoholic drink: combine an ounce or so over ice with sparkling water or dry tonic or a bit of both sparkling water and dry tonic and a squeeze of fresh lime (or lemon or clementine or mandarin orange or yuzu) juice and give it a good stir. If you want something more spirited, swap the Salted Mulled Lime Syrup in for regular 1:1 simple syrup in a favorite cocktail recipe. While cold weather drinks tend toward brown spirits — bourbon, rye, scotch, cognac — and while Salted Mulled Lime Syrup works extremely well in many of them, I wrote this syrup with my own year-round favorite spirit in mind: mezcal. The sweet-spiced-bright syrup holds up to mezcal's smoky heft.
To make the drink I'll be making: fill a shaker with ice and add 1 ounce mezcal, ¾ ounce blanc vermouth, ¾ ounce amaro, ½ ounce fresh lime juice, and ½ ounce Salted Mulled Lime Syrup. Cover and shake vigorously then strain and serve up in a coupe or Nick and Nora glass or over ice in a lowball glass. Serving this up yields a drink that's a bit richer, a bit sweeter, and IMO has an especially festive vibe. Pouring it over ice dilutes the cocktail a bit more, rendering it a little less sweet, a little more frosty, and plenty refreshing. Try it both ways; serve whichever way you/your guests like best.