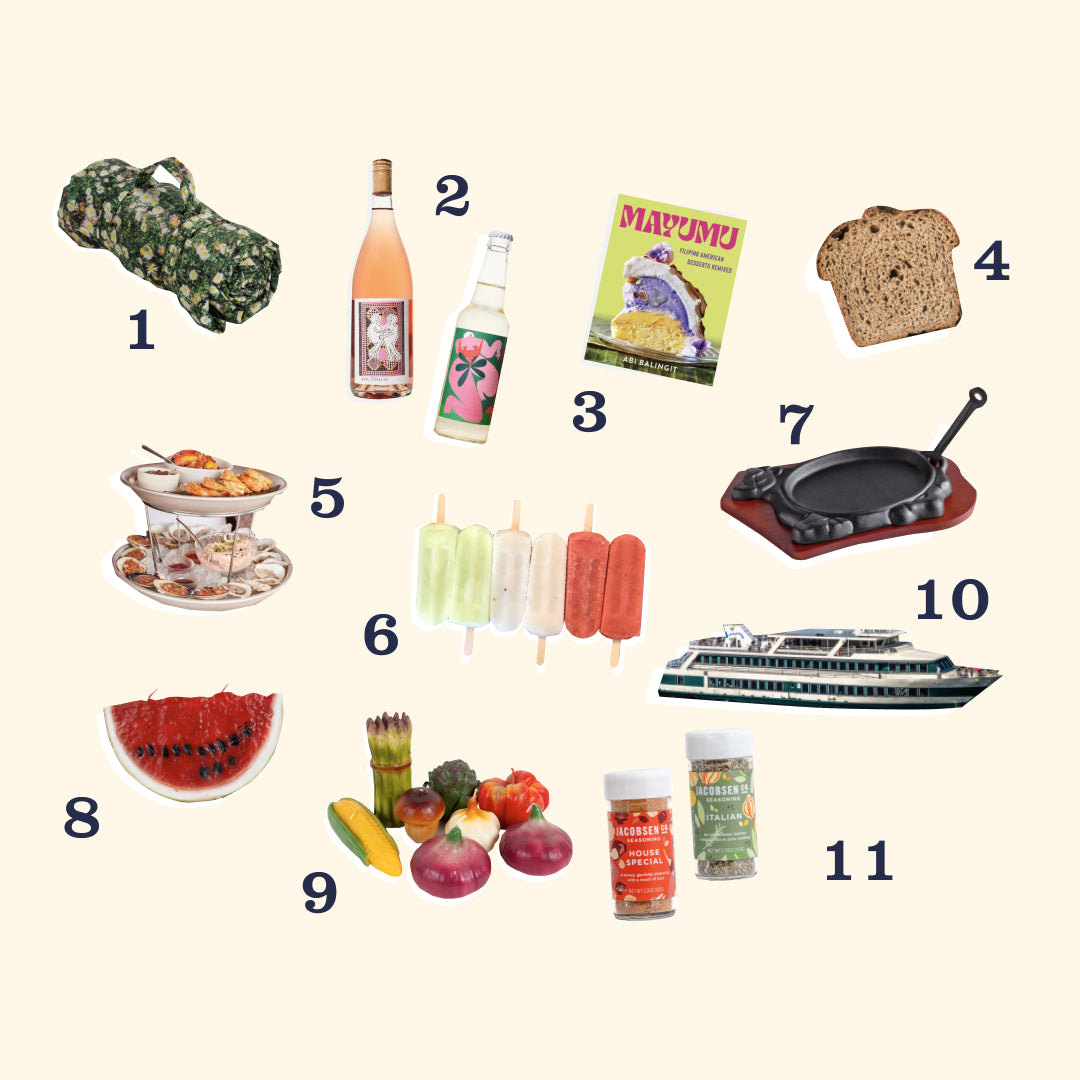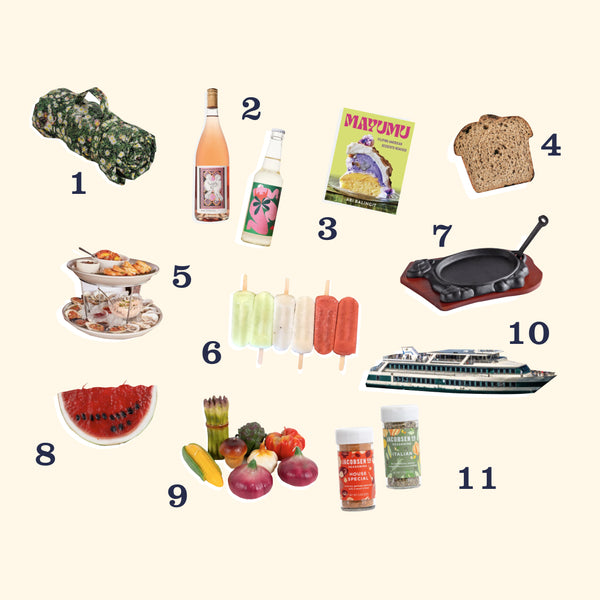 Posted by:
Jacobsen Salt Co.
It seems like we've been celebrating Megan Thee Stallion's Hot Girl Summer for three years straight now. And while we're just as excited as the next gal for sunbathing and short shorts, we're ready to let the high-stakes banner of "hotness" go and instead embrace the pleasures of feeling comforted, cute, and full during summer months. 
So while it's not as catchy, we've compiled a playlist brimming with the pops of summer we're hitting repeat on over and over again.


1. Park Eye-Catcher


We're devotees of Baggu's entire eye-catching brand. Their grass-mimicking is our latest obsession from the company that makes our laptop cases, grocery bags, purses, and sunglasses cases. So even if our yard is less than picture-perfect, our landing pad for eating al fresco (or just taking an afternoon nap in the sun) is a verdant picture of summer perfection.


2. Low-Key ABV 


Not every evening is an occasion to get entirely lit – some nights are more suited for a timid spark. For those more low-key hangouts, we'll be sipping on (pinkies up) Martha Stoumen's Try It Out!, a natural wine spritzer crafted with Meyer lemon and orange blossom water. At just 6% ABV, this bit of bubbly won't burst the bubble of our ambitious morning plans.
And if the name Martha Stoumen sounds familiar, it's because she's the same winemaker who brought us our go-to summer rose. 


3. Sweet Sensation 


If you're like us, you always have room for dessert and room on your bookshelf for another dessert cookbook. The dessert volume, Mayumu, reimagines traditional Filipino recipes into the most vibrant, sweet tooth-tickling treats like Adobo Chocolate Chip Cookies and Halo-Halo Baked Alaska created by blogger-turned-cookbook author Abi Balingit. 


4. Bready Boo


What's better than a loaf of homemade bread? How about a loaf of homemade bread someone else made? Starter Bread has been baking cozy, naturally-leavened sourdoughs for a few years now through its waste-reducing subscription model. With pick-up points in nearly every pocket of Portland, let Starter Bread be the secret weapon behind your signature BLT, avocado toast, tuna melt, etc. and be a part of one of the most satisfying clubs in the city. But if you can't be tied down to a specific pick-up date and location, Starter opens up their St. John's bake space on Sundays for drop-ins from hungry gluten lovers. 


5. LDR (Long Distance Relationship) Ballad


We're a little tired of hearing our hometown of Portland, Oregon, be compared to another American city, Austin, Texas, especially when we see original restaurants and bars cropping up in the Lone Star State that we'd love to be regulars at. And right now, the latest restaurant we envy over IG is Este, the seafood-centric all-day darling that has us wiping drool from our iPhone screens. With both a seafood platter and a seafood tower, Este's menu has us wishing we could eat like Ariel and King Triton in Chef Fermin Nunez's (also of Suerte) latest wonderland.


6. Suburban Delight

Never a stranger to a Beaverton adventure, we're making post-Korean dinner pit stops at the popsicle institution Ome Calli Frozen Treats throughout the scorching days of summer. Packed with paletas, ice cream, churros, chilled drinks, and dipped, frozen bananas, Ome Calli (which translates to "second home" in Nahuatl) began its business over 30 years ago in Mexico before moving 2,000 miles north and landing in Beaverton. With flavors like Cucumber with Chili, Chamoy, Sapote, and other unparalleled tropical delights, it's the perfect stop for those of us who need a sweet cap to our evening meal. 


7. Some Like it Sizzling


Yes, we plan on making the most of grilling season, and the accessory we're over the mooooon (sorry) about is this cute, but slightly morbid, cow sizzle platter for plating meats after they've kissed the grill grates. We're embracing the ex-Chili's devotee inside of us and will be serving our steaks sizzling on this cast iron cattle all season long. 


8. On-Trend Outing 


Another season, another wine bar. Though we've witnessed some mild eye-rolls every time another natural wine bar opens up in our city, we've yet to feel exhausted by the trend. The latest place we're proud to be a regular of is Grape Ape, the mini-but-mighty wine bar connected to Cargo in the suddenly-bustling industrial district beneath the bridges of SE Portland. Pull a bottle from the newcomer's shelves and enjoy a low-key hang with impressive bites (still craving their white bean toast) – but we're warning you now about the dangers of wandering into Cargo post-wine, and we have the giant watermelon candle to prove it. 

9. Burning Love


Actually, now that we think of it, we love Cargo's food-shaped candle collection and may be back after a sip of champagne to peruse its life-like vegetable selection of Italian candles. 


10. Hometown Bon Voyage


Sometimes, all you need to reinvigorate excitement for your hometown is seeing it through the eyes of a tourist. And while it's not cheap, we're suckers for the Portland Spirit, a river cruise down the Willamette accompanied by either brunch or dinner when we're feeling a little wilted. For two-and-a-half hours, you can enjoy the tinkling of live pianos while watching the shorelines of Sellwood, Milwaukee, and Lake Oswego pass lazily by. The servers even leave your table after dropping off drinks to hop on stage and sing Frank Sinatra.    


11. House Music
This playlist wouldn't be complete without a featured track by Jacobsen Salt Co., who just added two new seasonings to its growing line-up of hacks for the home cooks who want to take one chore off of their prep list. First up, the House Special Seasoning boasts a versatile smoky sun-dried tomato backbone with notes of chili, cacao nibs, and mushrooms. We're already brainstorming the eggy toasts, chicken skewers, and salad dressing we'll be dolling up with this one. Next is the extra-herby Italian Seasoning featuring its fine sea salt harvested from Italy's traditional salt ponds. Of course it's a no-brainer for tapping onto pasta and pizzas, but we're also anticipating powdering our popcorn, breakfast porridges, and meat cutlets.