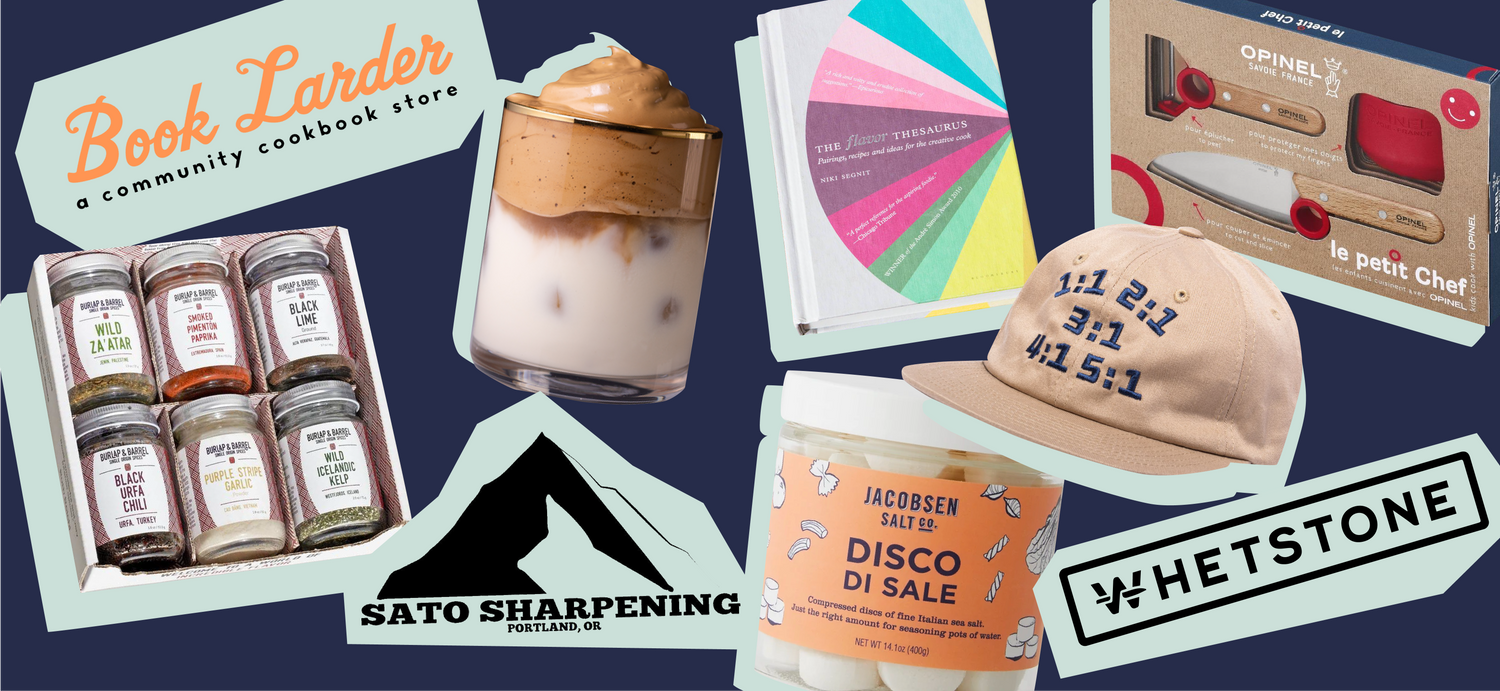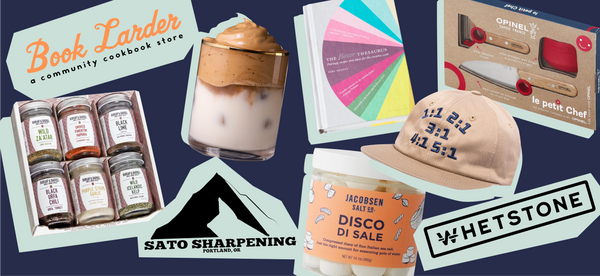 Posted by:
Jacobsen Salt Co.
If TikTok has taught me anything, it's that there's never an age to stop learning, and if cooking is your craft of choice, the avenues remain endless for a lifetime. The month of September always invigorates me to rise to the occasion and meet the brave school-aged kids at their level, take a deep breath, and decide to take on something new.
Last year with the world where it was, I challenged myself to learn the ins and outs of some new techniques, like for instance, jam making–from harvesting and hulling to cooking and canning. This year, gratefully with some normalcy commencing, I'm finding a home for last year's honed skills in social scenarios. Whether it be (literally) whipping up a caffeinated jolt that I now serve at my day job, learning the basics of bartending, or cooking alongside my friends' children (easily my favorite new hobby), this playlist reflects the new era we've stepped into as the year begins to yawn to an end
Hometown hero: Knife sharpening. Your closet isn't the only space that deserves a little new school year revamp. There's never a dull moment when you invite Yohhei Sato into your kitchen to give your knives a dose of TLC after nearly two years of extraneous use. Japanese-born Sato has been performing house-calls for years now, but watch out for his drop-off service pop-ups (and adorable dog) at Bella's Italian Bakery, Coffee Beer, Moor Food & Co. and other Portland-based businesses.
LDR: Book Larder. The (mostly) good-natured beef between my home-base of Portland, Oregon and our neighbors to the north, Seattle, Washington, remains neck-and-neck overall, but the one thing the Washington city has on us is this food-centric bookstore that also doubles as a cooking school. Tucked inside the Fremont neighborhood, Book Larder provides customers with curated cookbooks, classes and author discussions. But you don't have to trek up to the rain-soaked streets of Seattle to garner a little knowledge, since many of their events stream online, like their Virtual Author Talks.
Beverage pairing: Dalgona Coffee. Although I've aged out of being able to follow makeup tutorials and never possessed the pizazz required for dance challenges, the corner of TikTok reserved for eye-catching food and drink trends never fails to fascinate. And while I opt out of making a cake just for one mug, tiny pastries as cereal, and eating spaghetti directly off of my countertop (yes, that's real), Korea's Dalgona Coffee invention manages to tick all three criteria of my Tiktok food trend boxes; it's super easy, cool to look at, and actually tastes good. All you need to master this party trick is instant coffee, a stand or hand mixer, sugar and hot water (drink also sold at Toki).
Pantry Pal: Burlap + Barrel's Fundamental Collection. Spices are truly, well, the spice of life, and Burlap & Barrel's collection of six cornerstone spices makes my daily routine of cabinet-Tetris a little more tolerable.
Reading material: Flavor Thesaurus. Whenever I know I want to write a recipe with a seasonal star, I flip through my Flavor Thesaurus for a quick inspo hit. Nicki Segnit's compendium gradually removed my reliance on recipes and built my confidence in my own skills at writing recipes that suit my and my buddies' tastebuds the most.
Equipment: Le Petit Chef. So you're ready to have the talk with your child–oh not that talk, but the one about tucking your fingers, and never ever taking your eyes off your task while using a knife. Equipped with a finger guard and a peeler, this kids cutlery set steers your kitchen-curious youngster into safe waters as they hone their knife skills.
Entertainment: Whetstone Collective. Already an established magazine, the team behind Whetstone is readying the launch of a food-centric podcast network, where they'll carry over their focus on food origins and culture to the airwaves. We'll now get to enjoy their content on a regular basis, reminding us how kitchen knowledge is not only the techniques we learn while we have our aprons on, but also where the seeds of specific dishes are rooted. 
Food Merch: Death and Co. Ratio Hat. Have the basics of bartending at the top of your head, literally, anytime you need them with Death & Co.'s excellent brand-wear. Even if you can't imbibe at one of their three locations (New York, Los Angeles and Colorado) the cocktail bar that inspired so many others makes it easy for the FOMO-afflicted to participate in an ounce of their acclaim (get it?) with merch you actually want to be seen in, and a bar book that reads like a vice's bible.
One of Our Own: Disco di Sale. Sometimes it's taking the tiniest chore off of your list that frees your brain-space up for more creativity. These coin-shaped salt discs sourced from Trapani, Italy are designed to perfectly salt a pot of pasta water, boiled vegetables, broths and more so you can focus on your other three burners.