Bacon and Leek Stuffing with Steak Seasoning
Posted by:
Jacobsen Salt Co.
Shop The Recipe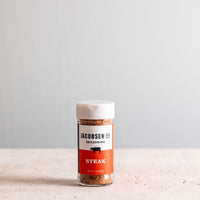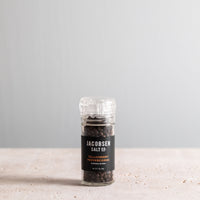 Sourced Tellicherry Peppercorn Grinder
$11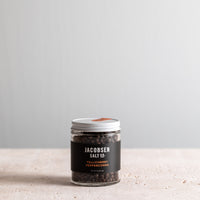 Sourced Tellicherry Peppercorns Refill Jar
$10.50
A t
asty twist on a holiday classic. Our Steak Seasoning adds brightness to this hearty stuffing that features caramelized l
eeks and hunks of sourdough. 
Serves 8-10


Process


Preheat oven to 375 F.
In a large skillet over medium-high heat, cook the bacon strips until crisp. Transfer to a paper-towel-lined plate to drain, leaving the fat in the pan. Add the leeks to the bacon fat and cook, stirring occasionally, until soft, 5 to 10 minutes. Add celery, Steak Seasoning, black pepper and sage and cook 1 minute. Add the wine and cook until it evaporates, about 2 minutes.
Spoon the mixture over the dried bread. Stir in stock and parsley. The mixture should be moist and very soft. Crumble bacon and stir it in. Transfer the bread mixture to the prepared baking pan. Drizzle 3 tablespoons melted butter over the stuffing. Bake until golden, 35 to 45 minutes. Serve immediately.