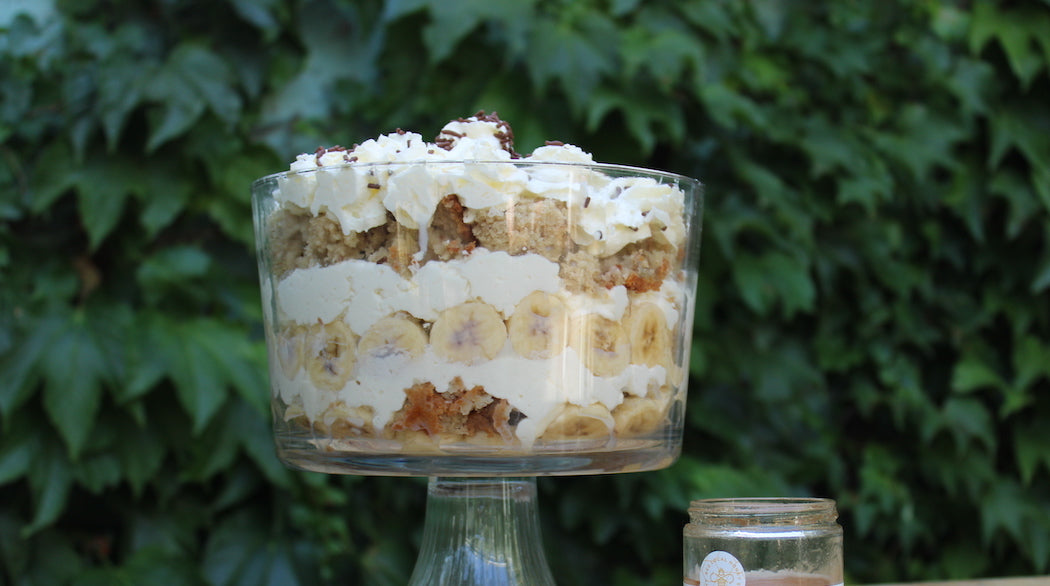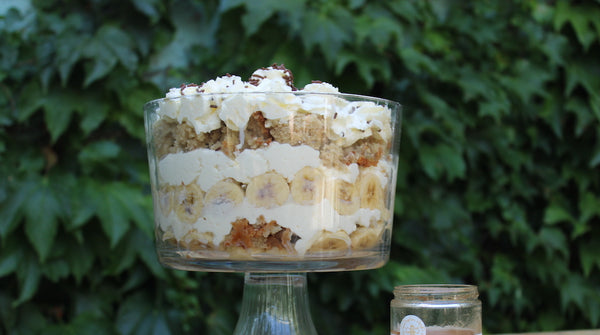 Banana Trifle with Raw Honey Whipped Cream
Posted by:
Jacobsen Salt Co.
Shop The Recipe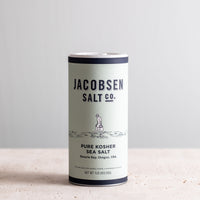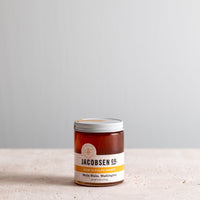 If you spend as much time with kids as I do, you know that the most feared kitchen hiccup isn't spilling ingredients and a lengthy clean-up, but it's the minute mishap sends your little buddy over the cliff of disappointment and into a tantrum. So, to sashay these minor blunders, I downshifted from a full-fledged layer cake to a parfait-like trifle. This recipe allows the baker to both flub removing a pristine cake from its pan and avoids the trickiness and temptations of a traditionally iced cake. Instead, the dessert's foundation is a crumbled banana bread complimented with a gently sweetened honey whipped cream.


Recipe and Photos by: Kourtney Paranteau


Makes 1 large trifle


Process


Make the Cake
Preheat your oven to 375° and grease a 13-inch circular cake pan (whatever size you have will work, you'll just have to be extra diligent checking the doneness) with butter and dust with flour, set aside. In a medium-sized bowl sift flour, baking soda, baking powder and salt and set aside. Using an eclectic or hand mixer cream butter and sugars on medium speed until light and fluffy before including your eggs, one by one, vanilla extract, milk, and yogurt. Working in one cup at a time on a medium-low setting, start to add your dry ingredients to the mixing bowl until the batter is just barely combined and stir your mashed bananas in by hand to finish. Pour batter into your prepared cake pan and bake on the middle rack for thirty minutes before checking the center of the cake for doneness with a toothpick. If your cake starts to brown on top but still needs to film up in the center, place a sheet of aluminum foil over its crown and continue to bake.  
Make the Whipped Cream
In the bowl of your stand mixer or using a hand mixer, whip cream until it begins to hold peaks, then drizzle your honey over the cream and continue whipping until it resembles fluffy clouds.  


To Build
In the body of a trifle-cake bowl, start layering cake, whipped cream and banana slices in that order until you run out of cake bits and are still able to top the trifle with whipped cream (about two layers of each). This task is perfect for kids–they get to tear apart cake with their bare hands and test their knowledge of repeating patterns. Finish with sprinkles and serve with a large spoon.