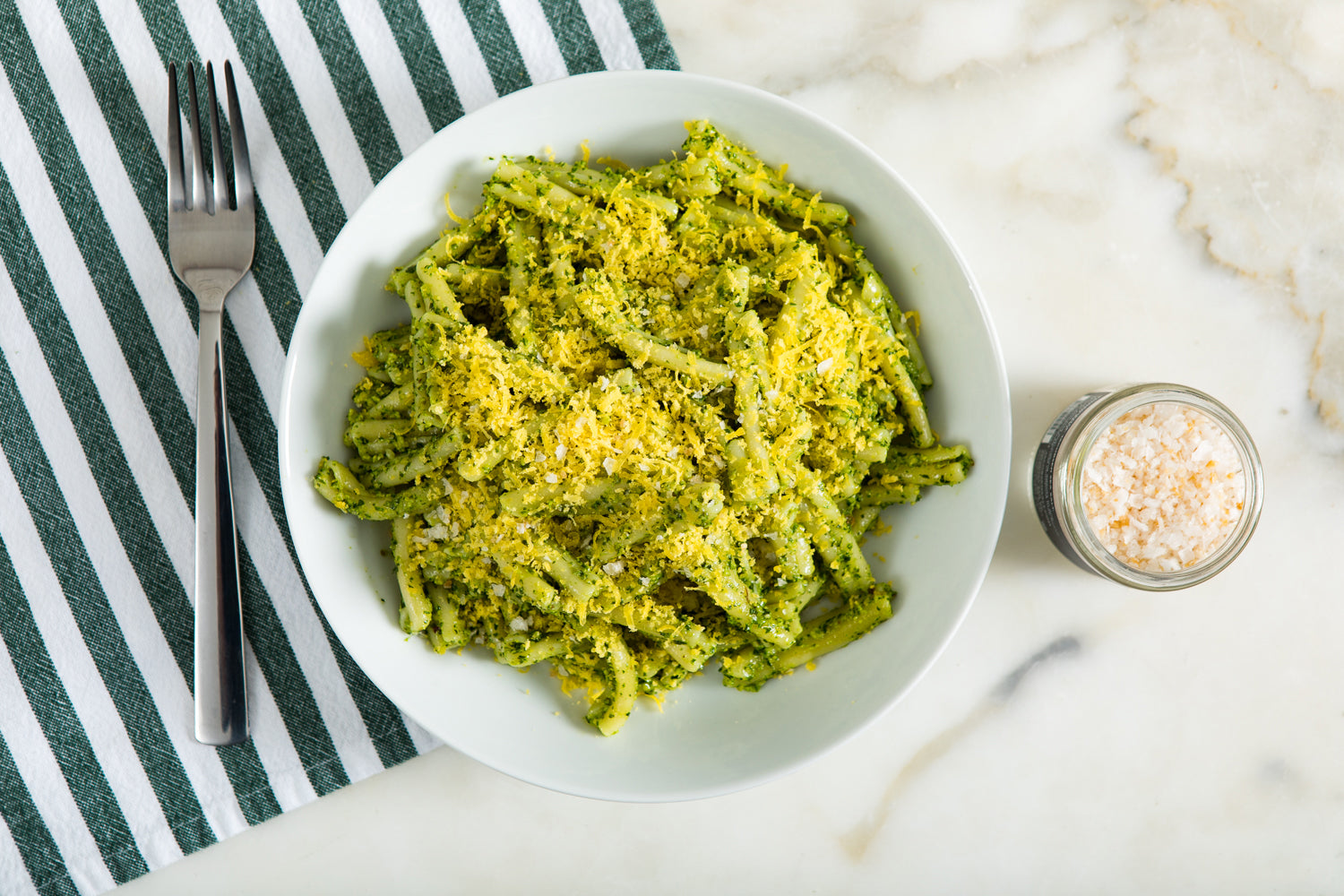 Carrot Top Pesto Pasta with Infused Lemon Zest Salt
Posted by:
Jacobsen Salt Co.
Shop The Recipe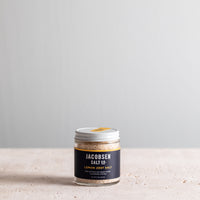 Infused Lemon Zest Salt
$15
SOLD OUT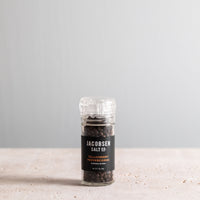 Sourced Tellicherry Peppercorn Grinder
$11
Carrots are more than just their oft-eaten orange halves - verdant carrot tops are the perfect base for a bright, fresh spring pesto! Our Infused Lemon Zest Salt and cured egg yolks (see separate recipe) offer an indulgent, dairy-free experience that will leave you asking, "who needs cheese?"
Don't forget to reserve your pasta water; this is the key to a silky, emulsified sauce that sticks.
Makes 1 cup of pesto
Process


In a skillet over medium heat, toast the pistachios for about 4-6 minutes until fragrant.
To make the pesto, place toasted pistachios, garlic, lemon zest salt, and cracked pepper in a food processor with a blade attachment and pulse until finely minced, scraping the sides as necessary. Add the carrot tops, parsley, cured egg yolk (or Parmigiano-Reggiano if using), and lemon juice and pulse 3-4 more times until combined. Slowly drizzle the olive oil while running the processor until you reach a smooth consistency. Use less oil if you prefer a thicker pesto or more if you prefer your pesto on the thinner side. Set aside until you are ready to make your pasta, or place in an airtight container in the refrigerator for up to 3 days.
Cook pasta to al dente according to package instructions. Reserve 1/2 cup pasta water before draining pasta. Add the cooked pasta to a large bowl along with pesto and toss. Add 1/4 of the reserved pasta water and toss, adding more pasta water until the pasta is desired consistency and completely coated in sauce. Serve immediately.