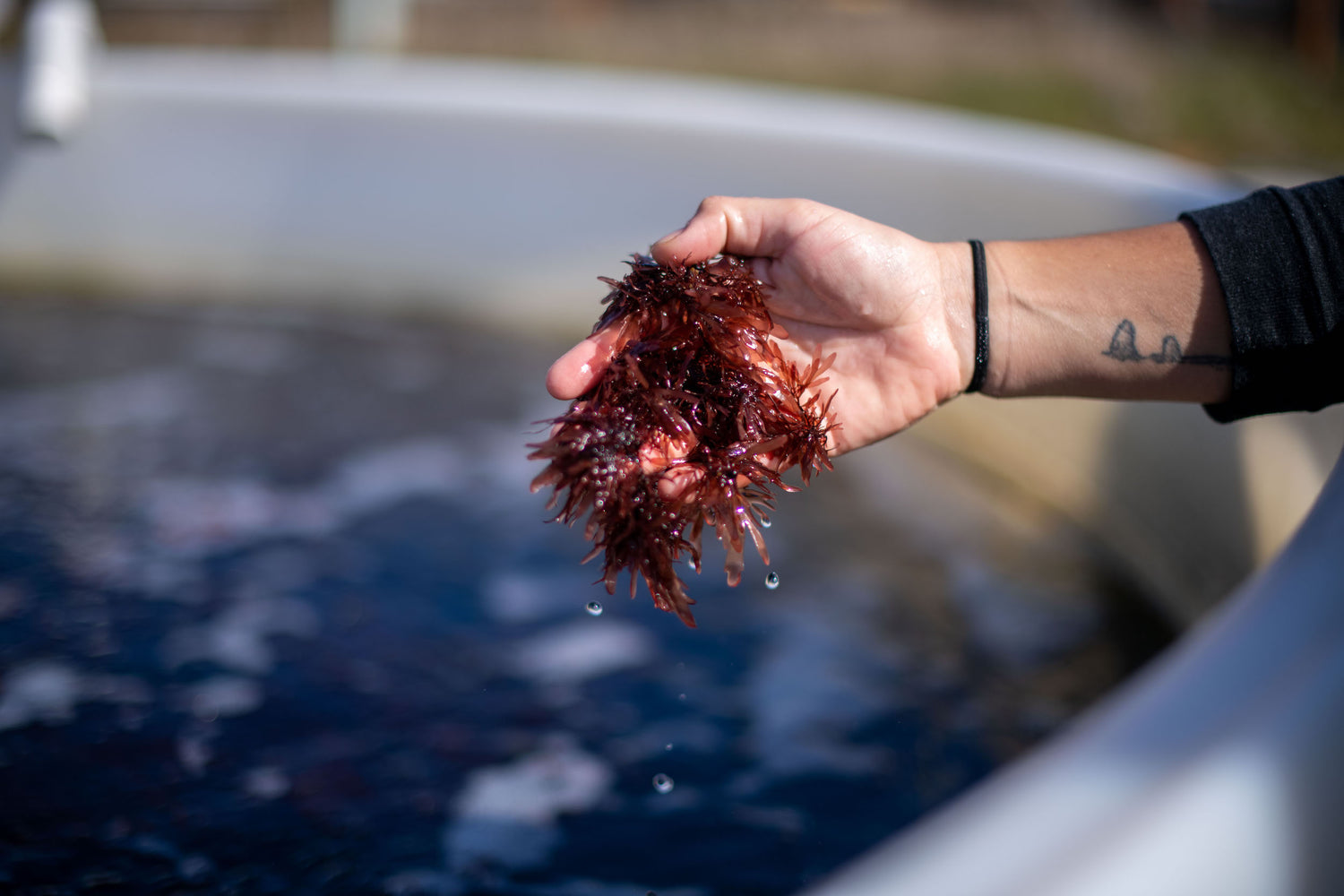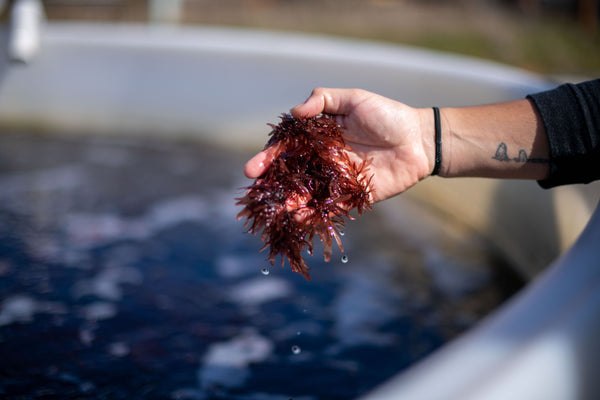 9-Course Spiel: Alanna Kieffer at Oregon Seaweed
Posted by:
Jacobsen Salt Co.
About 30 minutes north of our saltworks is Oregon Seaweed, an aquaculture farm on Tillamook Bay in Garibaldi, Oregon. This farm grows a specific type of red seaweed called Pacific Dulse. An eye-catching plant with a ruddy color and fluffy, buoyant texture, it only requires fresh seawater and sunshine to grow and has countless culinary applications, the dried form being a key ingredient in our Furikake. We took a trip to the farm to meet with sales manager and dulse farmer, Alanna Kiefer, and toured the Garibaldi operation, where we learned more about our coastal neighbors and the innovative crop they grow...and cook with!
1. Alanna! How did you get into farming dulse?
I got into farming dulse through a lifelong love of the ocean. I have been involved in marine science education since I moved to the Oregon Coast roughly ten years ago. While studying at Oregon State University, I was actually living right at Hatfield Marine Science Center where dulse was being cultivated and researched practically in my backyard, so I've known about it for a while. It wasn't until I moved back home to Oregon in 2020 that I learned about the farm in Garibaldi being built and was eager to get involved. It has been an industry I've heard about throughout my years of working in environmental education and couldn't believe it when I got the opportunity to help out right here on the Oregon Coast!
2. Can you tell us a bit about what you do at Oregon Seaweed?
I wear a lot of hats. All of us working at Oregon Seaweed are farmers, figuring out the best process and method for growing dulse seaweed on the Tillamook Bay. But my job is also pretty open-ended, which is super fun! I work as a "sales manager," which to me really just means I get to educate as many people as possible about how to use seaweed and why we should be eating more of it. It started with going into restaurants and convincing chefs to have it on their menus, but now I've learned the world of retail, farmers markets, and food systems as a whole, which has inspired me in more ways than I ever could have thought. I've even organized an entire seaweed dinner series, Winter Waters, which is likely to continue.
3. What is your favorite part about the dulse harvesting process?
We are so closely tied to our natural environment, both the beautiful sunny days and the rough challenging ones that we encounter. We are truly in tune with the elements every day and every season, where operations can change entirely and the seaweed grows totally different! 
4. 3 surprising facts about dulse farming? 
1. Seaweed farming has the potential to be cleaning carbon and excess nutrients out of our waters, which is huge! It's one of the healthiest foods out there, so the more we can get people to eat it the more we're helping our planet and people.
2. Dulse clones itself and grows year round so we never have to deal with seeds or replanting of any sort. The farming process is actually pretty hands off.
3. If we have any excess seaweed and don't end up using it (for delivery runs or farmers markets) we can actually just put it back into the tank and it will survive! Zero waste!! 

5. How have you noticed different times of year or other environmental factors having an effect on the dulse harvest?
We are really working with the natural environment. which means we are constantly dealing with changes to growth rate, growth forms, and weather in general. Seaweeds are extremely susceptible to their environment, so from season to season as the weather changes (more/less sun, more/less rain, warmer/colder days), so does the growth of our seaweed. Winter months have slower growth due to less sun but have the preferred colder temperatures that the dulse loves, summer sun promotes more growth but also leads to warmer water, which doesn't always make the dulse the happiest. There are trade-offs to all seasons.

6. How has working with dulse changed the way you cook and think about food?
It's changed my diet entirely! I became a pretty avid ocean forager after obtaining this job. There are so many amazing sustainable and healthy foods that come out of the ocean, especially seaweeds. This job inspired me to learn more than I ever thought I would about seaweed and foraging food. But foraging and knowing about sustainable foods does require a lot of education, and education is what I LOVE most about my work. It actually inspired me to launch an entire business of my own, Shifting Tides, which is all around intertidal education and intertidal foraging workshops to teach other people about this amazing ecosystem and the food it provides. 
7. When you aren't working with seaweed, we can find you…
Surfing, foraging, at a beach fire, pretty much anything to do with a beach…I spend just about any low tide in the intertidal, finding fun creatures and getting overly excited about them. 
8. Can you tell us your favorite way to prepare dulse? Best dishes to incorporate dulse?
My favorite way to eat dulse is sautéed. It goes from being salty and briny to salty and smokey and savory and just incredibly different. It's pretty shocking. I put it into any stir fry I'm making to add salt and umami deliciousness and, of course, nutrients! I also love putting it into smoothies (which i think always catches people off guard), but just like kale in smoothies, you can hardly notice it and I know how many nutrients it's adding. I love to put fresh dulse into salad dressings, like a dulse caesar dressing (on our website!) that is out of this world. 
9. When we say "dulse," what is the first thing that comes to mind?
The ocean. My life's work has revolved around the sea and helping people fall deeper in love with it in order to protect it. Growing dulse for me is one small piece of a larger puzzle of protection of our ocean. My conversations around dulse are a segue to SO MANY amazing projects surrounding our oceans, and the amazing work people are doing to protect it, through food, restoration, education, & more. 
BONUS: Favorite part about living/working on the North Oregon Coast?
Life on the water!! I live on a river, I work on the bay, and I play in the ocean! We live in an outrageously beautiful place, it's hard not to love it.