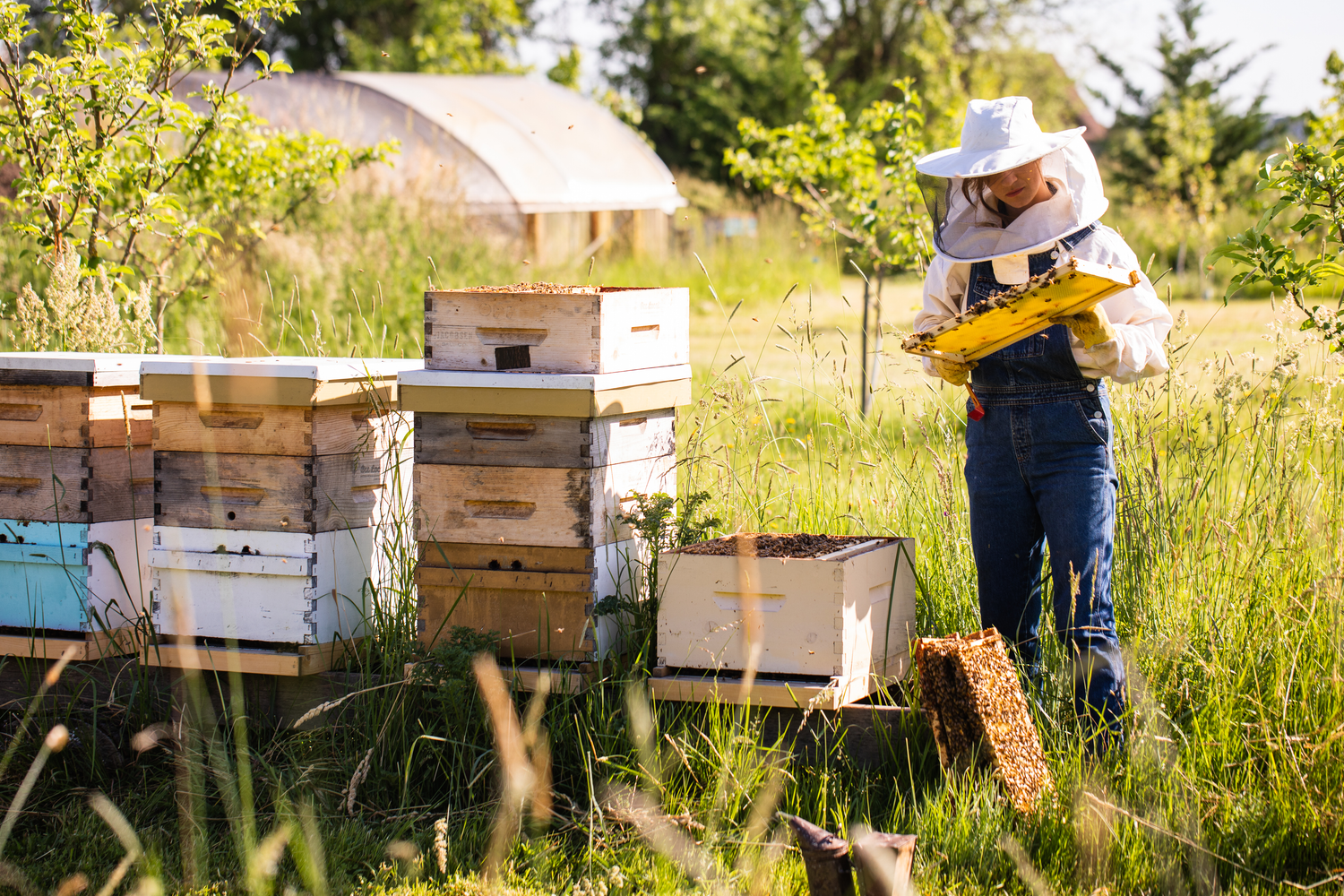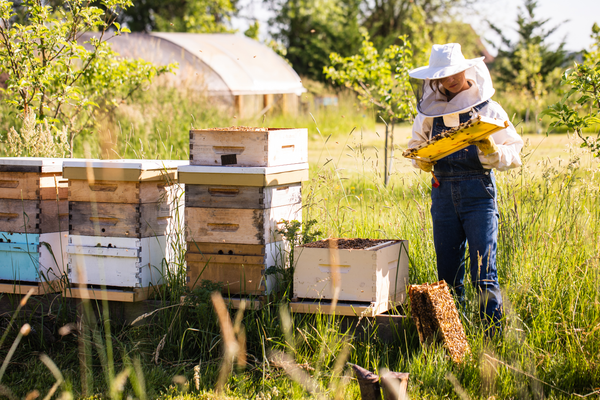 9-Course Spiel: Emily Schmiedel, Jacobsen's lead beekeeper
Posted by:
Jacobsen Salt Co.
We're well into hive installation season at Jacobsen, which means if you're in Oregon, there's a chance our lead beekeeper, Emily Schmiedel, has driven by you in a van full of bees, en route to one of our surrounding hive sites. Emily helps run the Jacobsen Co. Hive Program, providing consulting, installs, honey harvesting, and education to a number of small businesses and community members across the state. Since her time here, the program has grown to 75 hives spread out over 13 sites, and it's continuing to grow. We caught up with Emily to learn more about a typical day as a beekeeper, her favorite honey varietal, and three ways you can support the bees.
1. When I say "honey" what's the first thing that comes to mind? 
When I think of honey, I think of the distinct smell of cracking open hives in July. I reminiscence about the scents of each season– the warm smell of bees busy with work literally wafting out of the hives on a hot day.

2. How did you get into beekeeping?
In truth I have always had an interest in insects, but I became most interested in apiculture as a teenager, after learning about honeybee biology and their social order in a biology class. I had seen hives lined up in fields near my home–as I grew up in an agriculture community–but my interest was really set to fire after learning about social insects in this class. At the time when it piqued my interest, I didn't know anyone that kept bees.

3. Favorite part of taking care of bees?
I most enjoy the presence of mind that beekeeping has brought to my life. I find that through beekeeping I create a quiet world of observational study for myself. When I am working with bees, I am totally immersed in the sensory experience, taking in the moment as it unfolds. Considering the fast pace of our current society–coupled with the non-stop grind of this digital age–keeping bees is the most meditative practice I have found. At times its really exhilarating to study a colony as it's wild with energy, but my favorite times are the moments when I move with grace and am almost unnoticed, as this allows me to study bees as they are.

4. What's something you want people to know about beekeeping before they decide to start?
The management of bees does not take a lot of time, but it does take know-how, so if you are not interested and curious to understand honeybee biology, then you will likely not find a lot of success in this endeavor. Understanding bee biology is the key to becoming a partner and steward to honeybees. I think being flexible and adaptable is important, too. Keeping bees often means accepting Mother Nature's will with grace and fortitude. Sometimes beekeeping requires a hard pivot. Your philosophy evolves as you dig deeper into the science of bees.

5. What's a typical day or week like as a beekeeper?
At Jacobsen, we manage and consult on many decentralized apiaries. This means that instead of conducting a singular days' work on one apiary site, I am often inspecting, feeding, and looking after bees all over the Northwest throughout the week. Three things that beekeepers also do: wake early, lift with the legs, and generally work slow and steady.

6. What is something unexpected or surprising you've uncovered about the job?
I could have never imagined how passionate I have grown over time, or how much I truly enjoy education and mentorship. I had some really amazing mentors when learning about beekeeping, and I still do. I never saw myself becoming this excited to share what I have learned. That's a really beautiful thing about the beekeeping community… I find that there are so many individuals willing to share knowledge and experience.

This year I have focused a lot of my study on bee nutrition and immune health. It's been fun to take a deep dive into honeybee viruses and draw many connections between this social insect and our own human society. Understanding the world of the honeybee somehow draws me further into my own humanity.

7. What are three ways we can support bees?
It seems too simple to be true, but planting native flowers and flowers that bloom successively is a HUGE help to honeybees! If planting flowers is too much work, simply don't weed your lawn! 

Educate yourself on honeybees! Understanding their lives more deeply almost always grows your appreciation and curiosity. (Interested in learning more about our beekeeping classes? Our first class of 2021 will be held some time in May! Click here to sign up and learn more.) 
Buy from brands that practice real stewardship for the environment. Buying from local farmers helps, as practicing farming on a regional scale is instrumental to healthy bee populations, since they can pollinate a region and get a lot of diverse nutrients. Buy sustainable honey and consider honey to be liquid gold! Over the course of a bees 6–12 week lifetime, they produce about 1/12 of a teaspoon of honey, in total. It's a team effort for sure, and I love to think about the efforts of the bees and cherish my daily honey indulgence.

8. What's your favorite way to cook or use honey?
I love honey and find it so soothing in morning tea. Also, a lot of people that know me, know that I am a licensed esthetician and love skin care. I actually wash my face with honey daily! It's less expensive and way more sustainable than most skin care brands. Throughout the ages, honey has been used for medicinal purposes. Honey makes a great cleanser for the skin as it is both humectant (water molecule attracting) and slightly antimicrobial (fights bacteria overgrowth). Honey is slightly acidic and so is the acid mantel of the skin, so honey can be great for cleaning skin, while keeping it pH balanced. Plus, you can lick it off your lips. Honey washes off easily with warm water.

9. A favorite varietal of honey and why?
Easy…Blackberry. I love it because of the heavy ripe sugar flavor mixed with the sharp notes. I get a real sense of Oregon blackberry, which is such a nostalgic and visceral taste for me.