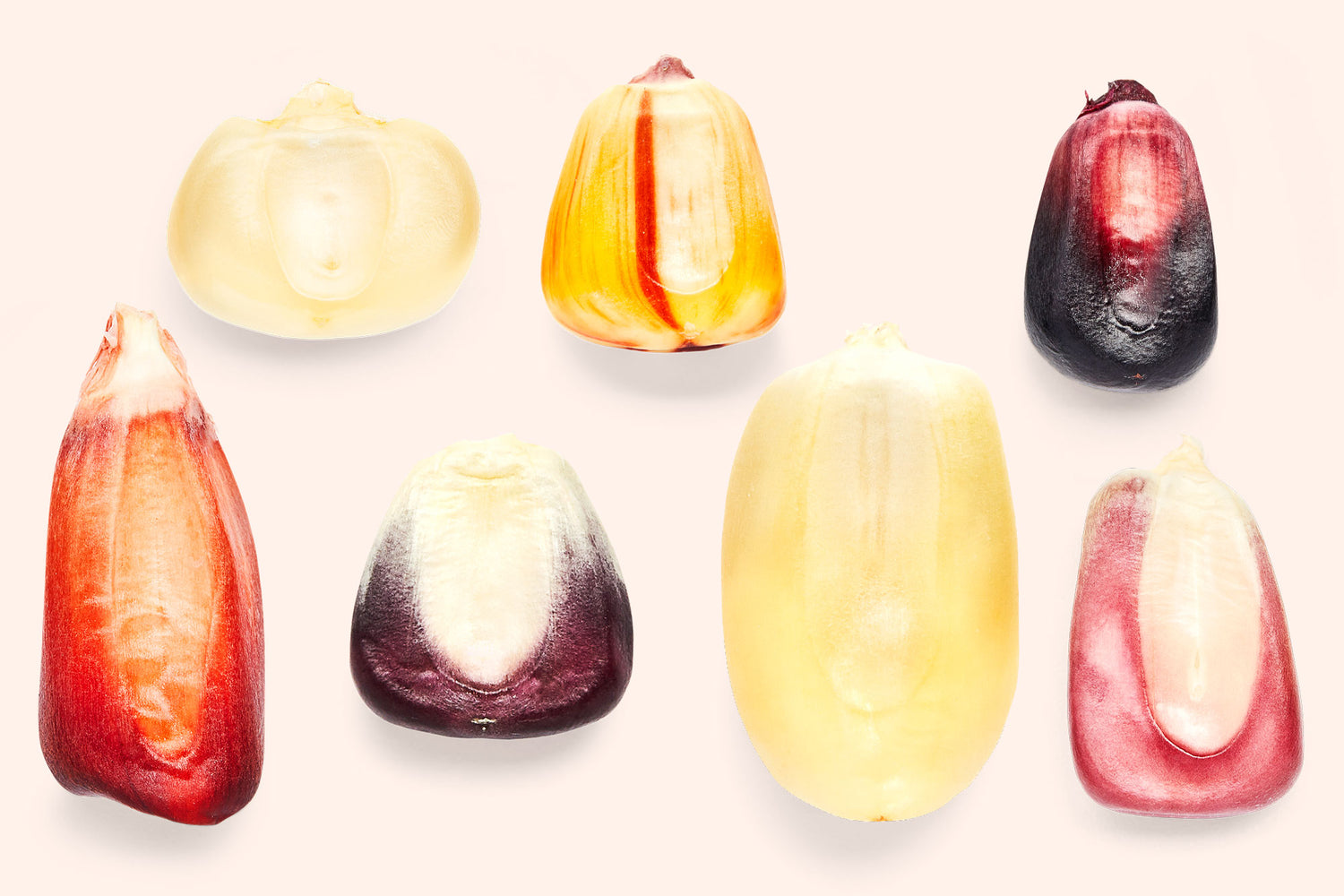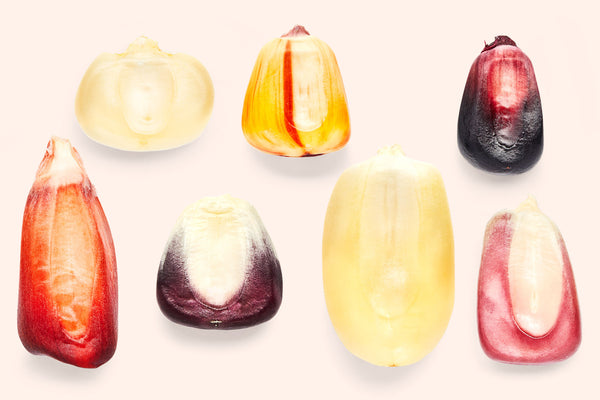 9-Course Spiel: Jorge Gaviria of Masienda
Posted by:
Jacobsen Salt Co.
Jorge Gaviria is the founder and CEO of Masienda, a supplier of high-quality heirloom masa, corn and beans, and the first to create a premium, scalable market for surplus corn grown by smallholder subsistence farmers in Mexico. Their impact-based supply chain supports more than 2,000 smallholder farmers throughout Mexico, whose corn is grown using regenerative practices across more than 30,000 acres (check out their recent feature in Food & Wine's June 2021 Game Changers issue, honoring those who are changing the way we eat and drink, for the better). Masienda's Single-Origin White Heirloom Masa Flour and Salsa Macha are both featured in our latest al fresco-inspired bundle, and we were fortunate to have Jorge bestow some kernel-to-masa knowledge on us this month. Read on as he describes what makes the perfect tortilla, the masa-making process, and the first thing he ever learned to cook.
1. How did Masienda come to be? Can you name the moment when you realized you needed to start this company, and what inspired you?
When I founded Masienda in 2014, I was apprenticing at Blue Hill at Stone Barns in New York. At the time, part of my job was to help educate guests on the virtues of truly sustainable, holistic sourcing, and just how delicious its benefits could be. It occurred to me one day, however, that the foods I grew up eating in my family's Latin household were largely missing from this "farm-to-table" conversation. Brands like Goya had been a staple of my childhood, but they now seemed completely out of touch with my values as a consumer. This was most apparent to me with regard to masa, the dough made of specially-treated corn that is the backbone of a majority of diets across Latin culture, from Mexico to parts of South America. The further I researched masa's origins and supply chain, the more convinced I became that it needed to be restored to its original greatness, from milpa (corn farm) to mesa (table). Luckily, companies like Jacobsen Salt Co. were an early and constant inspiration to bring that vision to life!

2. What is something unexpected or surprising you've learned about masa and tortilla-making since starting Masienda?
Until Masienda, I really took the process of preparing masa for granted. I'd eat a tortilla with no awareness of just how much (or little) effort had gone into its preparation. For those who aren't familiar – like I wasn't – masa takes up to 12 hours to produce from scratch, beginning with raw corn (the hard kind)! The corn is soaked in alkaline water, a process called nixtamalization, which makes it incredibly nutritious. This process also breaks down the kernels so that they form an elastic dough, once ground. Because of the amount of preparation that goes into making a tortilla from scratch, most tortillas are more conveniently made from Maseca, a popular brand of masa flour/harina (think mass-produced, dehydrated masa). The company has become so popular in the last 50+ years that most consumers have no idea what a truly scratch-made tortilla can taste like. Make no mistake, though, the difference is astounding. 
3. Your team just got back from Mexico. Can you tell us more about this trip, the places you source from, and how important place of origin is to the masa-making process?
I have been writing a book on masa for the last two years, and this trip was specifically to capture the photography for it. In addition to documenting the technique of masa making and plating the featured recipes, we visited masa artisans throughout Mexico to help bring the story to life.
Masienda sources heirloom corn from several states throughout Mexico, from Oaxaca and Chiapas, to Tlaxcala and Michoacán. Working in particularly rural areas, a majority of the communities that we support are quite traditional. These are places that have been practicing regenerative agriculture for millennia, way before it was ever a buzzy marketing term. Like the agricultural methods, their preparation of masa also remains unchanged from generation to generation. To see that labor of love go into their food each and every day, it's one of the most beautiful food rituals I can think of. 
4. How would you describe the perfect tortilla?
Crusty on the outside, molten on the inside, and pillowy – the result of the coveted and sometimes elusive tortilla puff. 
5. Your line of salsas machas are a new addition to the Masienda family - can you tell us more about how those came to be?
Masienda COO, Danielle, and I fell down a salsa macha rabbit hole a few years ago during our regular sourcing trips throughout Mexico. As we began dabbling in the other oil-based condiments of the world, from chili crisp to chimichurri, we started making our own riffs on salsa macha that drew on flavors found within and beyond Mexico. Our first recipe, Chipotle + Coffee + Peanut was inspired by one of my favorite dry rubs. In salsa form, we'll use it on everything from eggs to tacos, roasted vegetables, steak...we'll even mix it into mayo or yogurt for a red-eye condiment kinda vibe. The ghost pepper salt gives it an additional layer of smokiness that we can't get enough of. 
6. The first thing you ever learned to cook– what was it and who taught you?
Cheese "nachos," compliments of my grandfather. As can be common in many Latin cultures, my family ate dinner at 9 pm, sometimes 10 pm each night. These nachos would get me through the evening without throwing a hangry fit. Take one slice of muenster cheese. Place atop a corn tortilla. Top with hot sauce (preferably Pura Macha!). Bake at 375F degrees until crispy but still moist. Enjoy immediately. 
7. Summer is officially here - when no one else is around, what do you find yourself cooking or eating during these warmer months? 

Any kind of canned conserva (tinned fish) served with tostadas, lemon wedges, and some version of a melon/tomato/cucumber salad.  
8. What's one seemingly overlooked or simple ingredient or pantry item that's been a game-changer for the way you cook? 
Salt! Every time I go to my in-law's house, I especially realize just how important salt is to me and how differently we use salt in our cooking, whether salting pasta water (like the taste of the ocean!) or using different types and textures of finishing salt. I end up setting up little salt stations around the kitchen, which inevitably disappear the second we leave. I now have a stash of Jacobsen salts in an undisclosed corner of their pantry, out of sight and at the ready for our next visits.
9. When I say "masa" what is the first thing that comes to mind?

Shapes. Masa comes in a whole lot of shapes and sizes. I once read that there are about 350 different shapes for pasta, with four times as many names. While I have yet to find a similar survey for masa specifically, there are reports of more than six hundred documented, traditional dishes that use corn in Mexico alone. And, given the significance of traditional-method masa in Mexican culture, it stands to reason that most of these dishes are derived from nixtamalized corn dough in some way.