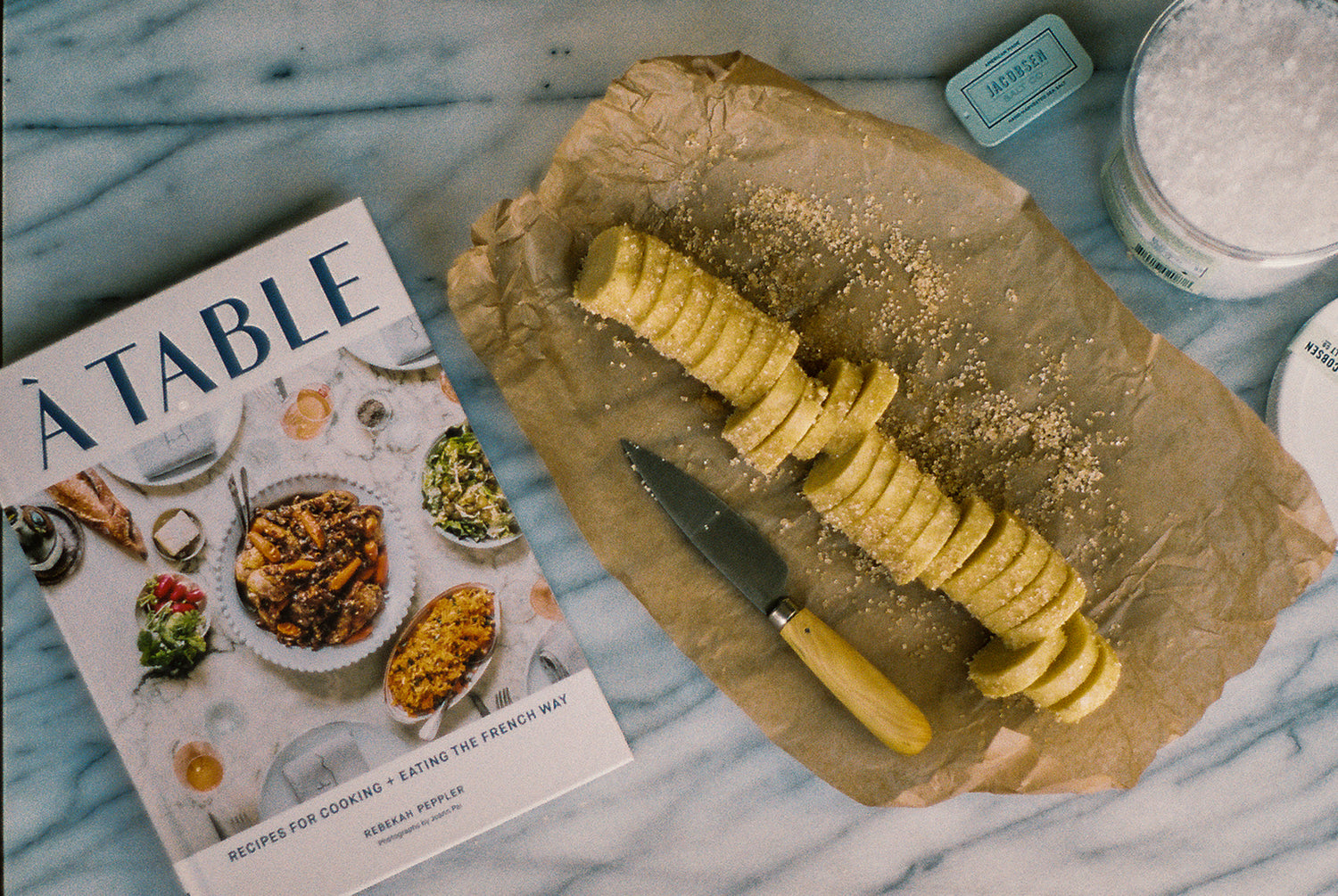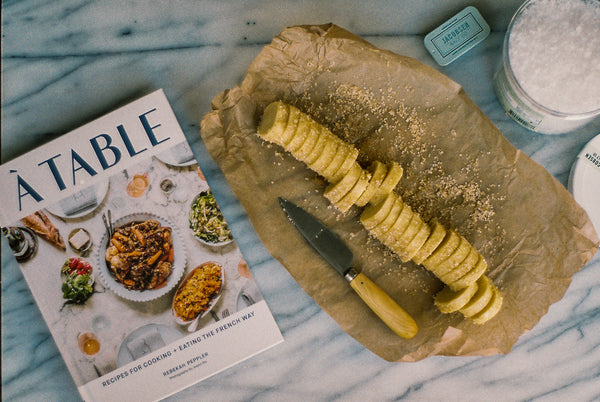 9-Course Spiel: Rebekah Peppler
Posted by:
Jacobsen Salt Co.
Rebekah Peppler
is a Los Angeles- and Paris-based food writer and stylist, as well as the author of the James Beard Award–nominated 
Apéritif: Cocktail Hour the French Way
 and 
Honey
, a Short Stack Edition. To celebrate her new cookbook,
À Table,
coming out this April, we were lucky to have Rebekah answer our questions around what cooking and snacking the "French way" means to her, must-haves in her apéro repertoire, and a few simple ways to make your plating presentation feel more French-inspired:
1. Your new cookbook, À Table, (congratulations!) is all about cooking and eating "the French way" - how would you describe what that means in a couple of sentences or how would you describe what that means through a days' worth of meals?
(Thank you!) I think there's a distinctive kind of magic around French culture, especially within the realm of cooking and eating. To me, that "French way" and what I sought to champion in À Table revolves around the spirit of the modern French table: a focus on connection and enjoyment over delicious, often simple dishes that emphasize quality of flavor rather than complicated technique.

In my life, a day's worth of meals the French way typically means a coffee or tea in the morning with a little fresh fruit and, if a bakery run is in the cards, a croissant. This is followed by a light lunch to tie myself over for when, for me, the best parts of cooking and eating the French way begins apéro hour. This enchanted time is meant to cap the day and properly usher in the night with a drink and snack, priming the palate and heart for the evening to come.

Unless, of course, the day we're talking about is the kind of day I wish I could perpetually live: a summer Sunday. In that case, a run to the market in the morning, apéro hour starts before noon and probably slides into a long, late lunch of roast chicken and potatoes cooked in their juices (bought at the aforementioned market), a big green salad, fresh baguette, good butter, and plenty of rosé lasting far into golden hour which itself then rolls right into evening apéro.

2. How has living between Paris and LA influenced the way you cook and meal prep?
I think the biggest switch I've made since moving to France has been shopping on a smaller, more regular basis, often for the same day or just two or three days, max. I also make way more stops at different shops (this, of course, is all an answer for pre-pandemic shopping and what will hopefully be post-pandemic shopping soon enough).

In LA (or New York where I lived for nearly 10 years before making the move to Paris), I often go to one or two places and am able to buy everything I need. In Paris, I have my butcher, my cheese shop, my boulangerie, my produce shops (if it's not a market day), the place with the good spices, and so on. Even at the marché where I can get an abundance of produce at one stand, I follow the French standard and have my favorite spot for peaches and nectarines, another for lettuces and herbs, my chicken lady, the place with the best crème cru, the place I like to break for a mid-shop snack of a half dozen oysters, etc…it's definitely more time-intensive but far more satisfying and allows for community connection and keeping my euros out of the hands of large food corporations who are destroying, well, everything. It's also necessary — my Parisian fridge is tiny.

3. With entertaining on a smaller-scale being the norm these days, what are some must-have snack foods or small plates you like to bring into your repertoire?
One item that never leaves my apéro repertoire — whether or not I'm entertaining — is a bag of potato chips. They satisfy my constant craving for a salty snack with crunch and a ton of flavor, and are great solo or as a vehicle for dips. A bag is also easily portioned into individual bowls for distanced entertaining, so basically they're perfect.

Two other apéro snacks for me: radishes, butter, and flaky salt, or Le Grand Aïoli. The former always feels so French, no matter where I am, and is such an excellent excuse for eating little hunks of butter in each bite. The latter is a Provençal classic that requires not much more than arranging vegetables (and in my case, a tin of sardines) around aïoli. It's adaptable to any season, a good reason to eat mayonnaise on everything, and while I don't include potato chips in my recipe in the book, you bet they're on the same table for extra-curricular dipping.

I've also taken to dropping savory and sweet treats to friends with whom I used to have over all the time. Lately it's been the Sablés, But Not, Like, Regular Sablés, Cool Sablés from À Table, a nod to all the cookies I used to bake fresh for dessert or take-home treats after dinner parties.

4. When no one else is around, what do you find yourself cooking or snacking on?
It honestly doesn't change much if I'm alone or not, but if there's Comté in the house that's all I'm snacking on until it's gone.

5. Name one seemingly overlooked or simple ingredient/pantry item that's been a game-changer for the way you cook?
I might be stating the obvious considering who I'm talking to here, but salt. But not only the salt itself, actual proper seasoning with it. I have a particularly heavy hand and taste for salt, but I find it can be so easy to under-season a dish and come to the conclusion that you don't like it when all you need is a little more salt (or a salty addition in the form of cheese or olives) to bring all the flavors together. I travel with pocket salt (namely, Jacobsen's sea salt slide tin) for this very reason.

6. The first thing you ever learned to cook– what was it and who taught you?
Rice Krispie Treats. I made them as a surprise for my mom. They were rock hard. She ate them anyway.

7. Have you formed any unexpected food habits over the last year?
I spent the last year incredibly, seemingly unendingly sick with Long Covid, and I lost my sense of taste and smell for an extended period of time, so I had an unexpected year of eating in general! Much of it revolved around ease, proximity, and was far less focused on flavor than my eating usually is. I did make a long, slow Bolognese sauce last summer (of all times!) after my taste had finally started to return. I still remember that first, incredible bite.

I also relied heavily on friends dropping off groceries and care packages, which helped me feel so much less alone. Right when I first got sick, my friend Jackie dropped off a gougère from my local boulangerie and wow, it was the perfect mix of snack and love.

With the eventual return of taste and smell — and thus a return to more expansive, enjoyable, flavorful cooking and eating — I have become hyper aware of all five senses and how they interact at the table and am now beyond grateful for them on a daily basis.

8. When I say "snack time" what is the first thing that comes to mind?
Apéro hour!

9. Let's talk about making meals at home special. Do you have a quick trick, tip or technique that would help make our cooking, meals, or plating presentation more French-inspired or restaurant-esque?
Oh so many. My favorite and the easiest: Set the table, use cloth napkins, and light an (unscented) candle or three. Many of us have been making and eating meals exclusively at home for a year, so a little ambience and everyday luxury go a long way.

My other favorite: Pour yourself a drink while cooking. A splash of vermouth on ice, a glass of wine, seltzer with a ton of lime, all great. Whatever it is, put it in a beautiful glass and finish it while in the act of making your meal. You can always pour yourself a refresh, or not, when you sit down. It's French-inspired, sure, but mainly: You deserve a nice drink.