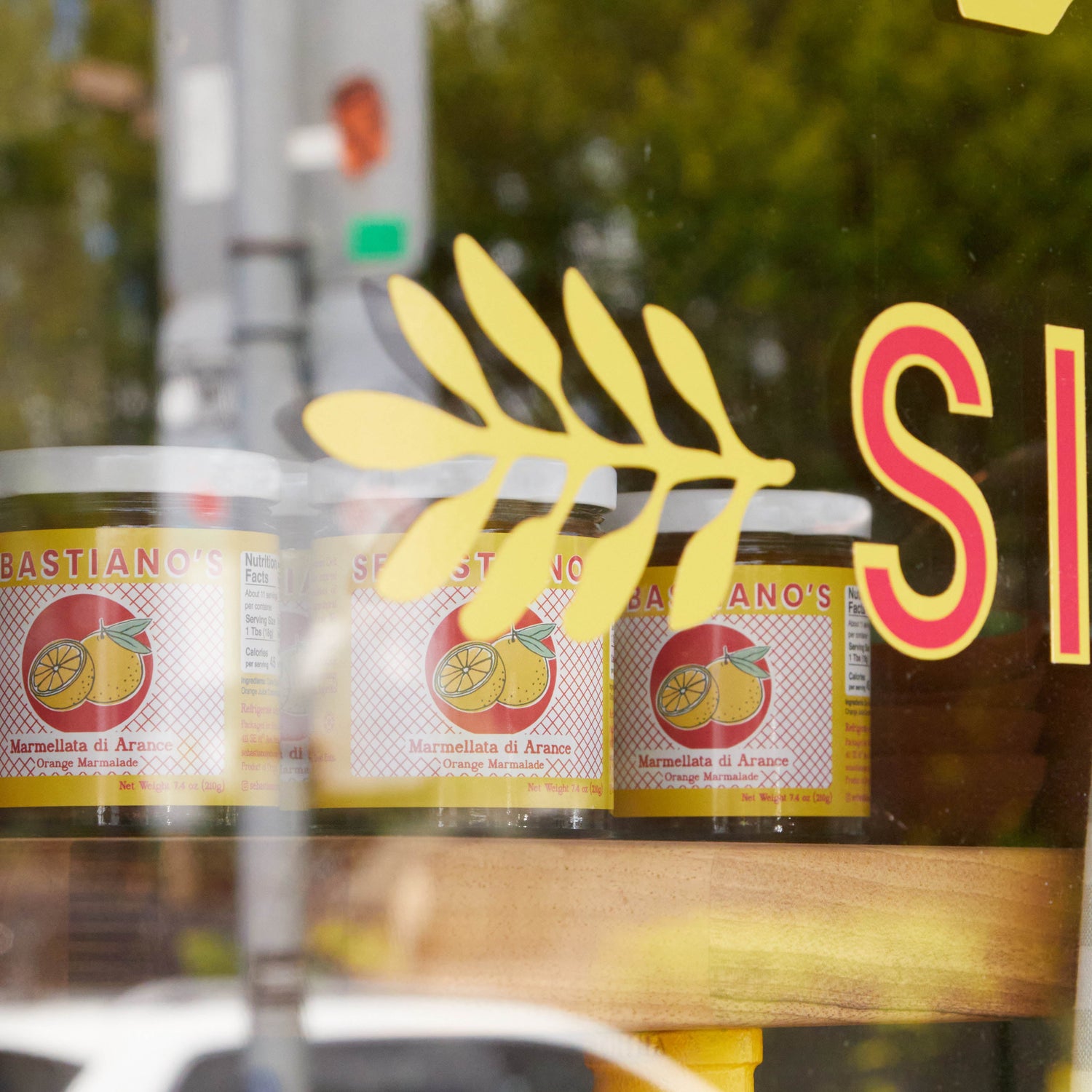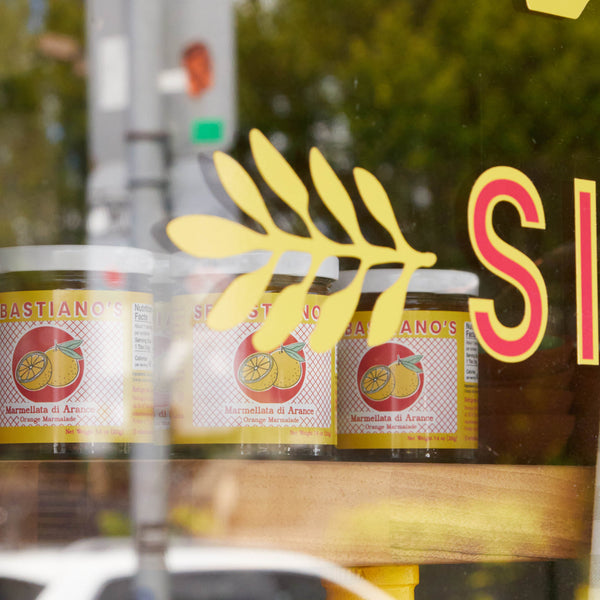 9-Course Spiel: Dan & Elise Gold of Sebastiano's
Posted by:
Jacobsen Salt Co.
Dan and Elise Gold are owners of Sebastiano's, a neighborhood gem located in the heart of Portland's Montavilla neighborhood. Influenced by the culinary traditions of Sicily and the Pacific Northwest, this family-owned hotspot has developed a following for their muffuletta, hand-pulled mozzarella, piped-to-order cannoli, and house-baked Sicilian treats.
We recently teamed up with Sebastiano's on our new Calabrian Chili Garlic Seasoning and in our latest Southern Italian Summer Bundle. Read on to hear what Dan and Elise had to say about Sicilian cuisine, what makes the perfect apertivo hour, and what it was like opening a deli in the middle of a pandemic. 
1. How did Sebastiano's come to be? What was the moment when you two realized it was time to share your incredible food with the Pacific Northwest?

The idea of Sebastiano's came to us at the end of a month-long trip to Sicily in October 2019. We were incredibly inspired by the land, the people, the food and the culture. Elise is Sicilian by way of New Jersey, so the idea behind Sebastiano's was to delve deeper into Sicilian cuisine while also paying homage to Italian-American traditions, and do it all within the context of the Pacific Northwest and its incredible food community. 

2. What would you say most people associate Sicilian food with, and how does that differ from your experience or take on this region's cuisine?

Compared to other regions of Italy, Sicilian food is a lot less well known and represented (at least on the West Coast) so most people are relatively unfamiliar with it. People have no idea of the French, Spanish, North African or Arab influences, or that the Sicilian dialect ("language") often can't be understood in the rest of Italy. It's really its own place. As far as food goes, Cannoli is the big one people know. Arancini is up there. Caponata and Cassata to a lesser degree. But on the other hand, anyone who has ever been to Sicily is really enchanted by the experience, so a lot of our customers have a much deeper knowledge and many special requests!
What makes Sebastiano's different is that our approach is basically slow food, through and through. It's important to us to work at a scale where we use only the highest quality ingredients. We get our produce from farms like Gathering Together, Wild Roots and our booth neighbors at the Montavilla Farmers Market. We bake our bread in-house -- including our muffuletta rounds, focaccia, and brioche -- using locally grown and milled grains. For our cold cuts, we serve Portland's Olympia Provisions, as well as hazelnut-finished charcuterie from Tails and Trotters. For our meatballs and stuffed focaccias, we use Revel Meat Co.'s fresh meats. All of the suppliers we've partnered with are committed to creating sustainable local food chains that focus first and foremost on quality. Our model is increasingly difficult in this day and age, but at least for us the Montavilla neighborhood and greater Portland food community, has made it possible.

3. What was it like opening a food establishment in the middle of the pandemic? Did you find it changed the way you imagined your original menu to be? 

It's good that we signed our lease before the pandemic because it tied us to the ship, so to speak. Without that commitment, our resolve might have faltered. Even so, our concept and our menu changed entirely to create a menu that we could execute with just the two of us. We had originally intended Sebastiano's to be more of a wine bar and intimate, informal small plates dining experience. Prior to the pandemic, muffuletta wasn't a central focus and now it's become what we're known for, and what carried the business through tough times.
Interestingly, starting up during the pandemic allowed us to bypass all the pivoting and confusion in regulations that other restaurants had to navigate. We didn't have to figure out how to downsize a business, or provide a safe working environment for staff because we didn't have any staff. We didn't have to worry about contagion from customers because, to this day, no customer has ever come into our shop. Weird, right? Well, we bought a dutch-door and just serve everyone outside and it seems to work. I joke that 2020 was the only year Sebastiano's could have been named a "Restaurant of the Year" by Portland Monthly (which is great press for a small mom and pop like us), considering we don't have any seating, you couldn't order a drink, and that all our food was served out of boxes, but hey, that was the deal in 2020.
4. You are full-time parents to two adorable kids! What are their favorite Sicilian dishes? 

Our kids love pasta pesto and are serious cannoli monsters! We also love biking down to Pinolo Gelato to eat Sandro's gelato. That's a real treat for them.

5. Describe your dream aperitivo hour - where are you and what's on the menu? 

Our dream Aperitivo Hour is on an island in the Tyrrenhian Sea or any Sicilian coastal town. The weather is perfect with a sea breeze. There is definitely fried seafood, cold white wine, briny olives and delicious fresh fruit. Our second best Aperitivo is in the back parking lot of Sebastiano's with a packed house of happy people!
6. Are there any tricks you've taken from Sicilian cooking and baking traditions that changed the way you approach food that you could share? 

Elise's Sicilian great-grandma emigrated to America with no knowledge of English, raised 7 kids by herself after her husband died suddenly at his job in a foundry, and managed to start a cheese-making business to support the family. Persistence and learning to work with what's on hand are the main takeaways for us from the Sicilian experience. Elise doesn't have a bread-baking background, but she taught herself how to mix and bake muffuletta by hand. Same for teaching herself to pull mozzarella and just kept practicing till she was happy with the results. Our Deli doesn't actually have a kitchen, for instance, and we ran the business off a deli slicer, an induction burner, and an oven for the first 10 months. Now we have a food cart in the back with burners and fryers, which makes things like frying 200 cannoli shells a lot easier to do!

7. The first thing you both ever learned to cook– what was it and who taught you? 

Dan, 9 years old: Dutch Baby with Canned Fruit Topping & Powdered Sugar, Sunset Magazine Brunch Cookbook circa 1992.
Elise, 8 years old: Rolling Pastry for Cuccidati (Sicilian Fig Cookies) each Christmas. Recipe handed down by Nonnas and Great Aunts.

8. What's a seemingly overlooked ingredient or pantry item that's been a game-changer for the way you cook or bake? 

Quality Olive Oil is big. We fell in love with an olive oil producer in Sicily and next year we're going to start bringing it into the Pacific Northwest! We love Pantillerian salt-packed capers, and those are definitely worth seeking out. We also do a lot with candied-citrus in our kitchen and started making marmalade for our cuccidati cookies, pastries and brioche. Now we've found a way to do it on a larger scale with help from a jam maker in the Willamette Valley, and Sebastiano's Marmellata di Arance is now available at fine grocers all over Portland! 

9. When I say "Sicily" what is the first thing that comes to mind? 

Enchantment.