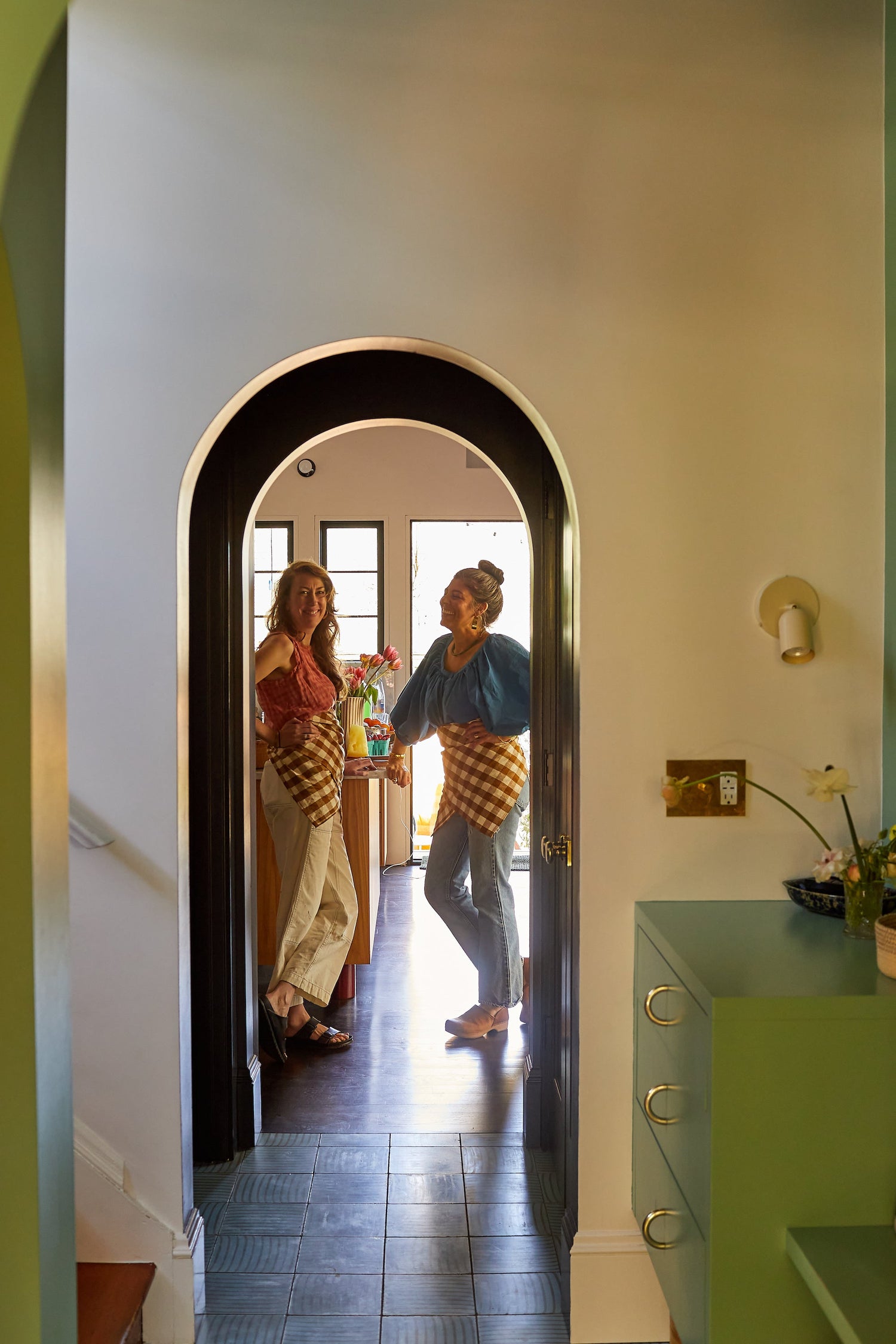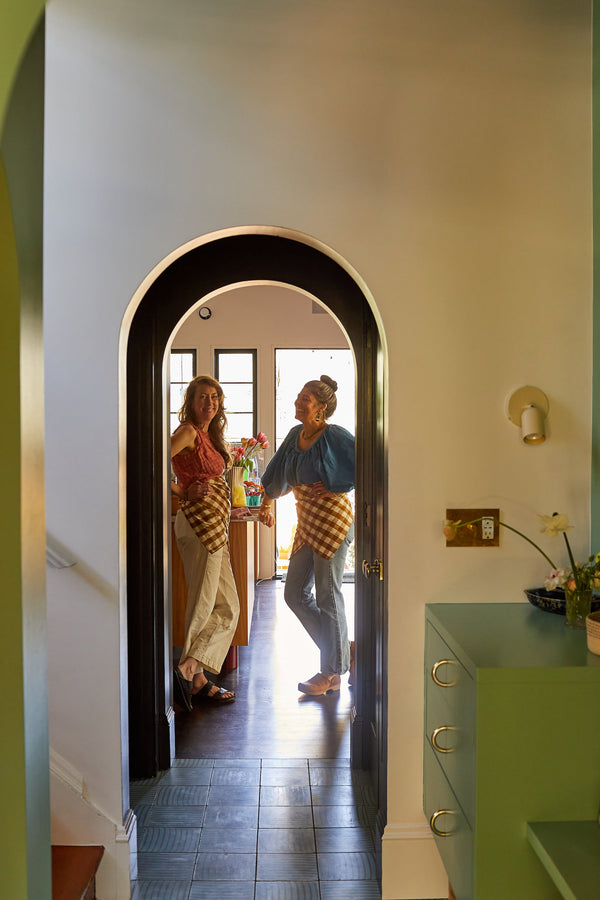 A Chat with Shay Carrillo & Jeanie Kirk of MADRE
Posted by:
Jacobsen Salt Co.
MADRE is Shay Carrillo and Jeanie Kirk, two women deeply stirred by mothering, both beauty + breakdown, homemaking, food, and how a nourishing home can ripple outwards to support and honor our children, our collective human family, and the natural world. With their motto "we all eat, we all rest", they strive to offer linen home essentials that support food, rest, and our community.

Inspired by sights near our saltworks, we're excited to introduce our linen collaboration with fellow Oregon-based brand, MADRE. The collection features four colorways: Oyster Shell, Fog + Forest, Crab Pot, and Boil Pot. Ahead of the launch, we sat down with Shay and Jeanie to talk about domestic linen, inspiring women, and the meaning behind their motto. 


How did MADRE come to be? Can you recall the moment when you realized why you needed to start this company?


(SC): I started making napkins for my kids' lunches. My kids went to a Waldorf School, and I wanted perfect little napkins that they could take, and I wasn't finding them. The things I found were just not cute - I was like, why does all kid stuff have to be emblazoned with boats? I had just purchased a new sewing machine and decided to make my own little linen napkins, and they were great. Friends would ask where I got them and if I could make more, so I started doing a few craft fairs and then was approached in SF by Heath [Ceramics]! That's when I thought: oh, okay, there's a business here. In that prior iteration [of MADRE], I was doing all kinds of other things like kids products and lots of vintage textiles and home goods, but it has always been these napkins that were a real product that people could relate to.

(Photo of the mood board that inspired the MADRE branding.) 
What's something you want people to know about your linens and the industry as a whole?


(JK): [We] wanted to make beautiful things that had a story and purpose.
(SC): The first question we asked ourselves was: can we make a product that is fully domestic? Is that possible? Then we discovered there was this whole movement already underway literally in our town - these two incredible women [Shannon and Angela of Fibrevolution] that have been dedicating their lives to the revitalization of linen here in the Pacific Northwest. And that really felt like our message from above to go forward. There are a lot of linen brands out there, and we want to be the first seed to table linen napkin company. This is our distinguishing element.
(JK): If you think about the climate here [in the Pacific Northwest], we get a good amount of rain but we also have nice, dry summers, and it's very similar to the lowlands in Europe. We have this really amenable climate and soil for growing flax. There was a flax industry in Oregon, mostly during World War II because the government was subsidizing it. As part of the war effort, they were using linen for things like uniforms, hoses, shoes, but by the 70s, without government subsidies, it had disappeared. There's a history here in Oregon and we want to be a part of revitalizing it.


Who are the women you most look up to and are most inspired by?


(JK): Shay has been a huge inspiration for me. One of the reasons we named MADRE, MADRE, is that we both had this yearning our whole life to be mothers, and both really believed not just in the act of mothering one's own children, but the archetype of mother. And I always really admired the way Shay held  that archetype of mother.
(SC): I think that's something that Jeanie and I share a lot and it's one of the reasons why our partnership works really well — we tend to speak this kind of deeper, esoteric language that we both seem to understand. We ask ourselves: can we be mothers the way that we want to be mothers, and tend to ourselves and our relationships that matter, while building a brand? These questions have been a big part of the conversation all along.
(JK): It's darn hard but we are doing our best. Jennifer Armbrust is another woman that we really admire and she wrote a book called "Proposals for the Feminine Economy".
(SC): It's something we come back to again and again and again.
(JK): She often asks what if we prioritize collaboration over competition. Abundance mindset versus scarcity mindset and all these comparisons like that. And it's not necessarily that masculine is bad and feminine is good. But where can we find balance?
(SC): Clare Vivier. We started around the same time. I remember listening to something about her initially creating a bag that was overly designed to the point that producing it was very difficult and it became very expensive for what it was. But then that led her to create something beautiful without being so needlessly complex, which I appreciate about her design sense.
(JK): I really respect Rebecca Solnit as a writer and a woman and the work that she's done. She's always someone I think of as a heroine of mine. We also really like Triscia Hersey of the Nap Ministry. She's rad. She's like radical, visionary.
(SC): We leaned into her a lot early on. Overall, I think Jeanie and I are both really inspired by a lot of artists with similar ethos and sentiments for living. We also feel so inspired by all of the largely women-owned businesses that we collaborate with.
(JK): So many of them took a chance on MADRE - since the beginning we've had the trust and support of both local Portland boutiques and business owners all across the country. We really can't function without the beautiful people who have decided to invest in us.


What does "We all eat. We all rest." mean to you?


(JK): We all eat, we all rest. This is our promise to our customers and to ourselves.
(SC): I think it has so many layers. It really does.
(JK): When we were creating MADRE, we wanted to create a business where we care for each other, the planet, and our employees. We also wanted to hone in on what the essentials were and we just really focused on food and rest - no one can survive without these two things. We felt that, at the beginning of building the brand, we needed to be bold and clear about that. 
(SC): It's the foundation of our lives and living it well. If we're missing those elements, it's really difficult to do the bigger things - and it's what our mothers are always telling us!


What was the first thing you learned how to cook – what was it and who taught you?


(SC): My grandfather taught me how to make tortillas, and that was quite wonderful. I grew up mostly with my mom and my stepdad. They both cooked and they love flavors of all kinds so cooking was one of those things that I absorbed by being around them. I also have a sweet memory of [cooking with] my grandmother. This was once I had moved here and was a mom myself, but my grandmother had come to visit and she taught me how to make her cabbage rolls, which I love so much.  
(JK): Food is a big deal in my family, too. I come from New England and my mom is well known for her Boston Baked Beans, various yummy salads that she makes over and over again, and sweet treats of all kinds, particularly shortbread cookies. I think the first thing I learned to cook was actually an omelet, and my dad taught me. I love how food and the smell of cooking connects with our memories. Since I live on the other side of the country, food can make me feel at home when it feels so far away.


6. MADRE linens are such a statement maker on a table. What advice do you have for anyone crafting a beautiful table for their dinner guests? 


(SC): I prefer a table to feel really comfortable and approachable versus one that feels overly precious. I use a lot of natural objects like blooms, leaves, and even fresh vegetables when I'm dressing a table. I like that reflection of using food as decor while you're sitting down to eat. It's a nice way to appreciate food as a visual object that's really gorgeous, just like a flower is.


Fall is almost here. What most excites you as the seasons change, aside from cabbage rolls?


(SC): Cabbage rolls for sure. Fall is my favorite season - I love fall morning walks when the air is crisp, being able to wear a sweater, and cozy boots. My birthday happens to also be in the fall - I don't know if that's nature or nurture. I also love how soups come back to the forefront in the fall, I appreciate something that I can put on in the morning, have it simmer all day, and be ready when I get home. 
(JK): Fall for me is about remembering to rest and find time to go inward. As so many of us were, I was really socialized to be extroverted and thought that was my true nature until I became a mother. Now I'm learning to relish cooler mornings and evenings and release the fast pace of summer. 


What inspires the colors for MADRE's collections?


(SC): Our signature collection was the first collection Jeanie and I created together and it was really a response to all of the very beige and white designs. We wanted to be somewhat irreverent and we liked the pairing of those nine colors together with the bold red as the signature trim. It was the middle of COVID when we launched this collection too so it felt important to bring color in. 
We're also both huge fans of checks and stripes. This most recent Madras Collection was really inspired by the 80s - think Bermuda shorts and polo shirts, which is what everyone was wearing at the time. I'm a true kid of the 80s so that was a really fun design.
All in all, we just enjoy playing with the color and the trim to create something unexpected, but not have it hit you over the head with colors and patterns.