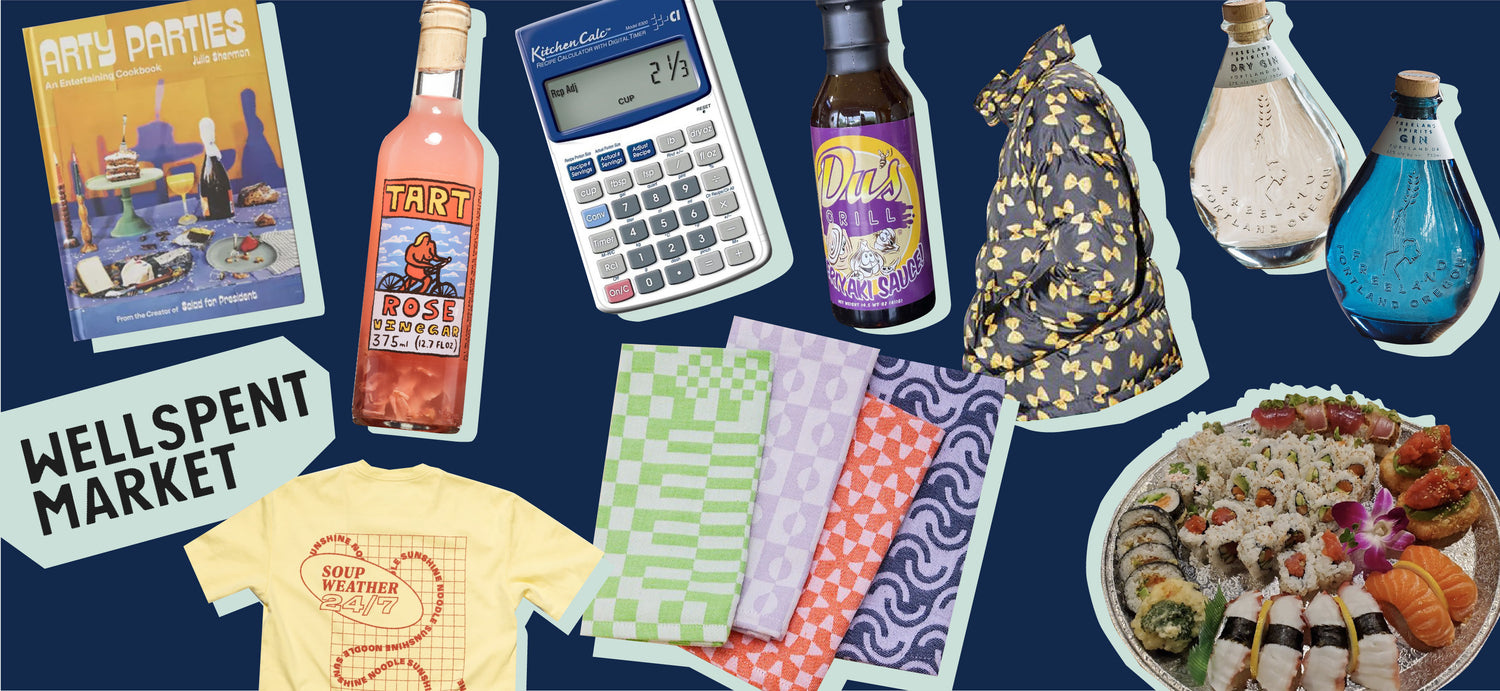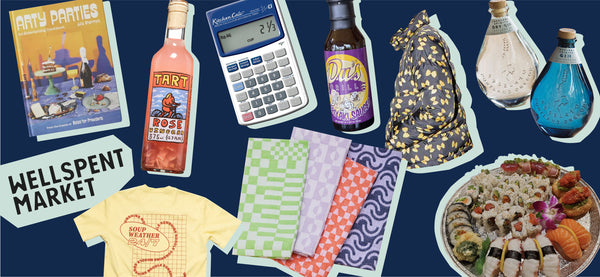 Posted by:
Jacobsen Salt Co.
I wish Mariah Carey's altruistic lyrics were true for me and all I wanted this holiday season was the company of one other person, but the tug of snack-related desires never cease within my heart. Luckily, I actually do love giving (almost) as much as receiving, so I typed up a quick list of items crowning my food-centric feed. Mostly salutes to local businesses, my December playlist is all about what to give the hungriest people in your life all while acknowledging their great taste.  
1. After a book that was a runaway success in my kitchen, Julia Sherman's followup to Salad for President, Arty Parties, like its predecessor draws heavily from Sherman's work in the art world, but this time she focuses on how to make your meals more memorable. After a calendar year mostly spent with a small bubble of friends, Arty Parties encourages its reader to get back into the hosting game as she explores how to feed a crowd, make connections and zhuzh up your office parties.
2. There are a couple things in life that I've learned are useless to try and improve on. First of all, it's homemade ketchup and following the king of condiments, are the yin and yang of Du's Grill– their salad dressing and teriyaki sauce. As precious as the meat it is served on, Du's duo of dressings can now take up residence in your fridge and bring an extra punch to any of your home-cooked dishes in need of extra flavor.  
3. No matter your skill level inside the kitchen, I think we can all admit that math is hard and we need help. This handheld Kitchen Calculator quickly translates cups to tablespoons, grams to ounces and back again before you can even begin to ask Google for help.  

4. I've gone full fangirl for Chef Diane Lam here on the playlist before, but her collaboration with Unless Collective has tapped into Portland's rainy season feels more than any wearable sleeping bag ever could.  
5. I treat my kitchen wares the same way I treat my streetwear–which is to say I want it all to be cute and match my personality as much as my baseball caps and tote bags do. So when I suit up before cooking, the latest drops from textile hero Dusen Dusen have me drooling all over my cutting board with brightly colored aprons, oven mitts and napkins that boast a personality as loud as my own.  
6. I go one step beyond eating my feelings and also prefer to wear them with Rachel Antonoff's line of food-filled patterns, like her haute ode to the best hot cuisine of all time, pasta. Yes, I'd file this extravagance under "for a best friend only" but nothing says "I love you forever" better than a jacket that doubles as a grocery list. 
7. Is it even the holiday season if you haven't sipped a martini before 4pm in a sweater? Well, pull out your favorite cable knit and head over to NW's Freeland Spirits, the current producers of my favorite gin, period. No matter if you take it dry, dirty, with a twist or even over ice, Freeland's eye-catching bottles are handcrafted for the gin enthusiast in your life.    

8. I know Santa checks to see who's naughty or nice, but does he care about who's sweet and who's sour? I hope not because I'd sit proudly on the sour-side of his t-chart thanks to this year's vinegar queen, Tart, who make the hippest vins on the market with kombucha, roses and even celery to zing up your holiday mignonettes, dressings, and desserts.
9. Wellspent Market's West Coast Female Founder Collection. The luxe-minimart offers a bundle strong enough for any food-lover but built by women, and it makes a knockout gift for your out-of-towner coveting the gems of the west coast or a local whose pantry needs a little love.
10. As the city opens up, I'm settling back into all my favorite Portland dining rooms and at the very top of this list is the Gladstone mainstay, Yoko's. Open for over 20 years, Yoko's serves (in my opinion) the best sushi within city limits and also offers one of the only dining rooms whose layout and decor predates the now ubiquitous consideration and trends of social media. And while putting yourself on the always-full waitlist will remain one of the most worthwhile ways to spend an evening in S.E. Portland, we are all now able to pilfer a little of Yoko's magic by buying a Yoko's plate or soy sauce dish to wink at us from our own kitchen counter.