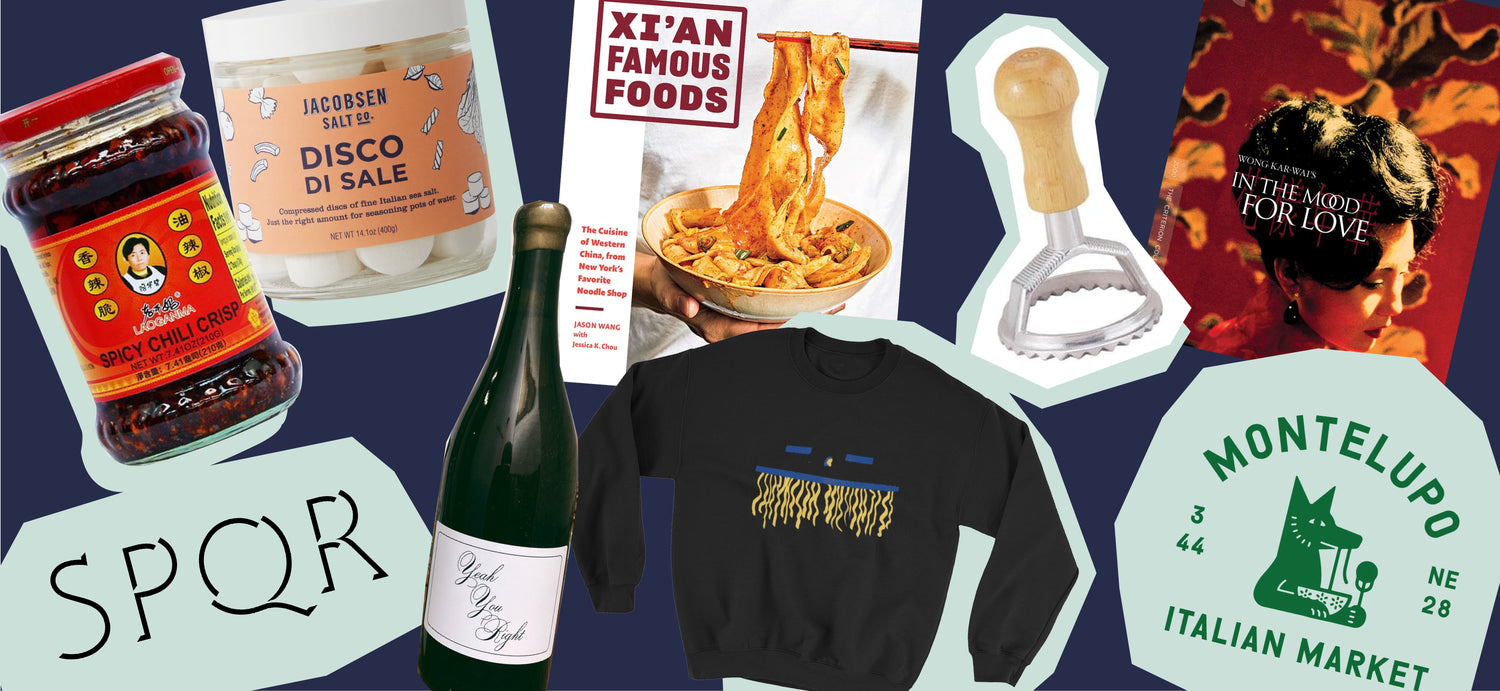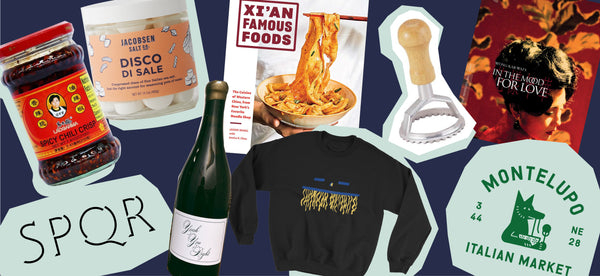 Posted by:
Jacobsen Salt Co.
Ever get so into an ingredient it feels like its tasting notes are stuck in your head? Same here, and it's with that in mind we're premiering this food-centric Playlist, a monthly rundown of favorite fellow cooking-staples, kitchen tools, restaurants etc. that I've been hitting repeat on all month-long.    
With the debut of Jacobsen's latest product, Disco di Sale (aka the #pastapuck), this inaugural list leans on a long-time love...noodles. Maybe it's the lingering effect of the iconic, spaghetti share-plate scene in Lady and the Tramp, or how many favorite pasta dishes come drenched in a romantic red sauce. Whatever it is, when we think amoré our brain immediately conjures up the image of a bowl of noodles. Whether it be an Italian classic, Chinese mian, Korean kalguksu, or ramen noodles in a savory broth, during the love-laced month of February we dedicated our cravings to this infatuation with stretched gluten. 
Hometown hero: A new addition to the Portland food scene since the pandemic, Montelupo Italian Market has the team on-lock. Offering both composed dishes (such as spaghetti puttanesca and bucatini all' amatriciana) as well as fresh pasta for you to make at home, plus pantry staples and splurges, Montelupo makes you feel a step closer to your next Italian vacation.

LDR: We're not alone in our adoration of San Francisco pasta staple, SPQR.  The restaurant has earned a Michelin star for nearly a decade, since Chef Matthew Accarrino took over the kitchen in 2012.  Now working entirely as a take-away/delivery spot, SPQR still updates their menu every day- their gnocchi with sausage and fennel cream will have you double-tapping your phone screen before you're able to compute everything you're looking at.
Beverage pairing: The St. Reginald Yeah, You Right (Pinot Noir with a "touch of Chardonnay") drinks like "champagne without the bubbles" according to Andy Young, the winemaker and man behind St. Reginald's acculumulating cult following.  This orange wine carries enough weight to stare fattier sauces in the face and bright edges to cut through spice, Yeah, You Right is the right choice for pasta night, from marinara to mian. 
Pantry pal:  Meet the chili oil that keeps on accumulating fans one drizzle at a time, Lao Gan Ma Spicy Chili Crisp, is the perfect partner for noodles of every variety.  The closest store-bought sauce to sneaking more than your fair share of chili oil from your favorite Chinese restaurant (sorry, Master Kong's), Lao Gan Ma's Spicy Chili Crisp is thankfully easier to find in conventional and Asian grocery stores alike than it was a year ago, proving that not everything from the last eleven months was bad. 
Reading material:  Even before travel plans were 86'ed for the foreseeable future, a favorite way to live a vicariously bi-coastal life was through cookbooks from some of the most coveted restaurants on the East Coast.  With the publication of their first cookbook, you can now approximate Xi'an Famous Foods' noodle dishes while wok-ing from home (wink wink, get it?), including the Spicy + Tingly Beef Hand-ripped Noodles that makes my toes curl just thinking about.   
Equipment: I'm proud to say I've reached a point in my kitchen journey where owning a Ravioli stamp no longer seems superfluous.  This miniature extravagance elevates your own raviolis from "homemade" to "handmade".    
Entertainment:  Unsurprisingly, one of the most romantic movies of all time also contains a noodle-eating scene.  Wong Kar-Wai's 2000 masterpiece, In the Mood for Love, centers on neighbors whose love cannot be consummated, so they literally eat their feelings, dining together throughout the film.  However, it's the scenes of them separately frequenting the same noodle-stand that tugs at my heartstrings (and the ones connected to my belly) the hardest.  
Food merch: Since we can't eat in public, why not wear your love of noodles on your sleeve–literally.  The Umi Noodle Crewneck Sweatshirt, projects to the world your love of noodles without having to remove your facemask to tell everyone.  A local favorite for store-bought ramen and yakisoba noodles, Umi Organics allows you to focus on your broths and sauces without worrying about the state of your noodles.  
One of our own: The newest addition to Jacobsen's Pure Sea Salt line, Disco di Sale eliminates the guesswork of salting pasta water, soups and stocks, taking one less step off your plate until you have to worry about plating.  Check out this alla vodka lasagna to see these coin-sized gems shine.  
Staff crush:  "My love for noodles is deep and everlasting, the memories as varied as their starchy shapes. My pilgrimage to Italy when I was 18 was a notable one, where I literally had to return home early after spending every cent I had on pasta dishes. It was undoubtedly worth the empty bank account and a few extra pounds. Or there's the pure delight that came with experiencing Frank's hand-pulled noodles for the first time – simple, chewy, perfect. I've never met a noodle I didn't like and I could eat some version of them every day and never tire. Simply put, they are my love language." - Hope, Sales Director