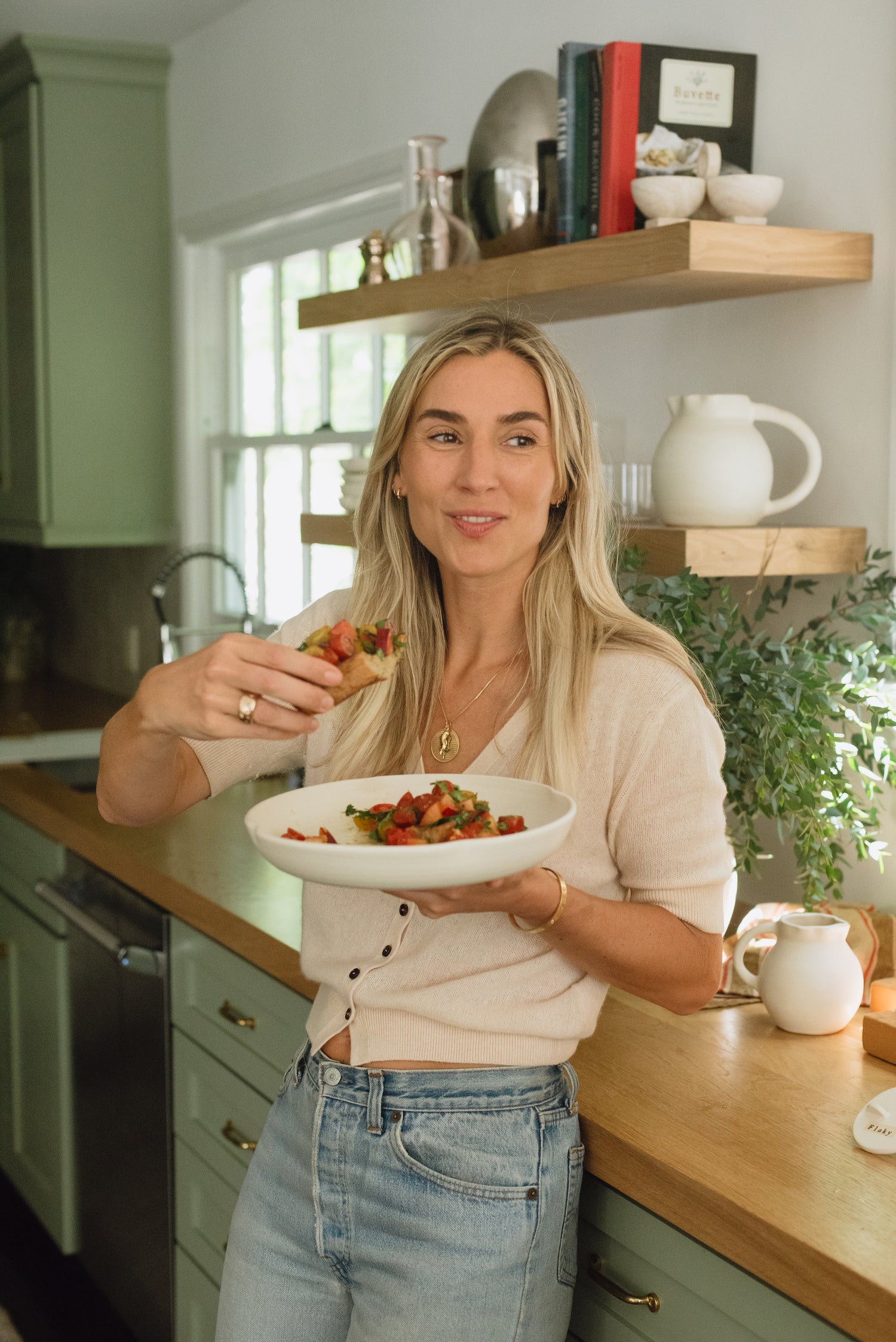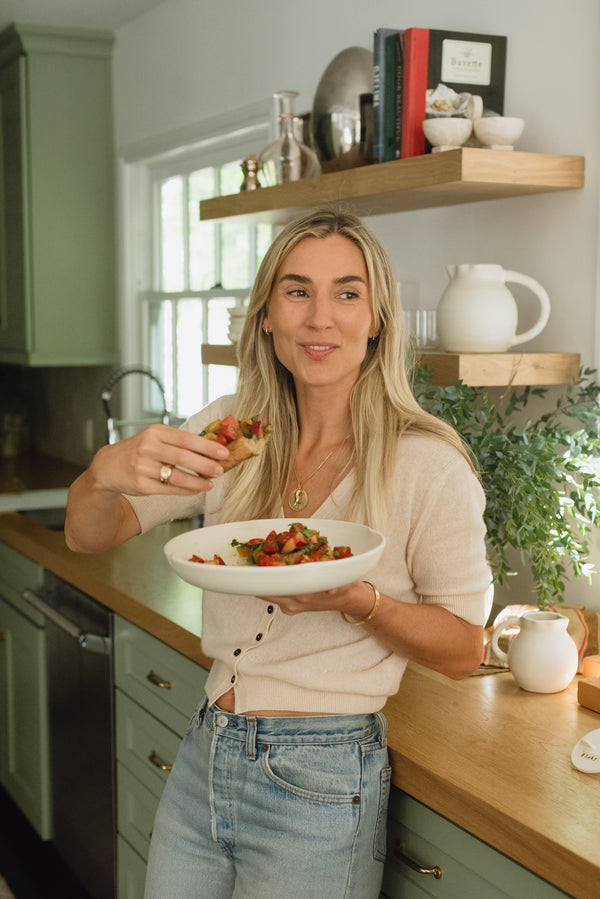 Hosting at Home with Olivia Muniak
Posted by:
Jacobsen Salt Co.

Olivia Muniak, self-taught chef and champion of "lazy fancy", knows how to throw a good dinner party. Her entertaining M.O. involves candle-lit settings, evenings beginning with an aperitivo, and inspired conversations. A good time around the table, she insists, spills into everything.

We spoke with her about hosting essentials, go-to recipes, and the shift in seasons: 


What's your definition of lazy fancy?


Simple but special. It's my approach to hosting at home – and it's not just the food. It also extends to creating a setting that guests can really feel and appreciate.

Generally, my process is to start with seasonal recipes focused on minimal ingredients and cooking steps that deliver both flavor and presentation. Then I look for ways to incorporate thoughtful and personal touches like beautiful tableware and decor. Even if we're eating in the garden, and it's a casual meal, I'll pull out some linen napkins, top up a ceramic carafe with water and sliced lemons, and immediately it feels lazy fancy.



When we say "dinner party," what is the first thing that comes to mind?


Friends! When I began my Supper Club business, it was with the intention of creating community. Having recently moved from New York City to Los Angeles, I wanted to have a reason to get together with friends and also meet people from a wider group. Rather than trying to connect in loud restaurants or at crowded events, hosting in my backyard created a platform for conversation and for everyone to truly get to know each other. I've always found dinners at home memorable and something to savor.


What are some of your tips for hosting a lazy fancy dinner party?


A lazy-fancy dinner (or aperitivo) party is a balanced recipe of food and drink, decor and atmosphere that comes together to create a relaxed, elegant, and fun dining experience. It's striking the balance of high-low by taking a casual meal and infusing it with more "fancy" elements. However, it's not about being too precious with the experience; you don't need crystal champagne flutes or trending decor color palettes. Recently, I launched a line of ceramic tableware in a warm white so they go with everything. They're also handmade and have natural variations; to me, this makes them feel special but natural. Most importantly – they're dishwasher safe – because we're all lazy after a night of entertaining!
Another way I love to bring a lazy-fancy dinner party to life is by leaning into a subtle theme and then flipping it. Think a casual paella or burger night, but it's then contrasted with decor that feels a bit more elevated to achieve that high-low balance. If you want to ramp it up a notch, serve a specialty cocktail, design a menu at each guest's place, or set a dress code that is a bit unexpected. Once, I asked everyone to wear black tie to my birthday dinner in my home garden – but it wasn't a catered event. It was a menu of humble homemade meatballs, cacio e pepe, and champagne – we had a blast!


What are your go-to recipes?


In California, our growing season is a bit longer and we get to enjoy what some chefs call "high-summer" produce. This time of year in Los Angeles, we are still lucky to have perfect tomatoes, stone fruits, and now bell peppers and melons have also hit their peak. So I embrace these last juicy days with recipes like Bell Pepper Margaritas, Late Summer Bruschetta, and Citrus Salt-Baked Fish with Salsa Verde.


Now that it's officially fall, how do you change up your dinner parties to reflect the season?


Aside from working with the best seasonal ingredients the farmers market offers, I also look at simple ways to enhance the season at home (and on the bar cart). For example, I might take a traditional cocktail and give it some richer "fall" flavors like my Black Manhattan. In terms of decor, I love taking cues from seasonal colors and textures. I'll usually swap my summer gingham napkins for a more rust-colored hue or tuck a fall leaf or branch into each guest's table setting. Finally, it's thinking about the people you're hosting and what they need to feel comfortable. Things like providing big throw blankets for each guest so that everyone enjoys being outside together for a bit longer — even if it's just for a cocktail hour by the outdoor fire.