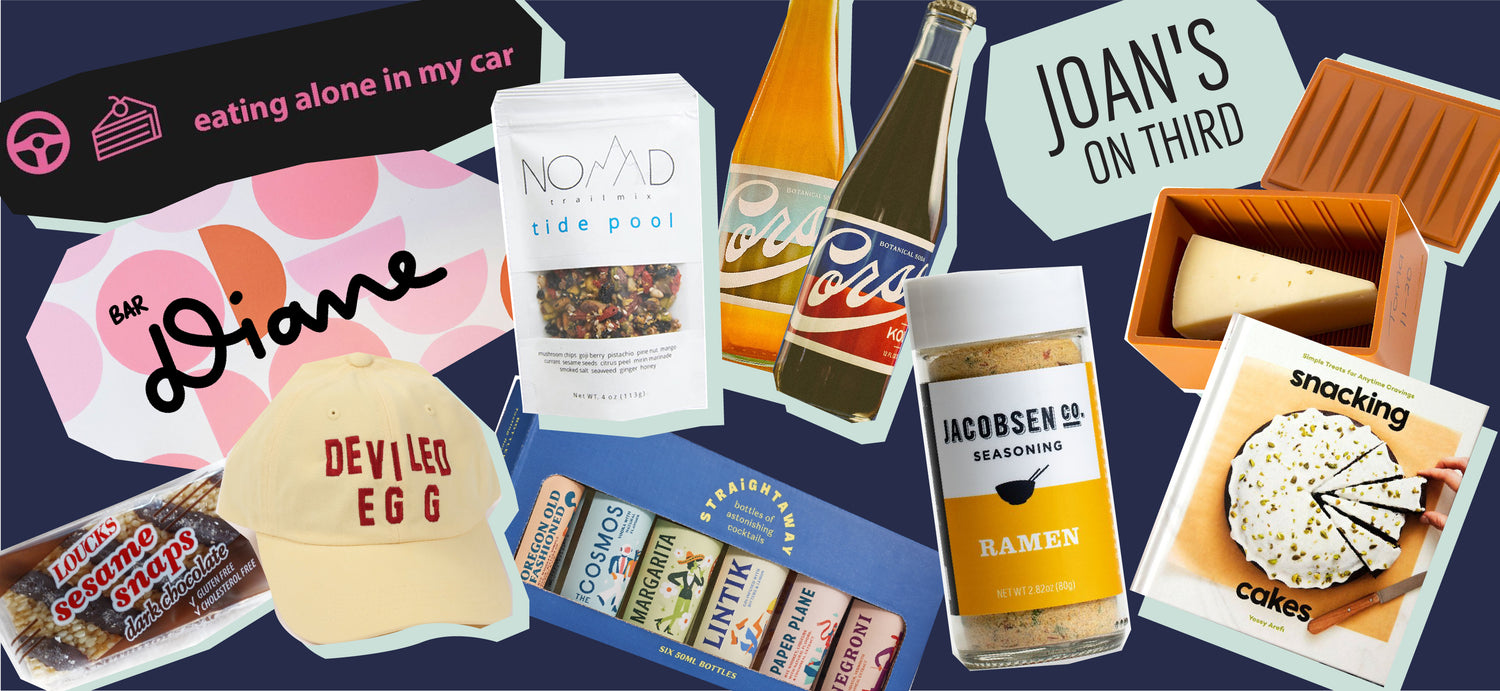 Posted by:
Jacobsen Salt Co.
I'd be lying if I pretended that every month I'm not snacking and nibbling my way through the time between meals, but this March, I've taken my noshing to new heights and meditating on the best little bites I find myself eating the most. I know everyone reading this has developed lockdown food habits, so here are my most treasured morsels I indulge in when the idea of cooking a traditional dinner feels too much.    
Hometown Hero: Opening up just months before the pandemic hit, I fell for Bar Diane's interiors (that wallpaper, though) just as dining indoors became an issue. Luckily, the team swiftly retooled their space to include a heated patio with snackables such as an array of tinned fish, a cheese plate, pork terrine and more. Their bottle shop/wine club is worth wetting your whistle with, as well. 
LDR: Joan McNamara's namesake all-purpose pit stop has remained a Los Angeles staple since 1995. And just like our favorite tunes from the '90's (Mariah, you will always be my baby), Joan's On Third is as fresh as the day its doors first opened. Boasting one of the city's best cheese and charcuterie selections, the market also doubles as a buzzy lunch spot and supplements Angelinos' refrigerators with house-made goodies like pimento cheese, crunchy pickles and apple onion dip (a personal fav).  
Reading Material: With a title like "Snacking Cakes," this book had me at hello.  Here the author, Yossy Arefi, gives me permission to perceive cakes not just as a celebratory treat, but also as a quick bite on the way out the door. I'm especially fond of the peanut butter salted caramel cake which is the beige-on-beige treat I didn't know my life was missing.
Pantry Pal: I don't know what 2020 would've looked like if I had never found healthy alternatives to the guilty pleasures I found myself falling back on way too often. Nomad Mix takes their flavor profiles from the PNW's landscape and have fueled me for everything from long hikes last summer to the more recent extended Zoom wintertime hangouts. The Tide Pool mix will forever remain my go-to due to its umami-forward tasting notes and pine nuts. 
Toolbox: No snackboard can soar without at least two cheeses, and Capabunga's Cheese Vault  not only makes it easy to travel with cheeses you've already cut into, it also seals them tightly, so they don't soak up any other lingering flavors in your refrigerator (in my case, kimchis of several varieties). So, instead of stressing over whether my splurge-cheeses are going bad while I snooze, now I just contemplate which two I should choose and what cracker-vehicle-into-my-mouth they need.
Something sweet: On any given day I have about a half dozen Loucks Dark Chocolate Sesame Snaps laying in wait inside of my glove compartment, between my registration and snow scraper. They're as satisfying as a candy bar but don't cause me to sugar crash an hour later. I enjoy both the plain and honey variations but the chocolate stripes are the ones that make me salivate while staring at my glove box.
Beverage pairing: 
n/a:  Taking flavor queues from amaros and aperitivos, Corsa's refreshingly flavored sodas feature botanicals not routinely found in non-alcoholic beverages. Their Kola takes me back to childhood cartoon-block binges and Nintendo sessions, minus the sugary film that my mouth was coated with until after college. Perfect for washing down workday snacks and for those nights when indulging in alcohol doesn't feel necessary, their Spritz, (down to its blush-hued bubbles) gives the appearance of imbibing without any downsides.
w/a:  Prior to the new-normal of lockdown living, Straightaway's carousel of mini-cocktails came with a snack suggestion for each concoction. I think I took every out-of-towner I hosted to Straightaway's Portland tasting room for an entire year. So until I'm able to spin that cocktail roulette wheel again, I'll be re-creating their snacks to serve alongside their cocktail sampler pack. This is a box that is always welcome in our fridge's real-estate.  
Entertainment: Melissa Broder, possibly best known for her "snack size" content, including her Twitter feed (@sosadtoday) and her compilation of essays of the same name, has perfected the disaffected female persona, but it's her podcast, Eating Alone in My Car, that finds her on this list. Every episode Broder test spins a new snack item while traversing L.A.'s traffic-lodged landscape. It's comforting to know that someone as smart as Broder is committed to the same mundane activities as myself. Her second novel, Milk Fed, is also a stupendous expedition into the inner workings of her protagonists relationship to food. 
Food Merch: Now that half of my face is constantly covered when I'm out in public, I've invested more thought into little ways I can express my taste without using my mouth. Katie Kimmel's entire collection of food-related boasts are welcome in my closet but the Deviled Egg baseball cap is her crowning achievement.  
One our own: Not just for broths, the Jacobsen Co. Ramen Seasoning drops that unique umami flavor to several classic snacks, revisit our onion umami bomb and snack mix to reference exactly how this one ingredient can gussy up an ordinary dish. 
Bonus track: Even though the packaging says "popcorn seasoning," I learned long ago to not focus too much on labels and go with my instinct above all. Sure, you can sprinkle Jacobsen x Diaspora's Turmeric Popcorn seasoning atop your movie-time munchie, but lately I've been using the sunshine-colored seasoning to help create the center of my Technicolor Deviled Eggs, since Easter is just around the corner...