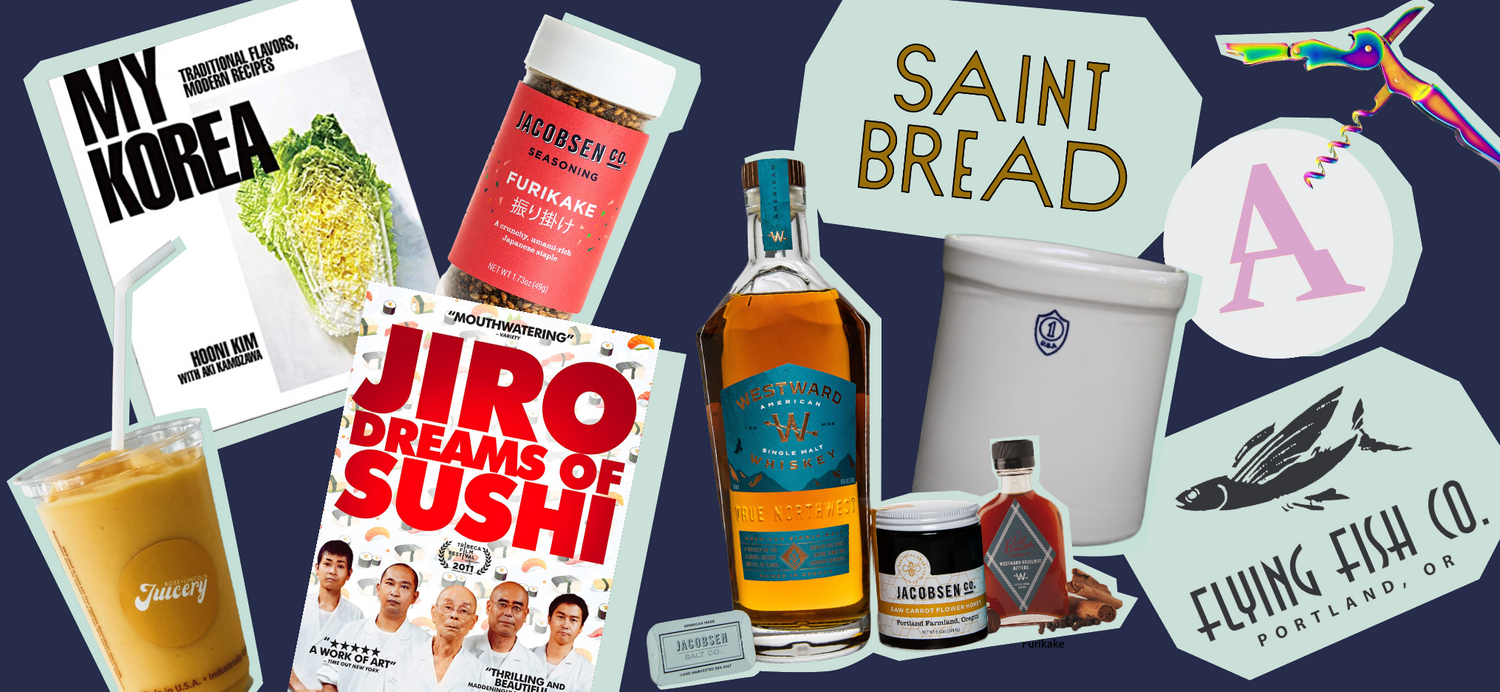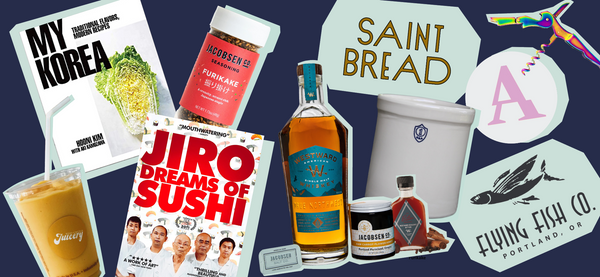 Posted by:
Jacobsen Salt Co.
Now that the summer is poking her head around the corner and the sunshine is beginning to brush the parameters of my kitchen, I'm finding myself wanting to keep the oven and stovetop off as much as possible. So this month, I helped Jacobsen Salt Co. celebrate the wonders of food (and drinks) that lean on other methods besides heat for cooking. Whether it be through fermentation, freezing, curing or simply enjoying the simplicity of raw produce or honey, this playlist shuffles through some of my more uncooked idols from Portland and beyond.  
Local: My go-to spot for oysters, whether I'm dining in or taking a bag of their little beauties home to shuck myself, has been Flying Fish since the day they opened their East Burnside location. Also boasting an entire poke subsection of their menu, Flying Fish, in both menu and market, is the laid back answer to a chill night out (or in).
Out of town: While not totally uncooked, it would be a sacrilege to write about fermentation and not mention sourdough considering it capped off its biggest year ever. With that, I have to tip my hat to Portage Bay's Saint Bread. The team behind this yeast-centric bakery first collaborated at another Seattle fave, London Plane, before taking their team bayside and delivering yet another toast-focused menu that has me checking traffic on the I-5 weekly for a window to pop up to Seattle and back.
Drink: Now that I have brushed up on my bartending basics with a cocktail shaker during my alone time through COVID, I'm finally confident enough in my skillset to invest in quality whiskey. The Westward Whiskey's True Northwest Old Fashioned Cocktail Kit (featuring our Raw Carrot Flower Honey) builds the kind of Don Draper-esque, spirit-forward cocktail deserving of your best rocks glass.
Pantry Pal: Patting myself on the back for drinking a juice or smoothie for breakfast never tasted better than when I splurge on Rose and Lincoln's cold pressed juices and smoothies.  The "I am OK" and "That Glow" both perfectly reflect the day I'm having whenever I order them.  
Reading material: Hooni Kim's debut cookbook, My Korea – though not exclusively raw focused – contains a hefty chapter on the queen of all uncooked foods, kimchi.  Along with beautifully capturing the process of making kimchi, Kim's book offers his versions of classic kimchis like White Water-Radish and Napa Cabbage, as well as gorgeous glimpses into his platings, all of which look fit for the MoMa.  
Equipment: The challenge in finding any large(ish) kitchen accessory is finding one pretty enough to take up your counter's precious real-estate.  So whenever you're pickling or preserving something you're proud of, the Ohio Stoneware Preserving Crock blends in with your more modern counter accoutrements, with an understated design that can double as a cookie jar whenever you're not in the process of a preservation project.  
Entertainment: Now a canonical contribution to the small subset of food documentaries, Jiro Dreams of Sushi, follows the day to day life of Jiro Ono, the chef/owner of Sukiyabashi Jiro a tiny, ten-seat restaurant in the heart of a Tokyo subway station, as well as the lives of his son's and fellow sushi chefs.  Caution: you will crave sashimi immediately.  
Food Merch: If you're in Portland, chances are when you shop for your next bottle of natural, raw, unfiltered wine you're choosing from Ardor Natural Wines' now expanded location on Belmont.  And just like the shop itself, their iridescent wine key – just as eye catching as the rest of their shop – belongs on top of my coffee table (not hidden in a drawer), along with all of the books I want my guest to see I'm reading, doubling as a decoration and reminder of where to shop for your next bottle to bring over.  
One of our own: Whether it be atop a bagel sandwich or as the savory sprinkles finishing a breakfast bowl (recipe here), our Furikake is so cravable that I think I'm forming a small muscle in my dominant arm from shaking the salty/seaweed goodness onto my eggs, fish, rice etc. out of the jar.