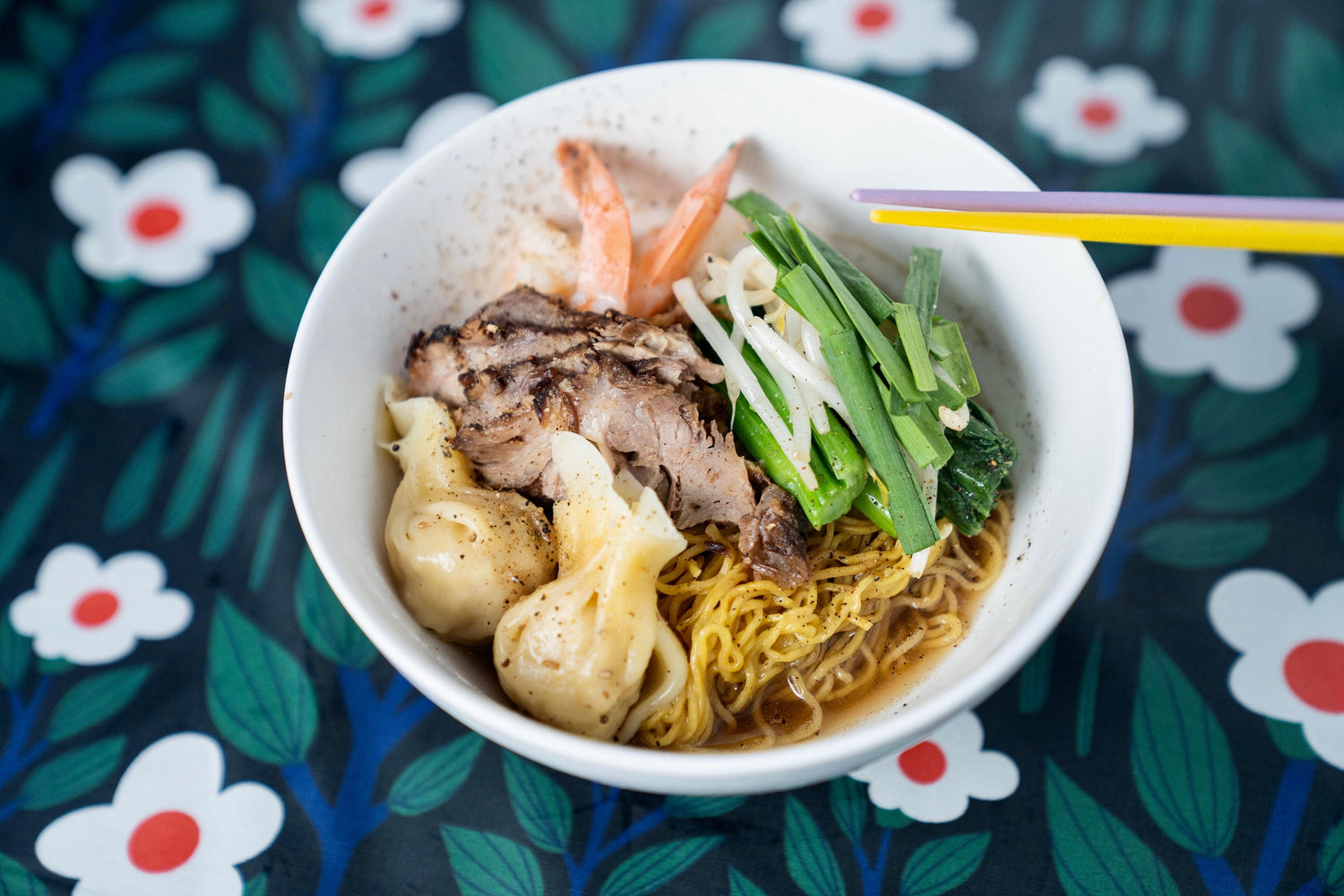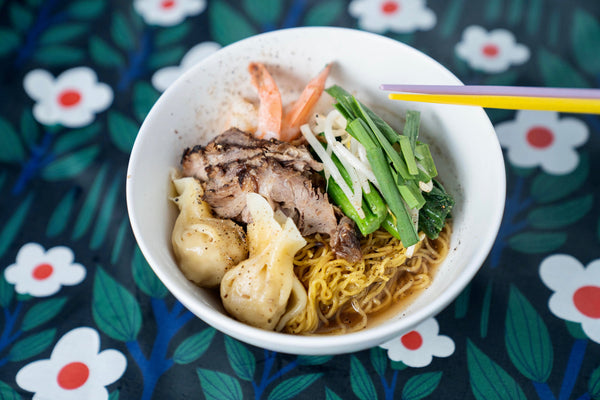 9-Course Spiel: Chef Diane Lam
Posted by:
Jacobsen Salt Co.
During a time when chefs and food professionals have "pivoted" into new careers and ventures, chef Diane Lam, of Portland's Sunshine Noodles and Prey + Tell, has pivoted so swiftly during the Covid-19 pandemic that it appears balletic.

In less than a year, Lam went from running Rachel Yang's Revelry (since closed) to transforming her pop-up, Sunshine Noodles, into a soon-to-be brick and mortar. Come this March, Lam will round out her year working during the most universally challenging time the service industry has ever faced by debuting Sunshine's permanent home, in Psychic Bar's kitchen/patio. "It's not so much of a celebration, it's more of a push," Lam reflects, considering how much her industry struggled in the past year. She continues, "It feels real because I'm running it, but it also feels rewarding because it's everything that I wanted and it's coming into fruition."

Summing up what it feels like to have moved into a new era of her life in the span of a few months, Lam's latest venture not long ago seemed out of focus. She remarks, "It's something that in my earlier stages–early being even last year–I wouldn't have fathomed the ability to conceptualize then for it to now become a reality."

Lam carved out a chunk of time in her busy day (as she works to re-open Sunshine Noodles, she also tasked herself with premiering a new fried-chicken pop-up, Prey + Tell), to answer our nine most pressing questions we've stored up while slurping on her noodle bowls.

1. Your story as a chef and business owner during the pandemic keeps getting more layered–where did you think you'd be in early 2021 and tell us where you are now?

A year ago, there was no real objective for me. That's what was difficult. I was the CDC [chef du cuisine] and General Manager at Revelry and I really liked the autonomy I had, and to move on from there was a difficult conversation. It was either, go work for another restaurant or create my own thing. I think that with the changes in the past year and because of the pandemic, there was more of a sense of duty and responsibility that I felt...that sense of purpose gave me the push that I needed to be where I am right now. Before 2020, there was a blocker in my mind that didn't allow me to even want to pursue certain things–I didn't think that whatever I was bringing to the table would be necessary amongst all the amazing concepts that always will exist in Portland. But, the sense of feeling like I could be providing an experience safely–for my staff and the guest–that gave me a sense of direction that allowed me to keep dreaming and pursuing and creating over the last year.

2. What do you miss the most about pre-Covid service industry life?

I think I miss comfortably sharing food. I miss being able to not have my guard up when we're all tasting a dish together in the back, and I miss the inside of bars.

3. Have family meals (the preservice meal restaurant industry employees share together before service) been a challenge since lockdown and have you discovered new ways to bond with your team?
Because we're so small, people just make food whenever they need to. And since it's noodle bowls, they're individual anyway. We just have to eat when we have the time and the space now. But also because restaurants need to have smaller staffs right now, family meals can't even be a thing.

4. I feel like a lot of my favorite chefs all have another great passion in their biographies they fell for first, do you have one?

No, I always knew! My first job, in high school, was hostessing at a Denny's down the street. I needed money, and senior year, things really started to add up–you really want to go to the dances and get this dress. I didn't have a car, so I would ride my razor scooter to work down a hill and I would host and seat guests, clean and get people drinks. Sundays were huge at Denny's. As a 17-year-old, being able to tray-carry was pretty awesome. And I never left the hospitality industry and never had an interest other than cooking. I would always cook for my friends and entertain, and even in my off-time now, the way I relax is by entertaining my friends in my apartment.

5. What led you to the back-of-house?

I've always wanted to cook. I asked my dad when I was 18 if I could go to CIA in New York–it was my dream school–and he told me "No, don't waste your mind." So as soon as he said that, the idea kind of vanished. Then, [while working at a] fine dining restaurant, the chef there at the time became my mentor. After shifts, we'd go to izakayas and drink and talk about food. It was a good relationship for me because he took me seriously and he pushed me along to go to culinary school. It flickered in my mind again and I was like,"Oh my god! Why not?"

6. What was the first thing you ever learned to cook and who taught you?

The first thing I learned to make was a vinaigrette. My grandma would make this vinaigrette–there was soy sauce, oil, white vinegar, black pepper, and a little bit of sugar in it. I remember she taught me using a spoon, and I remember making it later and it was so bad. Ten tries later, I finally got something similar to what my grandma made. I think I was like 7. But first thing heat cooking–I mean, ramen.

7. Have you gone through any distinct phases in your home cooking since the pandemic began? What ingredient have you leaned on the most during this time?
I cook for myself a lot. I'm not a huge going-out-eater, in general. There were staples I would go to, but for the most part I indulge by cooking at home. I will say since I was 25, I have not used anything else besides Jacobsen Salt in my kitchen. I read a book on salt by Mark Bitterman when I was 21 and ever since I read that book, I've been obsessed with salt. Then, I discovered Jacobsen when I was in San Francisco and I ordered my first box there. Now if I don't have Jacobsen Salt, I just don't cook.
There's this one other ingredient that I have to have and if I don't have it, I don't know how to function. They sell them in Korean and Japanese stores–they're these stock packets. I love making a lot of soups, and boiling that for 40 minutes creates so much depth. I'm not big on MSG, I like to build flavor and to know where the flavor is coming from.

8. Have you formed any unexpected food habits over the last year?

I've always been someone who likes to stack their fridge with groceries–it just feels safer. I do end up eating at 3am sometimes, and the other day I did end up roasting a whole chicken at 3am. I like to cook really late now. Before, when you're working and you know you can get a burger at Star Bar, you don't really account for those things. But now I eat at all hours of the day, and I can't decompress without eating something. I need to cook something to eat something, and even if I'm not hungry, eating something after my shift helps me disengage. It's the nurturing quality.

9. Do you have a quick trick, tip or technique you can impart on home cooks that would help make their meals extra special?
I think a lot of people don't realize how much emulsions are a part of dish building. When people figure out how to conceptualize dishes, there's always some sort of sauce element and I think a lot of the time it's built on emulsion–just bringing two properties together, two textures together. They are a really good entry way into allowing people to think about how to create something new.