Easy Overnight Focaccia and Caprese Sandwich
Posted by:
Jacobsen Salt Co.
Shop The Recipe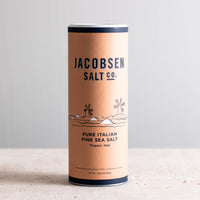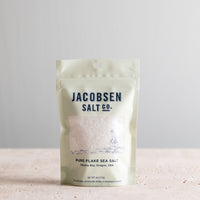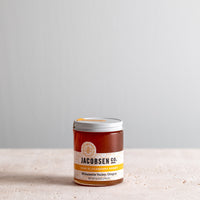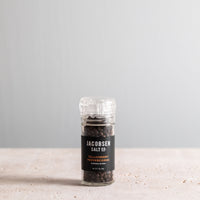 Sourced Tellicherry Peppercorn Grinder
$11
If you're new to bread baking or are looking for an easy, hands-off bread to try, focaccia is the one! This recipe makes one that's crisp on the outside and pillowy on the inside. It comes together with no kneading and no special equipment required, and is very adaptable, too! Once you learn the basic recipe, feel free to add herbs, infused salts, roasted garlic, or anything else to make it your own.
Because bread has very few ingredients, it's important to use quality ones, especially when it comes down to salt. Like anything else you cook or bake, bread has to be well-seasoned. For the dough itself, I like to use JSC's Trapani Pure Italian Fine Sea Salt. Its finer grain incorporates very well into the dry ingredients. For the top of the focaccia, I highly recommend JSC's Pure Flake Sea Salt. It has a delicate crunch that pairs well with the crispy crust.
I make this recipe at least once a week! It works great as a side for soups and salads, or as bread for sandwiches, like we'll use it today.
Note: Plan some extra time for this one, although it's an easy, hands-off recipe, this focaccia requires an overnight fermentation. This long process aids in the light, airy outcome.


Recipe by: Rosemary Saycich


Makes 1 Focaccia Loaf, 4 Sandwiches


Process
Make the Focaccia
Start by whisking together your flour, salt and yeast. Because we are using instant yeast, it doesn't need to be bloomed in water, we can add it directly into the dry ingredients.


Next add in your warm water, and mix together with a wooden spoon or your hand. It will be very wet and sticky! Focaccia is a high-hydration dough by nature, which provides us with those wonderful air bubbles and chewy finish. Once the wet and dry are fully combined, cover and let sit for 30 minutes.

After 30 minutes, dampen your hands (to help prevent sticking) and give the dough one fold. You'll do this by taking one corner of the dough and folding it over itself. Rotate the bowl and repeat this fold until every corner has been pulled and stretched over (4 to 5 times). Drizzle the top of the dough with a good amount of olive oil (1-2 tablespoons). This way the dough will not dry out when in the fridge.
Cover the bowl tightly (with plastic wrap or a tight fitting lid), and move to the refrigerator for its bulk rise, at least 12 hours, and up to 24 hours.
Remove the dough from the fridge and uncover. Generously oil your 9x12 baking pan (or sheet pan), we don't want it to stick! Punch down the dough and turn it over into your prepared pan. Cover the dough and allow it to relax at room temperature, which can take anywhere from 2-4 hours depending on how warm your room is.
Once the dough has almost reached the corners of the pan, and puffed up quite a bit, we're ready to bake! Preheat your oven to 425ºF. Once your oven has reached temperature, dimple the dough right before baking. To do this, dampen your fingertips and gently press them into the dough being careful not to rip the dough or poke through. Repeat until the entire surface of the dough has been dimpled (don't over do it here, it's easy to keep dimpling but we don't want to knock out too much of the volume and air). Drizzle the top of the dough with olive oil, and a few pinches of flaky salt. Immediately transfer to the oven and bake for 30 min or until golden on top. Once done baking, let cool for 5 min, then remove from the pan and let cool completely on a wire rack.
Make the Honey Balsamic Glaze
Place both balsamic vinegar and honey in a pot over medium heat. Bring to a boil and let simmer until mixture has thickened and reduced by about half, 10-15 minutes or until the sauce coats the back of a spoon. Set aside, and let cool.
Store in the refrigerator until ready to use, it will continue to thicken up as it cools.
Make the Caprese Sandwich



Slice the focaccia into squares and slice each square down the middle to form two halves. Assemble the mozzarella, tomato, and basil on one half of each focaccia. Season with salt and pepper and drizzle with a tablespoon of the honey balsamic glaze on each sandwich. Place the other piece of focaccia on top, and enjoy!