Shrimp Boil Packets with Seafood Seasoning
Posted by:
Jacobsen Salt Co.
Shop The Recipe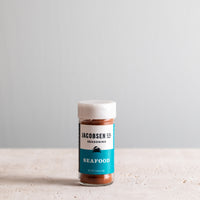 We love the one-and-done ease of applying our Jacobsen Co. Seafood Seasoning in these tasty, simple shrimp boil packets. They can be cooked on the grill, baked in the oven, or tossed on coals for a delicious meal while camping. Follow the same cooking time and method for grilling if cooking over a campfire.
Serves 4


Process


Chop corn into thirds, then chop each third in half lengthwise. Chop potatoes into quarters. Boil corn and potatoes for 10 minutes. Drain and set aside.
Set grill to medium-high heat or preheat oven to 400 degrees.
In a large bowl combine shrimp, sausage, corn, and potatoes. Stir together melted 3 tablespoons butter, Seafood Seasoning, garlic, juice from half a lemon, and salt and pepper to taste and pour over shrimp mixture. Stir to coat. Divide between sheets of aluminum foil. Fold edges of foil up around the food to create a closed packet.
To grill, cook for 8-10 minutes on one sided. Flip and cook for an additional 5-6 minutes. If using the oven, bake for 15-20 minutes until corn is tender and shrimp are pink and fully cooked.
Serve shrimp boil packs topped with chopped parsley, lemon wedges and butter.
Please create, enjoy, share and repeat.
Adapted from Creme de la Crumb